We moved into a new home from a very small apartment. Fortunately for me, the new place has a 2-car garage; I claimed it right away as a workshop. So far, I've been able to actually use half of it to set up my new shop. I've had larger workshops over the years, and made money from them. Here, I hope to build 36-string lever harps starting next year. Don't know if I'll make money on this one, but that's my plan.
Right now, I'm working with a Skilsaw, hand drill, a not-so-great jig saw and a few sheets of sandpaper. No table saw, no bandsaw, no floor model tools of any sort. They are all on my wish list, though.
In the meantime, I'm starting from scratch. Lots of experience, mind you, but little in the way of resources. I picked up some 2×6 and 2×4 pine lumber and put together an office desk and a workbench. Essentially, the frames are built with the same stock and to the same specs. The top for the office desk is a 30×80 solid core door. For the workbench I ripped two sheets of exterior grade 3/4" plywood and laminated them together and jigged up a rip fence for my trusty Skilsaw to square things up.
And here are two pictures of the workbench: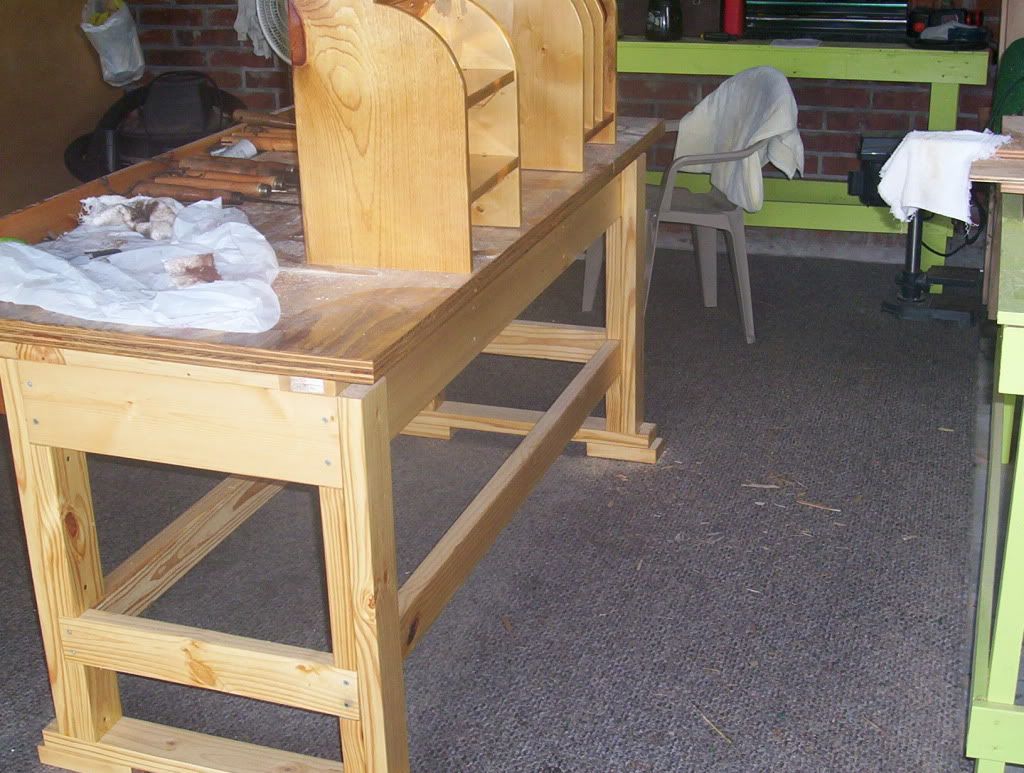 The bench is about 30 front to back and about 62" left to right. And it does have a tool tray. I'm used to working on a European cabinetmakers workbench and really miss all of that functionality. But it is a heavy bench, solid and reasonably well made. It's a bear to moved around, I can tell you that.
One of my nephews heard I was putting together a new workshop and he said he had an old lathe if I wanted it. I've worked as a professional turner in the past and made a good living at it, too. But I really don't need a lath to build harps. So I said yes. It's an old – really old – Duracraft WL 1236 model lathe, and it came with a roll of tools. I got it home the other day and almost immediately oiled everything I could reach.
So here's a few shots of the lathe as it is today:

And two shots of the tool that came with it. I'm cleaning them up with 220 and 400-grit wet/dry paper, and rubbing compound and coating them with a hard wax :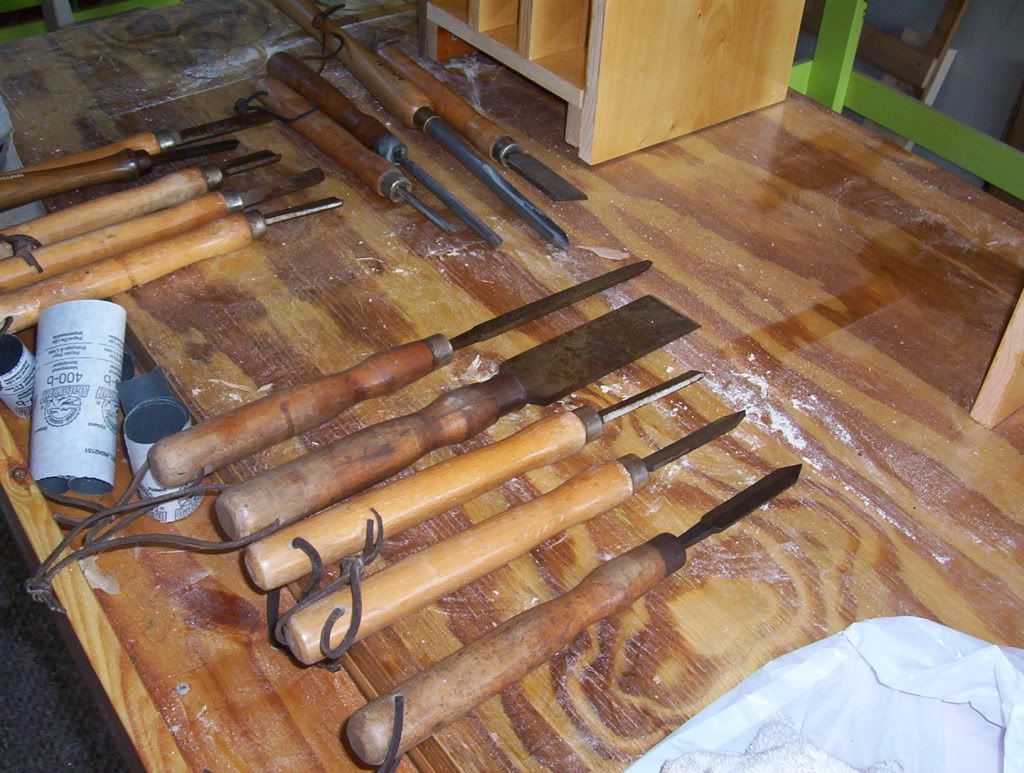 Finally, That office desk has a lot of room on the top, but no place to put anything. I took some scrap pine, screws and glue and put this set of pigeon holes together:
Mind, it is scrap lumber and it's nothing I'll ever brag about to a customer, but it will hold some stuff for me.
-- garyjs
---