I haven't posted here in a long time, and finally I'm getting around to finishing my interior windows. On and off over the past few months I've been working on them. The front room windows had already been done by me a couple years ago. This is the south side, and where I enter my shop.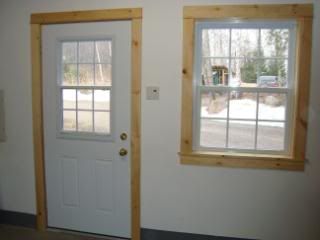 I chose pine to trim the windows with because it's my favourite and the shop cupboards and router table I made are pine.The vinyl clad windows were inserted from the outside and nailed into place through their flanges which are now under the siding. They were also screwed into the framing from the sides to keep them firmly in place.
This is what they looked like from the inside, before being finished. There are three windows along the east side of the building.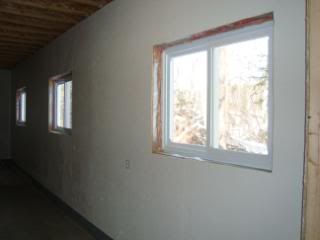 Here is one of the sad looking windows, unfinished:

The first thing to do is make the jambs, this is the wood that fills in the framed area, not the part that sits on the wall, but perpendicular to it. These windows are made with a groove that holds the jamb so that the wood fits into it… who knew?

The great part about having a planer is that you can make your wood exactly the thickness you need it. I planed mine down to about 3/4" thick so that it would fit perfectly in the grooves the window had built in.

This is how the sill will fit into the groove when it's finished:

I decided on having a sill that extended past the outside of the window trim or casing by 1". Because of this, the sill piece has to be cut to fit into the groove as well as on the wall. You can see it here at the bottom:

Here's a close up, the window casing is 3 1/4" wide, so the "finger" on the sill extending out has to go past where the casing will sit by 1". It also is wider than the side and top jamb pieces, to allow the side casings to sit on it.

I also used the same trim style on my interior window which I blogged about earlier: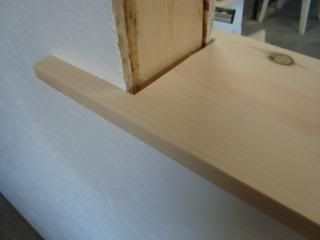 The side jambs will sit between the top and bottom pieces, of course everything has to measured precisely.

The previous photos show a trial fit with unfinished wood. Since I was trimming three windows and two doorways, I had a lot of pieces to cut and finish. I coated all pieces with five coats of wipe-on polyurethane.

I'll post the finished project tomorrow or the next day… have to get back to the shop…
-- ~Julie~ followyourheartwoodworking.ca
---