Now that we have the size of the handle piece, the actual handle has to be cut out of it.
For now I keep the piece as a rectangle, and will do the angled sides after the handle is cut out.
I'm using my router and a template guide to remove the area for the handle. First I need to make a template out of hardboard that is 11/32" larger than the actual size of the oval hole that I want. I determined a hole 3 1/2" long and 1 1/8" wide for the handle would be good for the template size. The router's guide then runs around the edge of the template to remove the inside.
The template is clamped on top of the pine handle piece which is sitting on a scrap waste board. This way you don't cut through into your table top!
When you have a few to do, a template is the way to go.
Then I had to cut the angled sides for the handle piece. First I drew them directly on the pieces.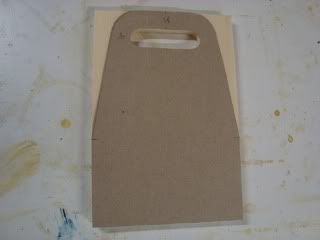 Then I thought I would cut the angled edge using my table saw's taper jig. It holds the pine piece at any set angle as you push it through the blade.
It worked fine for one side of the handle piece, but I'm not as smart as I think I am because there was no way to use the taper jig to do the other side after the first side was cut away. I had to rethink the process and ended up using my compound mitre saw for the angle on the second side.
All of the handle holes were rounded off on the router table with a round over bit, this makes a nice feel to the handle.
I also rounded off the outside of the handle piece, just to the point where it would fit into the box. (The whole box was also rounded off, all the edges inside and out.)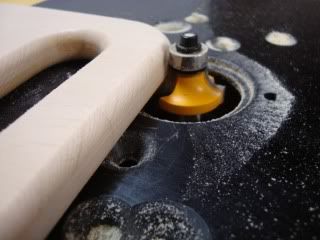 The handle pieces were then stained and clear coated and fit inside the boxes and nailed in place. The restaurant I'm making these for has a foot print of a boot as their logo, so I painted one on each condiment holder.
I kept track of my time and it took me 14 hours from starting with the rough wood, until I had my four finished pieces.
Now… what would YOU charge for them knowing the labour time was 14 hours and you used pine, stain, clear coat and all your tools and your shop?
-- ~Julie~ followyourheartwoodworking.blogspot.ca
---