The sides and back of my router table will be pine, 2" wide stiles and rails with plywood panel inserts. I had quite a bit of left over 3/4" thick, 2"- 2 1/2" wide pine strips of varying lengths from other projects and used that.
Since I didn't take photos, I'm borrowing ones from my earlier post about making my shop cupboards, which have exactly the same style: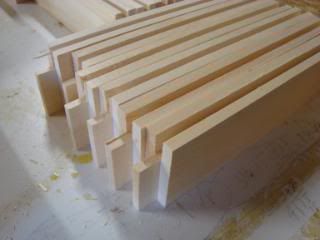 the center rails have grooves on both the top and bottom to hold the panels:
and go together like the side of the shop cabinets: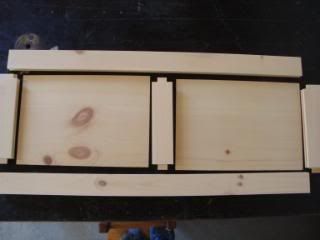 The sides would extend past the plywood box at the front by about 1/2" which would enable me to frame the plywood edges of the inner box to sit flush with the edges of the stiles on the side pieces. (You'll see that below later) The back fits between the two sides. Of course, this has all to be pre-planned so that everything works out properly. For some reason my mathematical mind enjoys challenges like this.
So, here's one of the router table sides completed, it's 19 1/4" wide: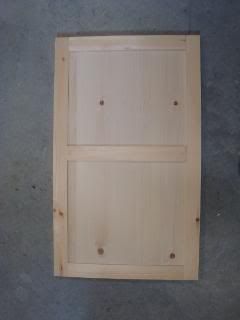 The back is 29 1/2" wide and doesn't have a centered "center stile" because the side where the router sits is wider than the other side: (The router hangs on the right side when looking from the front, so on the back piece, the left side is wider)
I decided to use a maple frame around the whole inside of the top of the table. I notched out the middle plywood support to hold the frame more securely. Here you can see the back and left side attached and where the frame is:
In the last photo you can also see the covering of the plywood edges is attached but not yet trimmed neatly. Also I shellacked the inside of the whole cupboard.
Here's a closeup of the maple frame, which the router top will sit on: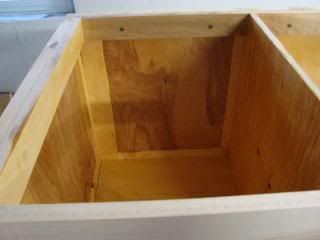 And here is a closeup of the 1" wide edge covering which is even with the bottom of the top shelf and extends past the 1/2" thick plywood on the horizontal part. Vertically it is centered on the top divider (1/2" wide) and completely covers the bottom divider (which is 1" wide):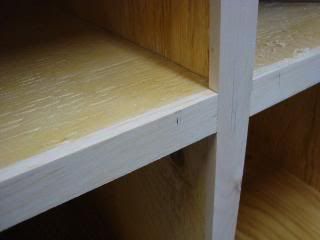 ... to be continued…
-- ~Julie~ followyourheartwoodworking.blogspot.ca
---