I'm designing my router table so that it fits with my router and accessories. My Hitachi router will hang upside down on the right hand side. It will need clearance around it for my access to raise and lower it and also for bit changes which I usually do by popping out the whole base and sitting the router on the top of the table.
I also have a small laminate trimmer type router that I usually have attached to a large 12" x 18" plexi base. I use it mostly for routering out designs, so to be able to keep it inside the router table, ready to go, will be helpful. So, the left side will need an opening wide enough to allow that base to sit inside.
The top is 37 3/4" x 23 3/4" and the base needs to sit inside that so that there is an overhang for me to clamp fences to. Also consideration has to be to allow the top frame I made to sit firmly on the base at the correct spot without interfering with the router hanging there.
So, the right hand side will be larger than the left, with the right opening about 15 1/2" wide to hold the Hitachi and the left side only needing to be about 14" wide. The inside depth will be about 18 1/2" to allow that small router to sit inside. A "center" divider will not really be in the center. I like my table high, so I'm not bent over it. I have to take into account the height of the casters I bought from Lee Valley, plus the height of the top, it will be about 38" high.
As I said in my first post HERE, I want my table to match my shop cabinets. I will make an interior box from plywood and then surround it with flat panel framed sides and back. The box will just be on the bottom half, with the center divider going up to the top. (When I read this it sounds confusing, for which I apologize, I do think the photos will explain better than my words)
I'm using 3/4" plywood for the bottom and 1/2" for the sides and the center shelf and dividers. A dado is made for the side to sit into the top and bottom piece.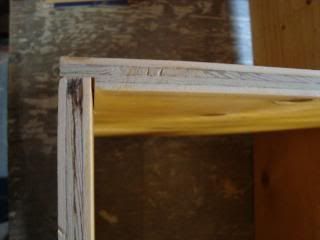 The lower "center" will be two 1/2" ply pieces glued together for strength as well as for a place for the doors and drawers to rest against. It will sit in a dado. The upper center is first screwed through from the dado underneath before the bottom piece is glued in.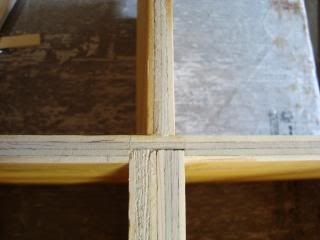 The base is then glued and clamped together.
Here it is ready to be covered by the outer prettier pieces!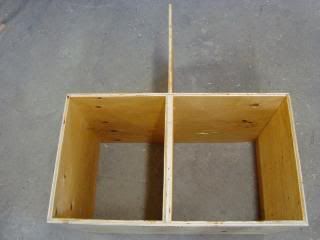 ...to be continued…
-- ~Julie~ followyourheartwoodworking.blogspot.ca
---