As I said earlier I have the yellow Oak-Park router top. Here's a photo of it:
(Since the opening for the router is offset (not in the middle) I am going to have my router sit on the right and have doors and drawers on the left. I think a problem with the "Norm" type router table is that putting the router in the middle leaves a narrow space on each side for holding router accessories. We'll get to that in a future post.)
I need a solid frame around my yellow router top because I want it larger than the 29 1/2" x 15 3/4" that it is. I am also trying to use materials I already have, to keep costs down so I'm using a piece of 5/8" thick laminated plywood which once was a side panel in my kitchen. I'm cutting out the exact size of the yellow top and leaving about 4 to 4 1/8" around as a frame. The finished outer size is 23 3/4" x 37 3/4".
Underneath that, I'm adding 3/4" plywood, which I am cutting out in the middle, leaving a 1" inner ledge for the top to sit on. Also, since the yellow top is thicker than the laminated plywood top piece, I need to router out a little of the ledge so that the top sits perfectly flat inside the outer framed piece.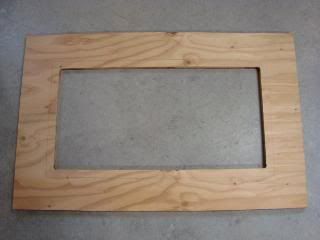 Here is what they look like put together:
This just shows the yellow top in the top piece of the new top, and the routered out part of the bottom piece that will accept the top:

I suppose I will have to add a solid wood edging all around the top which is now 1 3/8" thick.
Next I will design the base, given the finished top sizes.
... to be continued …
-- ~Julie~ followyourheartwoodworking.blogspot.ca
---