Here is a sketch I made a few years ago before the building of our workshop/garage:
Now, how to get that front porch on there? We had two large cement post holders put 13 feet apart when we did the garage pour. These have saddles set into them to hold 6" x 6" posts. We wanted the porch roof to have the same slope as the whole roof, so we had to figure out the length the posts would need to be to make the roof come at the right location above the door and light.
We are only 5' out from the front of the building, so need to run horizontal supports that distance to the front wall. We also decided to put a 2" x 6" horizontally attached to the front and one to the back of the 6" x 6" posts.
The roof rafters will meet at a center ridge and have a slight notch (bird's mouth) cut to sit on the side pieces. We used a temporary ridge support to aid in construction.

The ends of the rafters are covered with a fascia board.
Of course both sides were done to match: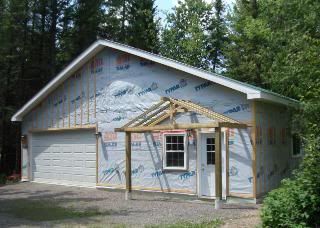 Wolmanized plywood was added to the top, which will be covered with the same green steel roofing used for the garage/workshop:

It was my job to make the design on the front:

Looks pretty much like the original sketch!

Now, we need to finish up some of the strapping and order the siding.
... to be continued…
-- ~Julie~ followyourheartwoodworking.blogspot.ca
---