I need to make some tool holders to get my tools a place of there own, where I know they are when I need them. I am going to make them so that they are able to hang on cleats, which I already have in part of my shop.
I found a picture in Woodsmith magazine showing a way to hold tools. There were no plans, but it looked easy enough to make my own without how-to instructions.
I wanted to hold three tools for now, my battery powered drill, my electric drill and my jigsaw. To figure out what size to make the parts, I laid the tools on some plywood to see how much room they took up.
My battery powered Dewalt drill with battery pack:

My electric Dewalt drill: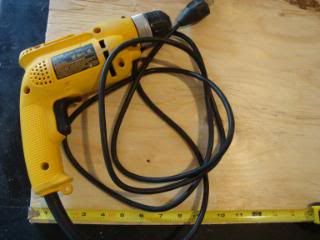 My Bosch jigsaw: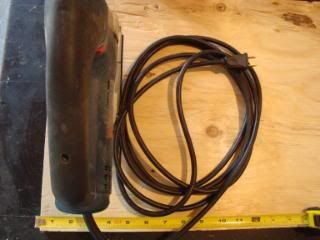 I decided on a 10" x 10" square of plywood for the base to hold each tool.
For the battery powered drill, I needed two holes in the base, one to hold the drill and one for the plug of the battery pack to hang through:
For the electric drill, just one hole was needed, the cord would sit beside the drill on the base:

For the jigsaw, a small hole for the blade to poke through, the cord would sit beside the jigsaw:

The sides are about 10 1/2" tall and would be angled down in a triangular shape. I used the mitre gauge on my tablesaw to cut two sides from one piece of plywood:

One small corner was cut off to make the side: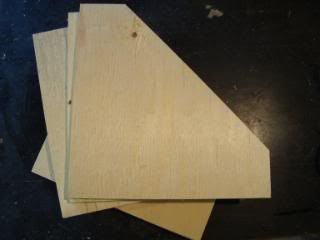 The bottom edge of the side was rabbeted to allow the bottom base piece to sit into it. Closeup:

Another view:

The back fit into the sides, by that I mean the base was shorter than the side pieces. This allowed the back to fit between the sides.

Each holder was glued and nailed together, coated with shellac, and had a cleat screwed to the top back: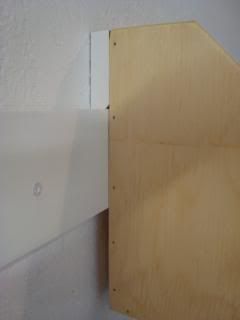 The finished battery powered drill holder:

The finished electric drill holder: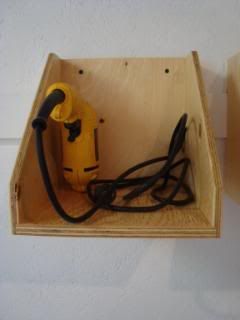 The finished jigsaw holder (extra blades hang off the cleat's screw):

The trio:

I will probably move them all from the finishing room to another area of the shop where they are more likely to be used, but I don't have cleats ready there yet, so they'll stay here until that time.
... to be continued…
-- ~Julie~ followyourheartwoodworking.blogspot.ca
---