Time to think about putting up the siding on the garage/workshop. First we need to strap it.
The siding will be horizontal so we used vertical 1×3's screwed into the OSB every 16" OC.
Around the windows and across the bottom we used 1×4s.
The back is a straight 40' width which is taking a lot of pieces!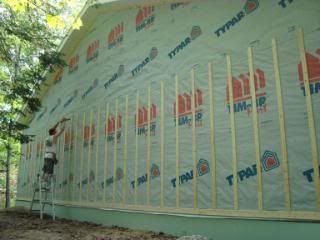 Before we can do the front, we need to build up a bit of the front small roof and deck posts. We haven't quite figured out if the strapping needs to go first, or the roof trusses. We'll start the front posts and see where it leads us. That will be in the next blog posting.
...to be continued…
-- ~Julie~ followyourheartwoodworking.blogspot.ca
---