It's time to post my cupboards I made to put books and magazines in, that will hang on the cleats in my shop.
(see Workshop Build #17: Cleats- Getting things on the wall)
For inspiration I used a cupboard in a magazine article, but changed the plans slightly. I wanted to have two cupboards to hold my woodworking related books and magazines. The article I saw had a moveable shelf, but I figured a fixed center shelf would be more solid and hold the heavy books better. Of course, it's always easier to make two at a time, because of all the setups, so I did just that.
For my needs, the cupboards will be 30" tall, which will allow me to hold books on the middle and bottom shelves. The depth will be about 12", and width about 24".
My plan was for pine frames around two plywood panels for each side and pine frames around a piece of plexi-glass for each of the two doors which meet in the middle. This meant I needed 8 stiles for each cupboard and 10 rails.
The backs will be 1/4" pine and the top, bottom and middle fixed shelf with be 1/2" plywood trimmed on the front raw edges with pine.
The four side stiles and four top and bottom rails on each cupboard need 1/4" grooves to hold the plywood panels.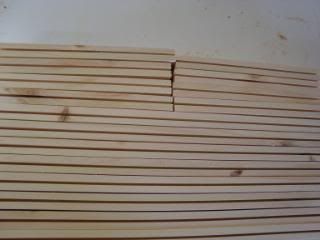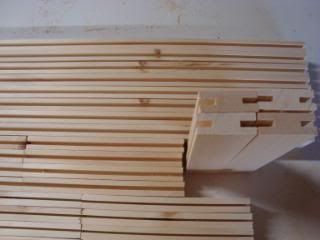 The top and bottom rails: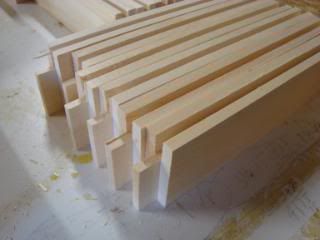 The middle rails on the sides would need to have a groove on both the top and bottom edge to accept plywood. They also will have tenons to fit into the grooves on the stiles:
Because the plexi is only about 1/8" thick, the door stiles and rails need a 1/8" groove to hold those plexi pieces. But… 1/8" is really not thick enough for the tenons, so at each end of the stiles, the groove is widened to 1/4" to accept the tenons on the rails.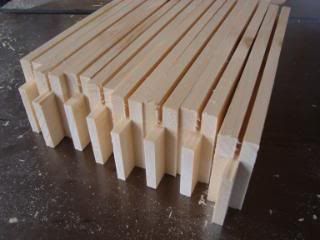 The next three photos show the side pieces quite clearly (I hope!)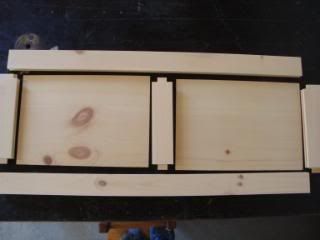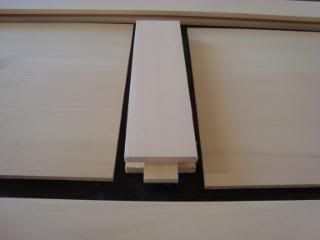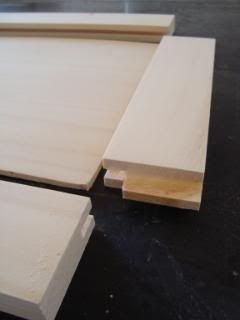 ... to be continued…
-- ~Julie~ followyourheartwoodworking.ca
---