Time to get supplies, especially clamps arranged and off the floor. I got my ideas from a few woodworking magazines that I have.
Here's the wall where the racks will go, in my front assembly room:
I am using the French Cleat system and will have two rows of cleats on three walls of the shop. They are attached with screws every 16", where the studs are under the OSB. My cleats are painted white, the same colour as the shop walls, that way they don't stand out:
I have a rack that is made for screwdrivers. I drilled holes along a piece of scrap maple, then cut a dado in another piece of scrap to fit this piece. It is then glued and screwed in from the back, with a cleat attached.
Since I had a magnet strip for holding chisels and assorted tools, I just screwed that strip into a maple board and attached a cleat.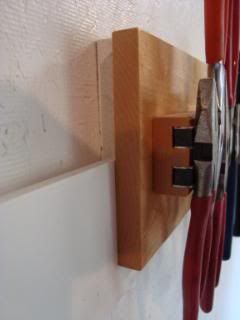 I don't have a lot of clamps, but what I have always seemed to be on the floor somewhere… no more! I set my clamps on wood pieces to see how much space I would need around them. My Bessey's need more room side to side than my F clamps. The clamp racks are made on a slight angle upwards so that the clamps don't slip off:
To make the slots I just used a system similar to making box joints on a table saw, easily done:
I also decided on a pegboard rack. I had a piece of pegboard so I made the frame to match the size that I already had. The frame has a rabbet on the front face to hold the pegboard. Screws are put in around the edges:
It can hold all sorts of things with the different hooks you can buy: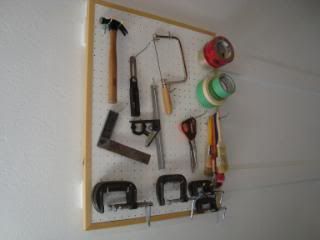 Here are the racks as they currently sit, but they are easily moved around:

Today I am working on finishing up two bookcases to hold all my woodworking magazines and books. They will also go on the cleats. I will post them in a few days, when finished.
I didn't go into much detail, because cleats have been done here many times, but I will gladly give directions, sizes, etc. if anyone asks.
...to be continued…
-- ~Julie~ followyourheartwoodworking.blogspot.ca
---