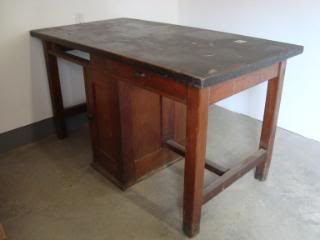 My father was always very supportive of whatever I did. He was always amazed to see things I had made and liked to tell people about his daughter the woodworker. His workbench sat in the basement of the home my mother still lives in for many, many years. While he wasn't a woodworker, he sure did tinker a lot with appliances, household things, toys and cars. He used the bench as a place to glue, solder and fix many different items. Since my mother had no need for the bench, she gave the okay for me to take it and move it to my new workshop which is about 4 hours drive from her house.
The workbench actually is an old science desk that was once used in a high school in the Hamilton area. Someone my father knew gave it, or sold it to him at least 40 years ago as far as I can figure out. I'm not sure what type of wood it is, but it has a nice reddish brown colouring to it and the top is painted or stained black.
The bench could not be removed in one piece as it had to go up some stairs and into the back of our pickup truck. The top came off easily enough and the middle portion is like a cabinet sitting under the bench, so it could be removed as well, leaving the outer frame.
Outer frame:

Inner cabinet with flat panels in the door and sides:

Inside of door showing raised panel facing in: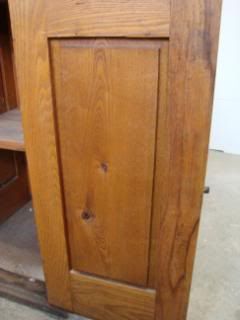 Top of door showing mortise and tenon in frame: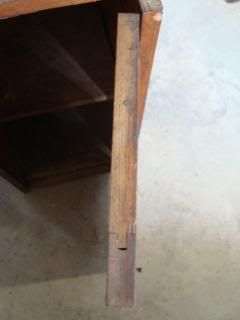 Inside cabinet (cabinet has a door that opens on each side, so there are back to back shelves):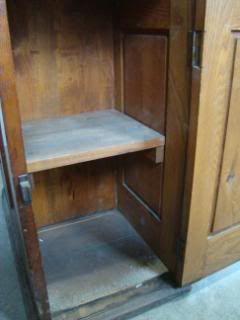 The bottom cross pieces that held the cabinet to the frame of the legs: (These had to be broken at the dowels to get them out, but were soon repaired with new ones where needed)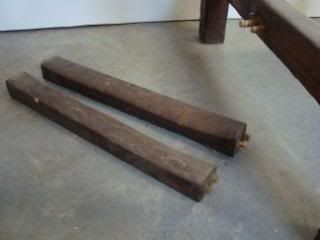 View of side of cabinet and holes for dowels:

View of top of leg: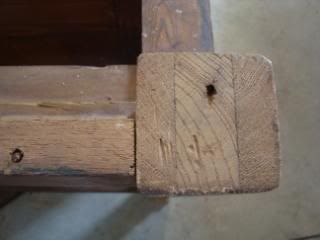 The top was made of pieces of tongue and groove wood. One of the tongues broke off in transport, leaving the top in two pieces with one of the grooves filled with the old tongue. I used my small router to clean out the grooves and made a new tongue to glue into both sides: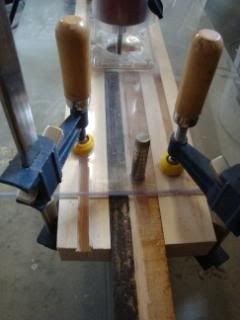 The cabinet sits under some wood framing that holds the top on and leaves a space for drawers: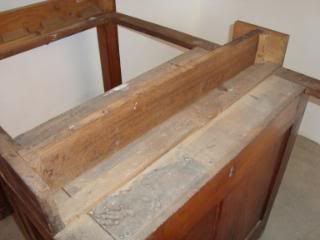 Unfortunately I only have one drawer, I suppose at some point I could make another one and try to match it to the original. There were some funny drawings and words and names written into the drawer, remember this was once at a high school: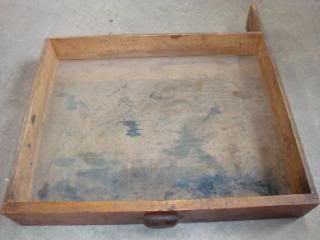 The back of the drawer has initials along with the words "GRAD CLASS OF 1959" I wonder where these people are now?

An old newspaper lined the drawer, The Hamilton Spectator, Fri. Sept. 2, 1966 (Hamilton, ON) At that time you could get a "split cowhide briefcase" for $10.19 and calfskin loafers for $17.98 and Dr. Zhivago and Born Free were playing at the movie theatre: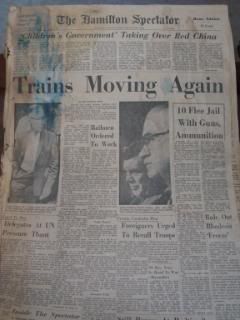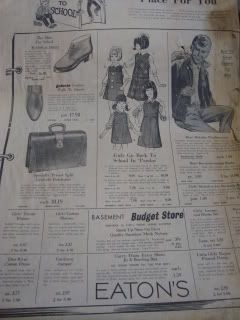 Here is the workbench put back together and sitting in my new shop. There is missing molding at the bottom along with the missing drawer. I didn't do anything to finish or neaten the wood, I'm just leaving it as it is:

My father passed away in 2004 and I miss him very much, he would have been 89 years old today.

-- ~Julie~ followyourheartwoodworking.blogspot.ca
---