Now where were we?
Oh yes… we have to start the upper floor, I am going to call it the attic.
Let me remind you that my husband did all of this part completely on his own. I was recovering from carpal tunnel surgery and unable to carry anything or hammer or do much at all other than supervise! There were no stairs yet, so all the pieces had to be pulled up from the front or brought up on a ladder. It was a lot of heavy work for one person and a heck of a lot of pieces.
He started by making the upper front wall in two pieces: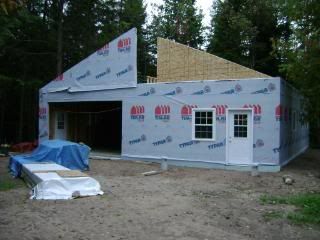 He then made, similarly the back wall and put up a roof ridge and two 4' tall knee walls.
A view from the attic of the roof ridge and knee walls:
Rafters then had to be placed that met the ridge and were notched to be rested on the knee walls and again on the top edge of the side walls: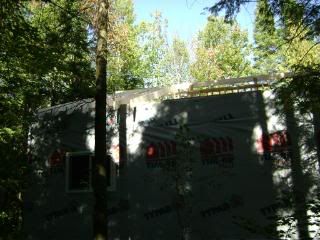 Here is a view of the roof rafters taken from the floor of the shop where the stairs will go:
And a view from the attic:

From the front:

And a view of the overhang:
Across the front and back, lookout rafters had to be added:

It's now Sept. 2008, can we get the roof on before the snow flies?
...to be continued…
-- ~Julie~ followyourheartwoodworking.blogspot.ca
---