In June 2008 it was time to start getting the in-floor piping and the electricity hook-ups into the foundation before the cement could be poured.
The wood stove that will heat the new workshop as well as our house will be placed in between the two buildings. It will sit at the side of the driveway approximately 50 feet north of the house and 75 feet south of the workshop. Since our hookups will need to be at the farthest side of the house, a trench needs to be dug about 75-100 feet each way from the wood stove location. This trench will house the piping that runs the hot water as well as electric wire from the house to the shop and another wire from the house to power the stove's electrical needs.
Here you can see in the foreground is where it will go into the house and on the right where the stakes are is the spot where the wood stove will sit. In the background to the left of the tractor is where the new workshop is: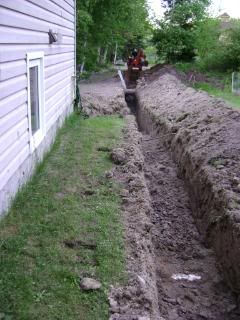 This is the piping that takes the hot water and the corregated piping that holds the wire to supply power to the shop. The smooth 5" diameter pipe is insulated and carries two 1 1/4" diameter hot water pipes inside it (one takes the hot water to the workshop and the other returns it). So from the wood stove we have to send out the insulated piping two ways, north to the shop and south to the house. This is the trench towards the workshop, partially filled in: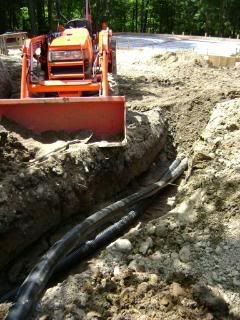 A view taken from the deck on our house shows the two pipes coming out of the trench that will enter the wood stove: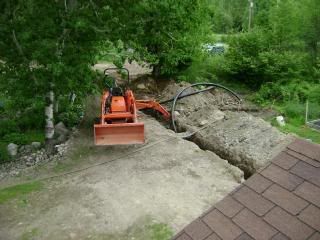 After all was filled in, here is the mini foundation for the wood stove to sit on with the hot water piping as well as an electrical wire from the house, coming up through the inside: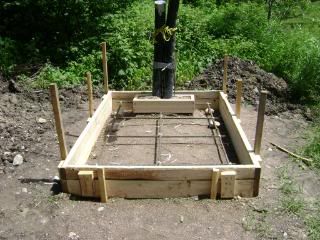 The insulated pipe had to come up through the bottom of the foundation to connect to the infloor piping, this came through at the bottom right hand corner of the shop (southeast) along with the electrical wire.
All the piping had to be laid, which we did alongside the Heatmor wood stove dealer, who connected up the system. There are six loops, three heat the garage and three heat the workshop. The piping is attached to the wire mesh grid with plastic ties.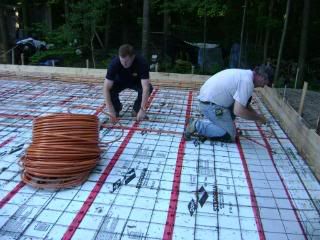 Here is the piping coming out of the foundation area, ready for the concrete to be poured, after which point it will be connected to the manifolds, pump and control system.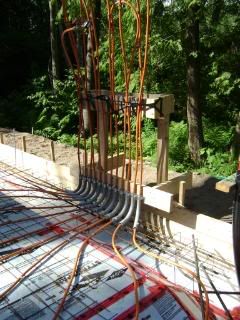 Now ready to get the floor poured!
... to be continued…
-- ~Julie~ followyourheartwoodworking.blogspot.ca
---