From one of my earlier blogs, you may know that I have a Grizzly 24" dual drum sander, an awesome Craigslist score. The original sander comes with felt on the drums an you roll the paper onto it. I have been doing this since I got the machine. I find the paper likes to wander then tear. I have even had assistance in getting the tensioner as tight as I possibly can, the paper still likes to roam.
Last May when I went to Grizzly tent sale, I ordered the hook and loop conversion kit for this drum sander.
Now the only reason the kit is for this model drum sander is because the hook cloth with sticky back and the loop sandpaper is precut to the angle and length to fit the drums. Technically it can be used on any drum 24" or less. The kit here comes with 2 lengths of hook 6" wide, 1 length of 80 grit, one length of 120 grit. The catalog doesn't show a picture of it, it costs $27.95 which is a steal considering the cost of the hook cloth from the craft store.
So I finally had enough of the tensioned paper and decided to convert today.
The felt on the drums was a little beat up, and I was dreading getting it off. Decided to get out the acetone and soak down the felt. It worked great, not like peeling a banana, but it sure was easier then trying to scrape it off. The felt came off in one piece with a bit of adhesive left on the drum. More acetone and some elbow grease and the drums were spotless. Both drums took me about an hour.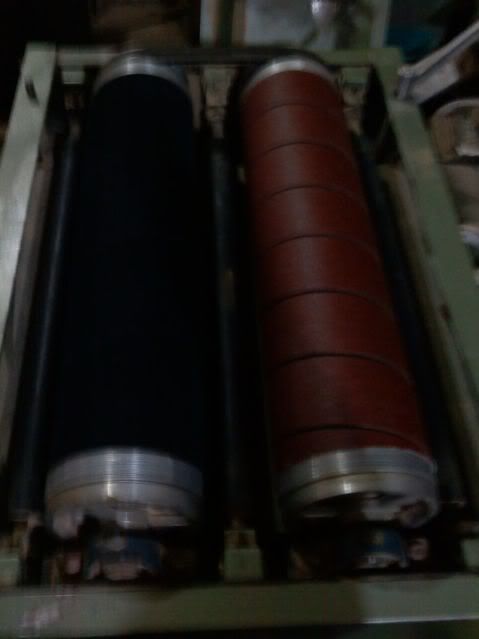 Applying the hook paper was a bit tricky. The adhesive backing was beyond industrial. The second it touched the drum it was stuck, I had to readjust here and there as I was rolling, and it took a lot of pull to get it to let loose. Once both drums were set with new media, the sandpaper went on slick.
Tested her out with a 13" x 19" x 1 1/2" tight weave I made to order for a wedding gift. (Project post when it is oiled)
WOW ! this hook and loop stuff is awesome!! The machine runs quieter, the dust collection works better, and I couldn't be more pleased. Wish I had done it sooner : (
If you are thinking of changing over….DO IT ! It is worth the time and the little bit of cash.
Did I say how happy I am ?
Thanks for letting me share,
Lisa
-- Imagination rules the world. ~ Napoleon Bonaparte ~ http://quiltedwood.com
---