I got so tired of fighting with glueing up cutting boards.
Is everything lining up ? Is there slipping ? One clamp at a time !!
So I spotted these flooring jacks in the HF catalog


...and I began to wonder.
I bet that I could use these to clamp cutting boards together in hopefully one shot.
I haven't tried it yet, but I will let everyone know if there are problems.
I am thinking this is going to work just fine.
I may need to add regular clamps at the corners, we'll see.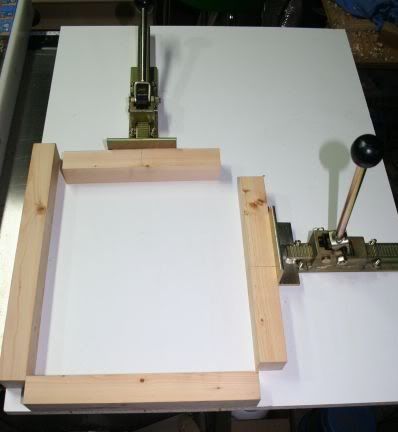 I did have to modify the clamps a bit so that they function in the manner I intended. They are bolted to 3/4" melamine. I still need to put a protective coat on the cauls, then I'll give her a try.
The way I have it set up right now is for gluing up a 12" x 16" cutting board-
specifically the woven board which is a nightmare to glue up !
Thanks for looking,
Lisa
-- Imagination rules the world. ~ Napoleon Bonaparte ~ http://quiltedwood.com
---