Well folks, once again I have gotten away with thievery,
and my conscience is clean.
My husband and I drove to PA to the Grizzly tent sale this weekend, and I got a bunch of stuff. Some I got from the tents and some from the store which meant I didn't have to pay shipping.
Here is what I came home with-
Conversion kit for the drum sander to make it a hook and loop system instead of paper with tension.
A two stage cyclone separator that snaps onto a 55 gal garbage can.
From the tent- A hanging air filter 3 speed with remote. This was the best buy of the day. $50.00. The tag said it had a bent motor shaft- NOT. A couple of the motor mount screws were loose, allowing the motor to wobble a bit. Tightened everything up and it runs like a charm. I do have to get a new filter for it, the one on it was ripped. Doing a dance with this purchase.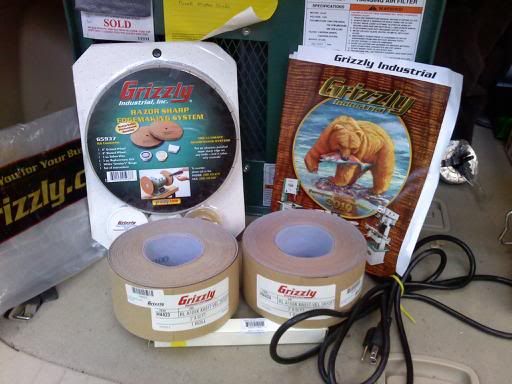 RazorSharp edge making system for hubby's bench grinder
Hook and Loop rolls of sandpaper
Diamond point dressing tool for the 10" wet stone pictured below.
From the tent- 10" wet sharpening system. Tag said it had a bent motor shaft- NOT. The stone is not true on the shaft. This can be fixed with a dressing stone and diamond tool above. I had to order a new stropping wheel as the one on it was cracked. Parts were ordered before we left.
From the tent- a carving set- something for me to play with.
From the tent- Heat gun- always a handy thing to have.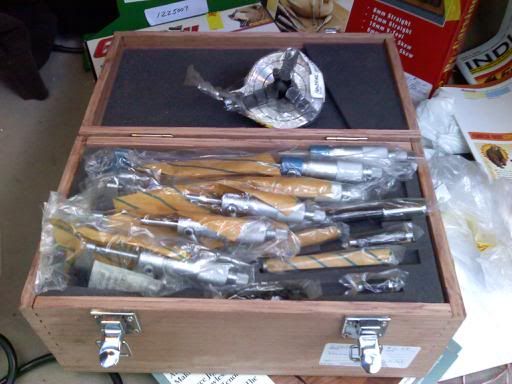 From the tent- 3" 3 jaw lathe chuck. Tag said it was rusty. Well it looked like rust at first around the snap ring on the bottom. I scraped it with a fingernail…..it was sawdust. Hehe another gem.
From the tent- 0-6" micrometer set for hubby. In the store the price was around $200.00, got this set for $71.00. The bottom of the wooden box it was in was broken. The mics were all fine and intact. I will fix the box.
Not pictured- a 9×12 x 3 granite stone for hubby. It was out of stock in the store. I cried some tears about it and that it was for his birthday, and they are shipping it without me having to pay shipping costs. SWEET !
All in all I saved a boat load. It was basically like them giving me 50% off my entire purchase, that is what I saved. Some things I needed some I just wanted. I am already planning for the trip in September. This was an unbelievable sale day. If you get a chance to go to one of these tent sales don't pass it by…GO.
Thanks for letting me share my great finds…
Lisa
-- Imagination rules the world. ~ Napoleon Bonaparte ~ http://quiltedwood.com
---