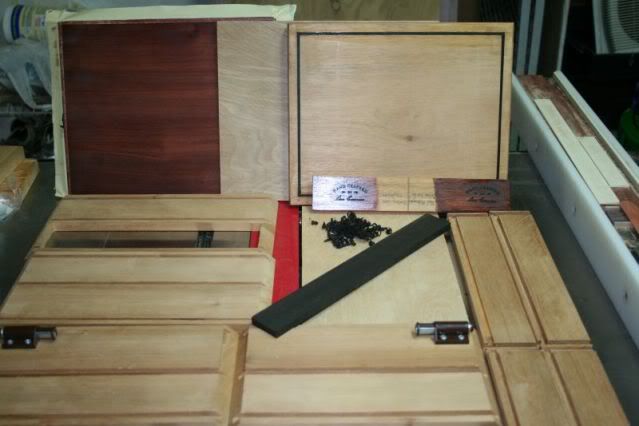 I am currently working on a box for a friend to give to her husband for his birthday. I have abandoned all else as this is due in two weeks. I have cut all the pieces and have done the ebony inlay on the lid and front drawer. I have never done inlay before so I was up for the challenge, and dug out my Dremel with the router attachment that I have never used either. That was interesting to say the least.
I ordered 8/4 rough cut mahogany and it looked good from the outside. When I started cutting it I found it was lousy, kinda stringy, fuzzy, and pulpy. I had to go with it due to a time constraint. I have decided to stain it mahogany and finish with wipe on poly. Then I will throw the stain away because it is evil. I like natural colored wood.
The hardest part of this design is the drawer. My friend requested no pulls with a flush face. "So…how ya gonna open it", and she said, "you can figure that out". I did. I used magnetic click lock catches. Those are the two brown things in the picture. They sit at the back of the drawer, the drawer is flush, you press it in and it releases the drawer to just outside the box. The drawer can be pulled from the magnets with a finger. It worked.
I could have ordered lower profile catches, but again, time is of the essence. They take about an inch and a half from the drawer. Oh well, the drawer is still big enough.
I am getting ready to sand, stain and finish the inside pieces, then glue it up and finish her off.
Thanks for looking,
Lisa
-- Imagination rules the world. ~ Napoleon Bonaparte ~ http://quiltedwood.com
---