I finally got the nerve up to cut The Sunset piece and turn it into drawer fronts. I sort of got a push from my garage cat who thought it was beautiful enough to throw up on. I had it laying face up and did not cover it, so I guess he can't be all to blame. Luckily it had a protective finish coat on it, but still c'mon !
Anyway, I had this gardeners bench for a few years and it was very tall, so I cut the legs down and built drawers under the bench top. The sunset intarsia was slated to go on the front of this bench, finally did it. I have a small lathe that I picked up to see if my daughter would turn some pens, she made one so far. I have put all the pen tools and odds and ends in the drawers, this has tidied up things a bit. The never ending saga of organizing.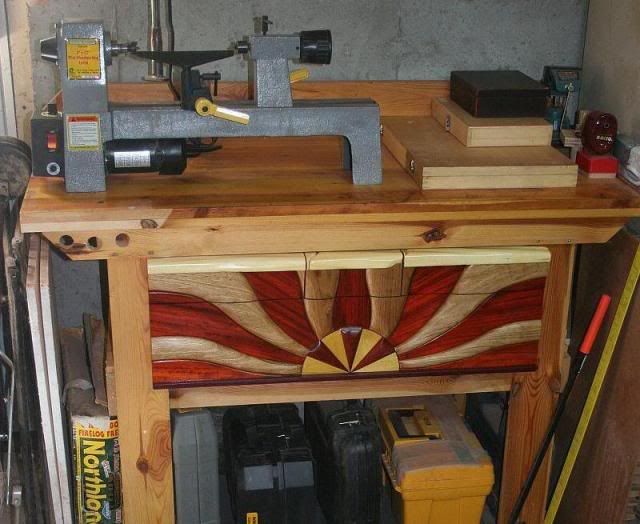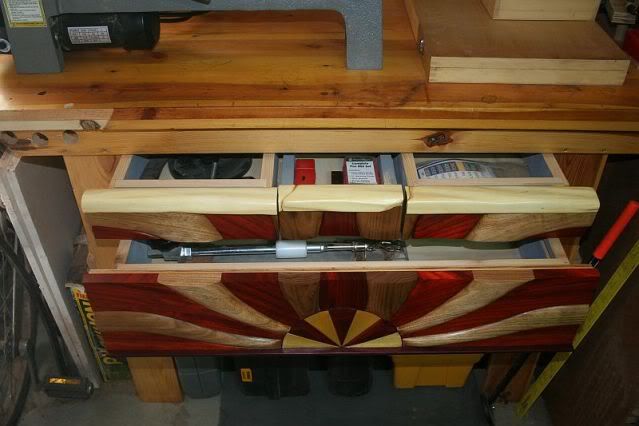 The drawers do pull out further, I am only giving a peek see.
And for all the observant viewers- yes on the far left is a glimpse of my unicycle ! I am multi-talented. Hehe : )
Thanks for looking,
Lisa
-- Imagination rules the world. ~ Napoleon Bonaparte ~ http://quiltedwood.com
---