Well I think it's safe to say at this point, with four days left to enter, there is no way I will ever make the deadline.
I had good intentions, but this has been a busy month, and I was at the mercy of others for the use of a band saw. Time slipped away. I will keep working on it until it is finished then sell it.
This is an original design and wanted to try to incorporate some new skills (which is also time consuming).
First I wanted to have caned backrest and seat frames that could be removed for the winter. The seat frames are also curved for comfort, which is where I needed the band saw. I am using 8/4 and 4/4 sapele.
The picture shows the frames- one backrest frame is complete the other is in the works- caning. The two seat frames need sanding, and to have cane holes drilled.
My Dad is a caner from way back when. I spent about an hour and a half with him, and he taught me everything I needed to know about caning. This is a new skill for me.
I also decided that I would like the front legs to be ball and claw, also needed a band saw for this. They are cut but not yet carved. The ankles seem a bit thin to me, haven't decided yet what I am going to do for strength, but have a few ideas.
I am in the process of routing out the backrest for the frames to fit into.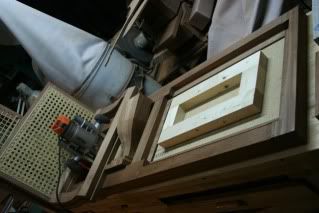 I have two 8/4 X 20" X 40" to cut the sides from. I have some other ideas to incorporate into the sides, I want them to be one piece per side so the only hardware will be to secure the backrest and seat frame to the sides. I plan on finishing with teak oil.
That's as far as I got with this project, I need another month or so to finish it and add fine details. Will update as things progress.
Thanks for looking,
Lisa
-- Imagination rules the world. ~ Napoleon Bonaparte ~ http://quiltedwood.com
---