I was unexpectedly bitten by the woodworking bug recently. I work from home and wanted to add a little extra space to my desk so I could have room to set a notepad and such. Most of my desk space is taken up by multiple computer monitors, keyboards, mice, etc. I decided that I wanted a single piece of 3/4" thick wood about 15"x9" in size to sit on my top drawer when it was pulled out. My wife has been the owner of all power tools for most of the last 15 years so I asked her to cut a piece for me. However, I decided to do it myself.
I went down to the garage and cut a plank of whitewood down to size on the table saw and used the palm sander to smooth it out. I added a natural Danish oil finish and that was all it took! I was hooked.
We've since added a compound miter saw, a drill press, and a small compressor and finish nailer to our garage shop. However, we didn't have any sort of workbench, we just sat the miter saw and drill press on top of the table saw until we were able to build a workbench.
Since we use our garage as a garage, we needed a movable workbench so whatever we came up with, it definitely needed wheels. We also wanted it to be the same height as our table saw so we could use them side by side whenever we needed to cut some large pieces. I sat down and came up with an idea then we headed over to Lowe's and picked up what we needed. After a few hours of work, here's what we ended up with.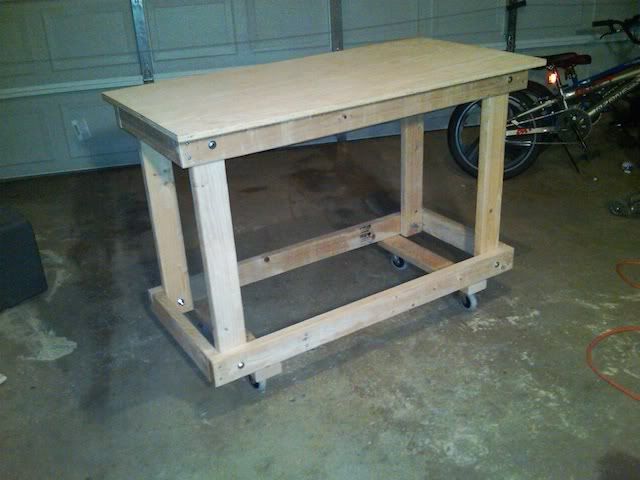 After we were done, my wife asked me if I thought it was sturdy enough. I told her it was and promptly sat on it and asked her to join me. We both sat on it for about 5-10 minutes without even the slightest wobble. We've been using it for a couple of weeks now and it works great. Just tonight I added an electrical outlet on one end and I will soon add a piece of 1/2" plywood as a bottom shelf.
I look forward to sharing more with you all as I progress. :-)
-- Keith in Texas
---