If you read the original Mary Shelly's Frankenstein, you will realize that it is not really a scary story. He is really just trying to beat death. Some tools work just as they come when I get them, some don't. I could blame the manufacturer or the designer but that is kind of silly. Nobody held a gun to my head to buy it. You pay your money, you take your chances.
I am building a bow saw to use the hardware and blades for the Gramercy Tools 12" Bow Saw that they sell at http://www.toolsforworkingwood.com. They sell the complete saw, or just parts to make your own and provide a nice set of plans.
Well, I finished the main frame but I am waiting for the pins and blades. Also, I decided to stop fighting my lathe's spur center and pick up a four jaw chuck so my handles are on hold also. To test it out, I knotted a cord as a stand in for the blade and tested it out with the toggle windlass. I went a bit overboard and happened to have a spool of 2.8mm Dyneema line from my sailboat. This is really tough stuff. It has a breaking strength of 1200 lbs for something thinner than an average shoelace. Anyway, when I tightened it up, it was great. Nice and stable. Strong, simple and effective. My favorite criteria.
So, sitting around tonight, I decided to take the plunge. I have another frame saw that I was sort of happy with but it really didn't tighten up very easily. It came with a threaded rod and a wingnut that never really wanted to tighten up well on its own without a lot of coaxing.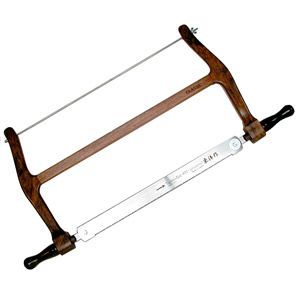 I took out the rod, cut notches to hold the line in place, cleaned up with a small rasp and laced it up with some of the same line. I cut off a piece of scrap for the toggle and tightened it up. Amazing. It is like a different saw. A few turns of the toggle and the blade is nice and tight. Backing off a couple turns and to relieve the tension when it is not in use only takes a couple seconds. A world of difference from stopping to find some pliers to hold the cap nut so I can turn the wingnut without the whole thing turning. The only thing I have to worry about now is not overtightening. With several strands of this line, I could easliy snap the saw, so I take it pretty easy with it.
I guess what it boils down to is that sometimes when they make an "improved" tool, it really isn't always that much of an improvement. Sometimes you get something that is almost what you want and then, with a bit of messing around, you make it into something that you really like. Sometimes, the only reason we can afford something or the manufacturers can stay in business is by not taking those last little finishing steps to make it usable right out of the box. I don't know if this is a bad thing though. Maybe we are just too used to pre-packaged solutions.
-- Woodworking shouldn't cost a fortune: http://lowbudgetwoodworker.blogspot.com/
---