WooHoo!
I finally got some time to finish off my new bench, and it turned out great, if I do say so myself!
Getting the legs mounted was a little bit of a challenge since the diagonal braces warped a little since I first cut them (shocker, I know! Construction grade lumber warping? Never have I witnessed that before!). With a little coaxing, everything went together square, and with a little extra bracing under the open span, everything is rock solid.
For each of the diagonal braces, I used a cleat in addition to directly attaching the leg to the top to make sure it doesn't break out or have any movement.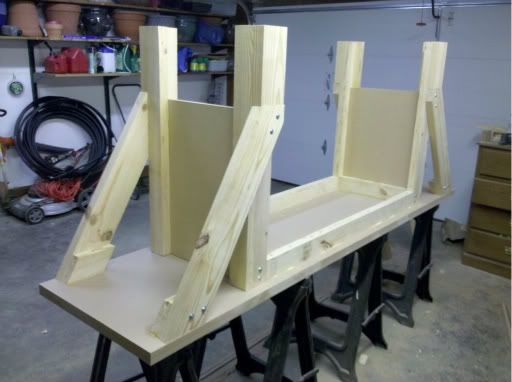 I flipped the bench upright and double checked for flatness. The top was VERY flat, but there was the slightest of dips in one spot (didn't measure, but it barely let light under my straight edge) that I am going to ignore for the sake of my sanity. If it were hardwood, I could obviously just plane it back down to flat, but it is close enough for what I will be doing with it.
Finally, I put the old laminate counter top I had been using as a bench over the top of the MDF. After sitting on two cabinets with no support underneath, the counter top had picked up a little warping. I haven't attached it to the bench yet—I am going to give it a few days to see if those warps will fall out now that it is on a flat surface. If they don't, I think I am going to add another layer of MDF to the top and put a hardboard top on the bench. I love the durability of the laminate (especially when I get glue, water or oil on the surface!) but I am not sure whether I want to try and put it directly and permanently on the bench.
Whatever happens with the top, the bench base is VERY stable, and holds up well against a lateral load (like hand planing). Once I get the top surface squared away, I am going to add clamps/vices, but for all intents and purposes, this bench is done! Yea! No more wobbly bench!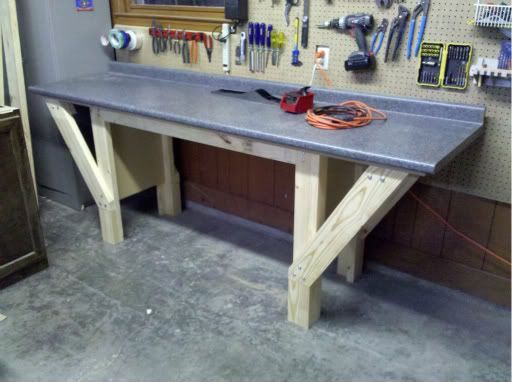 Finally, for anyone wondering, I am planning on building a rolling assembly table to fit under the opening in the bench—thus no shelves or bracing in the center area.
-- David from Indiana --
---