After a little soul searching (sorry for the pun) as to whether to grind the sole completely flat and get rid of some of the pitting, I finally decided to leave the pitting and just "lightly" flatten the sole of the plane.
It took a while, but after killing several sheets of 60 grit sand paper (mounted end to end on my table saw) I started getting "flat" lapping on the entire length and width of the sole. Boy, that took a long time, and sure did generate a TON of black metal powder. Lapping a 22" long plane is NOT a quick activity! I worked the sole down to 220 grit sand paper, and figured that was good enough.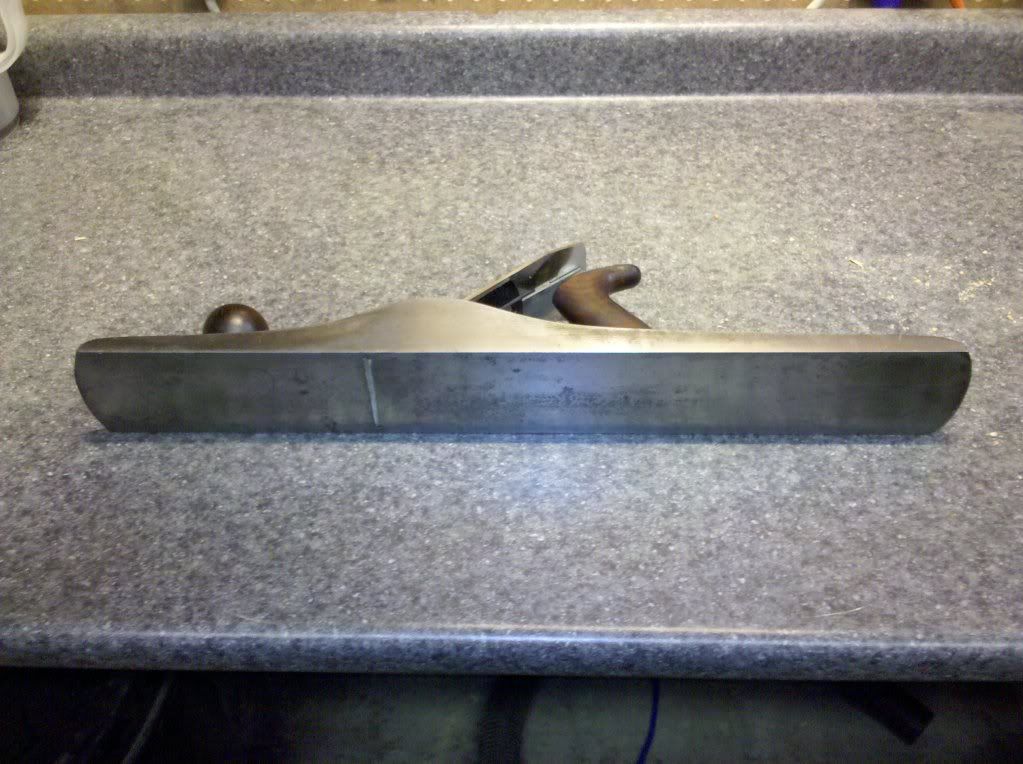 After a good coat of paste wax to get things slick and to protect from new rust, I slapped in a new IBC A2-Cryo blade and tried things out.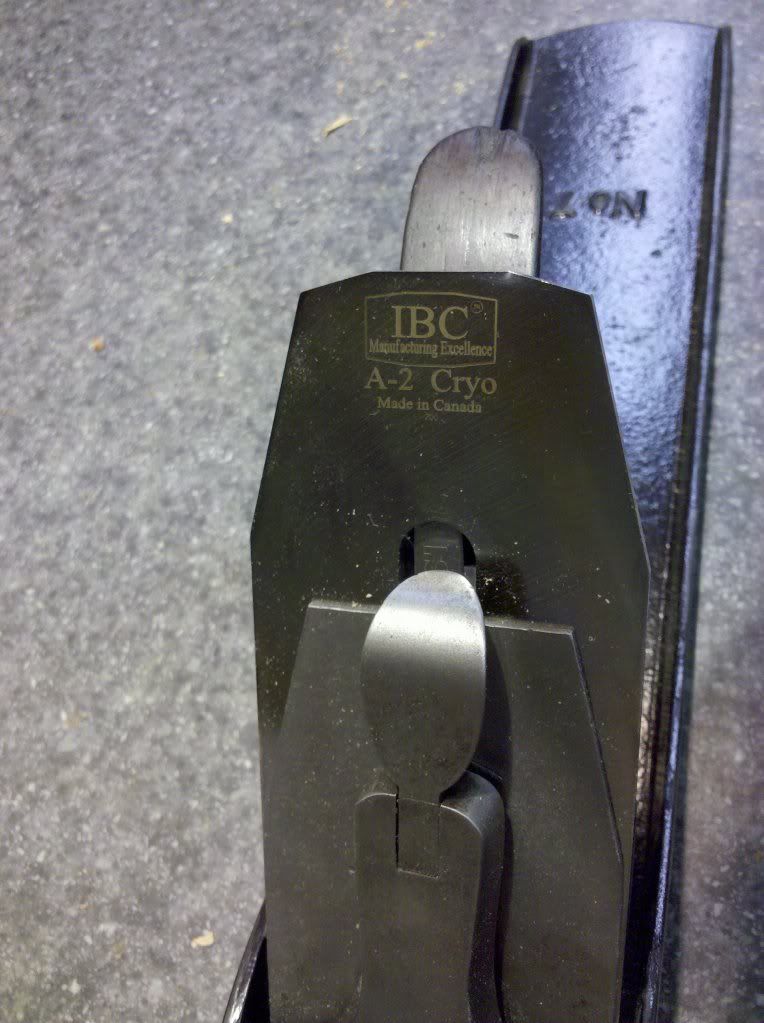 There are (obviously) still pits and scratches on the sole of the plane, but they don't seem to have an impact on how the plane slides across a piece of wood. I flattened a short piece of scrap pine to get the blade depth dialed in, and then went to try it out on a real piece of rough stock. I had been working on a couple of pine end tables with a buddy of mine, so I used a long piece we had left over to give the plane a good workout. At first, I thought I had banged the blade back into the plane somehow, but I quickly realized I was only trimming the VERY high points! I intellectually knew to expect this, but this is honestly the first time I have ever used a hand plane this long, so it was a little disconcerting making the first few passes as to how little contact the blade was making with the wood, even though I had dialed in a moderately aggressive cut. Just as was to be expected, after a few passes, the high spots quickly got knocked down, and I started taking nice, long, smooth shavings from the edge of the board. I was able to find a nice sweet spot for taking moderate shavings to make joining go fairly quickly, but not so deep that I was worried about tear out. I think I can tweak the adjustment of the frog a little and get slightly better tear out control on changing grain (which there was a lot of on this test piece, let me tell you!), but overall it works extremely well!
All of this started with a challenge from WayneC as to whether an old Stanley would be a better buy than a new Footprint or WoodRiver. After getting the plane in "user" shape, I can't really answer that yet! I can say with 100% certainty that the build quality of this plane is head and shoulders above the #4 Footprint I own, and it is better than the Groz planes that I have seen (don't own one, so take that comparison with a grain of salt), but the WoodRivers look very close in quality to the old Baileys, but without the need for restoration and possible blade replacement. All said and done, I put ~$90 into this restoration, including a new premium blade and a few random replacement parts (I am cheating high a little bit here since I didn't use a whole can of stripper, nor of paint, but I had to buy them anyway). Considering that WoodRiver doesn't sell a #7, this is really a pretty lame comparison, but their #6 goes for $140 normally. Is the time and energy I put into the Bailey worth $50? I can definitely tell you I wouldn't expect to sell this Bailey for $140, and I doubt I could sell it for $90, so the net dollar value comparison is no help. Will one perform better than the other? I don't have enough experience with the WoodRiver to tell! Even so, will the performance difference be worth $50, assuming that the WoodRiver actually is better?
I honestly can't answer this at this time, but I do know I had a GREAT time restoring this old plane, and would highly recommend that any one using hand planes go through the process at least once! For me, this was a fantastic learning experience, and introduced me to a ton of information and resources that I would never have encountered if I had never undertaken Wayne's challenge. Whether it was financially worth the money in terms of tool cost got to be irrelavent about 1/4 of the way into the restoration. It quickly became more important what I was learning about how the plane works and what needed to happen for the plane to perform its best! Things I always thought were super important (like having a 100% dead flat, highly polished sole) became secondary considerations, and things I had previously discounted (like the back bevel angle of the blade) were promoted to a much higher priority!
All in all, I am glad to have the plane in a good working order. It obviously (and intentionally) is not perfectly restored, and definitely reflects its age and (unfortunately) neglect over the years. Hopefully it has many good years left, and (fingers crossed) the rust won't come back any time soon!
-- David from Indiana --
---