That's right! The plane is put together for the first time since I got it. For reference, here is the picture I got from Wayne when he first offered the plane (my plane is the one in the foreground):

Here is what it looked like when it got to me: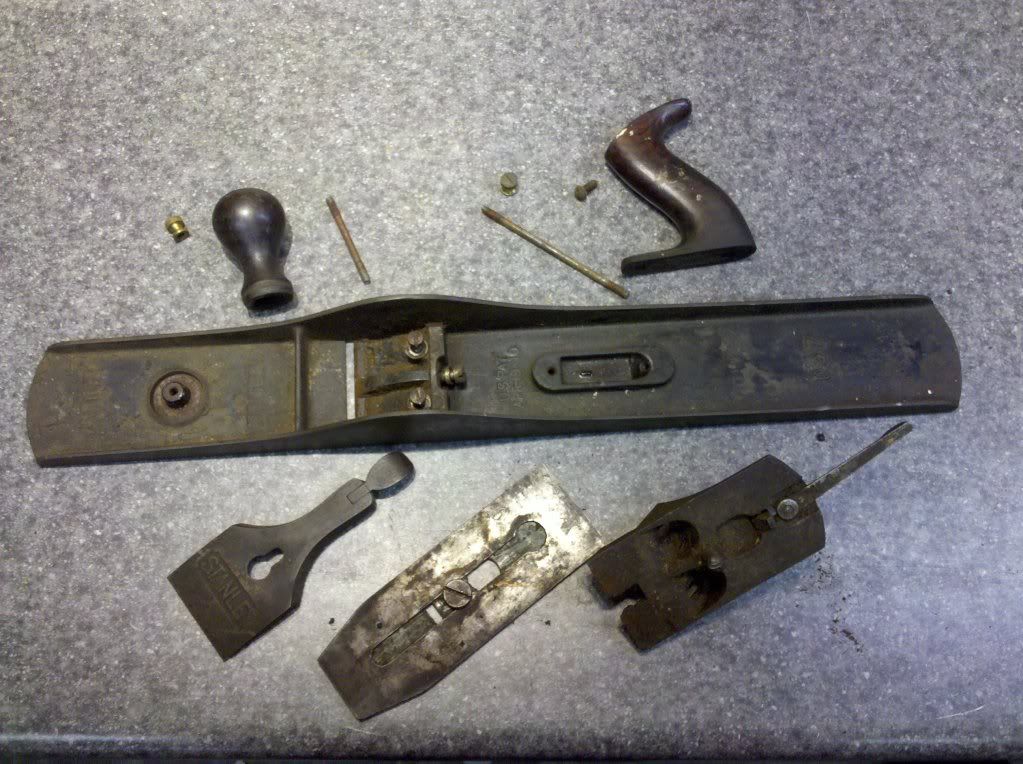 And here is the plane now: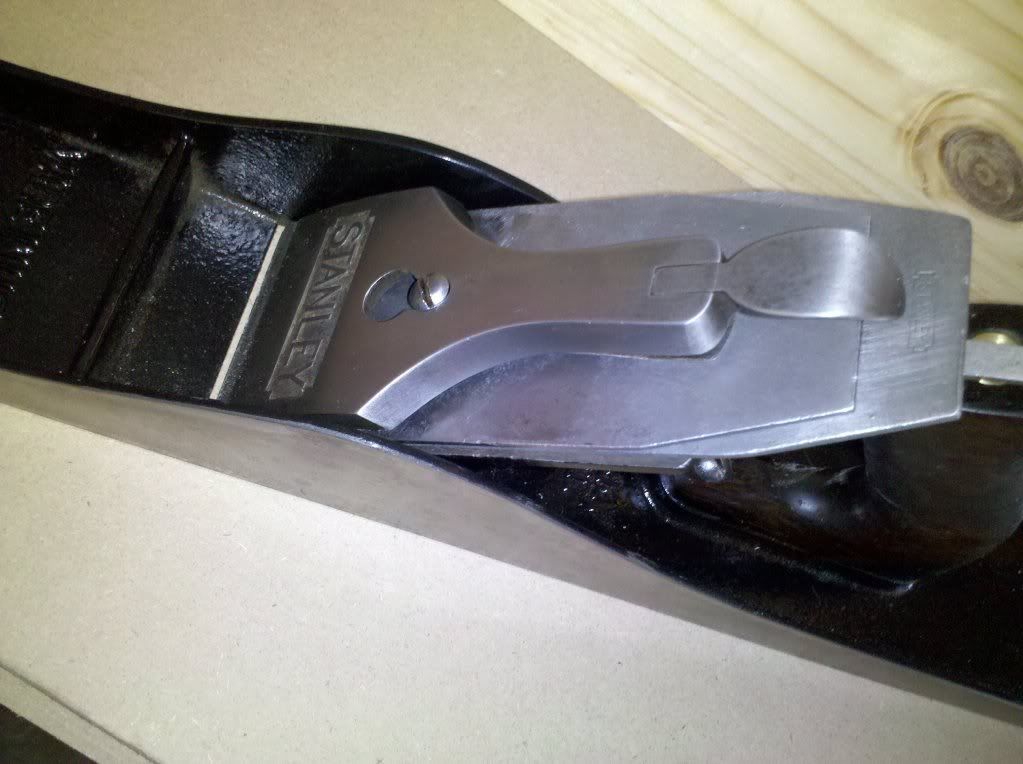 I skipped a few picture taking opportunities (namely the refinishing of the handle and filing/truing of the frog parts), but there are a few extra pictures in the photobucket folder if anyone is interested.
So far, this looks pretty good! I did not re-japan the plane, instead opting for several coats of semi-gloss Rustoleum for time, energy, and money saving reasons. It is not as nice of a finish as it would have been if I had gone for real asphalt japanning, but it works! Seemingly to make up for it, the handles look spectacular. The pictures here really don't do them justice! They glow with that grain depth of oil finished dark woods that makes every woodworker drool! Of course when I went to put them on the plane, the Tung oil on the handles seemed to be just slightly tack, so there is some dulling that I think will burnish out when the Tung oil completely dries. Yea, I know, I got impatient and got what I deserved. If I have to, I can easily pull the handles, rub them back down with some steel wool, and actually let the Tung oil cure next time.
I am wondering out loud, though, if Danish oil might not have been a better option to give a burnished matte finish by rubbing with really fine grit sand paper. Just a thought. . . .
Before I put it in, I tried to grind out some of the nicks from the blade, and did a half decent job of putting a hollow ground on the blade, despite the fact that I am TERRIBLE with a bench grinder. After that I slapped the blade in a honing jig and proceeded to grind a uniform 35 degree bevel with sandpaper. After I got a sufficiently nice primary bevel, I started lapping the back, and noticed that there was deep pitting on the back of the blade. What I had thought were gouges in the blade were actually pits in the back of the blade! No amount of grinding or honing is going to get this edge uniformly sharp. This kills me since I thought it would be really neat to have a good old blade with the old sweetheart logo, but it was not to be. I guess I am a glutton for punishment since I finished polishing the 35 degree bevel and put ~40 degree microbevel on it through 0.5 micron abrasive paper. I know I won't actually use this blade for anything serious, but at least I can say it is as sharp as I can get it.
Moving to the chipbreaker, I was able to file down the really bad spots, but honestly, this thing is in need of replacement too. I was able to find replacement parts pretty easily, so I dropped in an order for a stock replacement chipbreaker and an A2-Cryo Hock blade that I'll pick up through my local Woodcraft in a week or so (I would rather buy locally than order from the web store since those guys are always really helpful, and I want to send them business even if it means I have to wait a day or two longer to get my stuff.)
I had to resist temptation to buy a Hock chipbreaker, but after looking at them for too long, I think I will possibly to probably make my own custom chipbreaker based on that design. So why did I get a stock chipbreaker? Well, it was really cheap (~$6), so I figured it would be worth having around.
Now is the full disclosure time: All is not done! I have not touched the sole of the plane, which is (IMHO) the most critical part of getting this plane right. Here is a picture of how it sits now: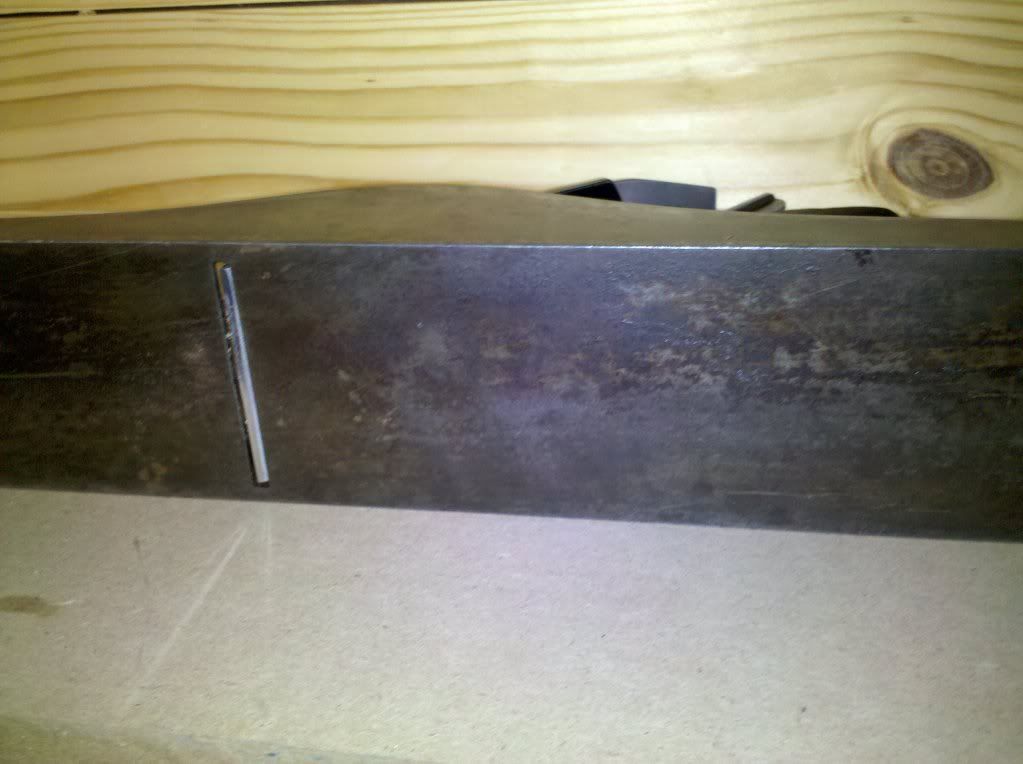 I am going to forgo trying to completely regrind the sole, and instead get the initial crud off with sand paper and try and "flatten" it the old fashioned way with a hand file. Yea, I know how insane this will be, but why not?? The sole is already pretty flat, I am sold on trying to preserve some of the history of the object, and it may even turn out to take less time overall than setting up and performing all of the grinding/milling operations I would want to ensure the sole was flat.
Assuming that a file gets things flat, then it will be the last step of the restoration! All I will be waiting on after this is my new blade and chipbreaker, but those are technically "upgrades." I cheated a little when I got the plane together and tried a couple of shavings with the terrible sole. Predictably, it felt like I was dragging an anchor over the wood. I couldn't get anything resembling a good cut, and there was no way it would be even CLOSE to usable in this condition. I did, however, get my first shavings, and though they were HORRIBLE, they brought a huge smile to my face!
Hopefully tomorrow I'll be able to post some good shavings that will bring an even bigger smile to my face!
-- David from Indiana --
---