A while back I posted a review of a cheap #4 Footprint plane I bought and tuned up. During the discussion, I mentioned that I was looking to buy a #7 plane, and WayneC generously offered to sell me one of his bargain finds. He warned me that it was pretty dirty, and that there were some minor defects, (but that is of course to be expected of a tool of this vintage) but that it was in good user condition, so I jumped at the opportunity and had him send it along.
A few days later, an extremely well packaged, disassembled, FILTHY plane arrived on my doorstep. After unpacking everything and making sure I had all of the parts, I realized that I had my work cut out for me!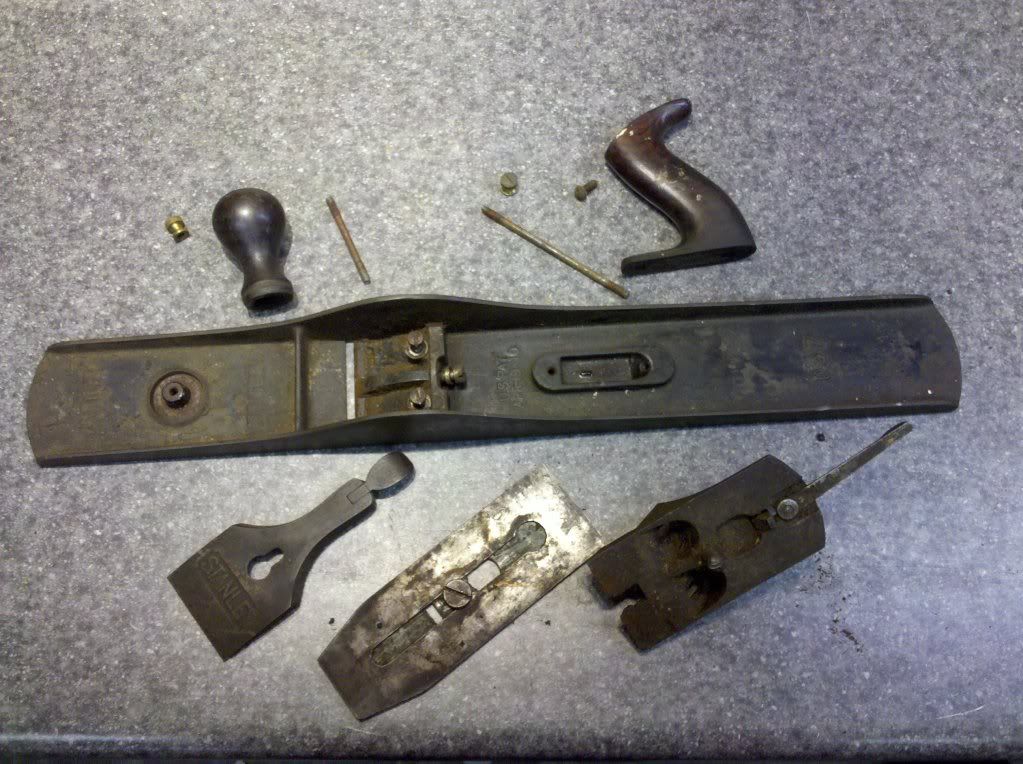 All of the parts were coated with a crud of surface rust, aged on grease and oil, and a TON of dirt and grit.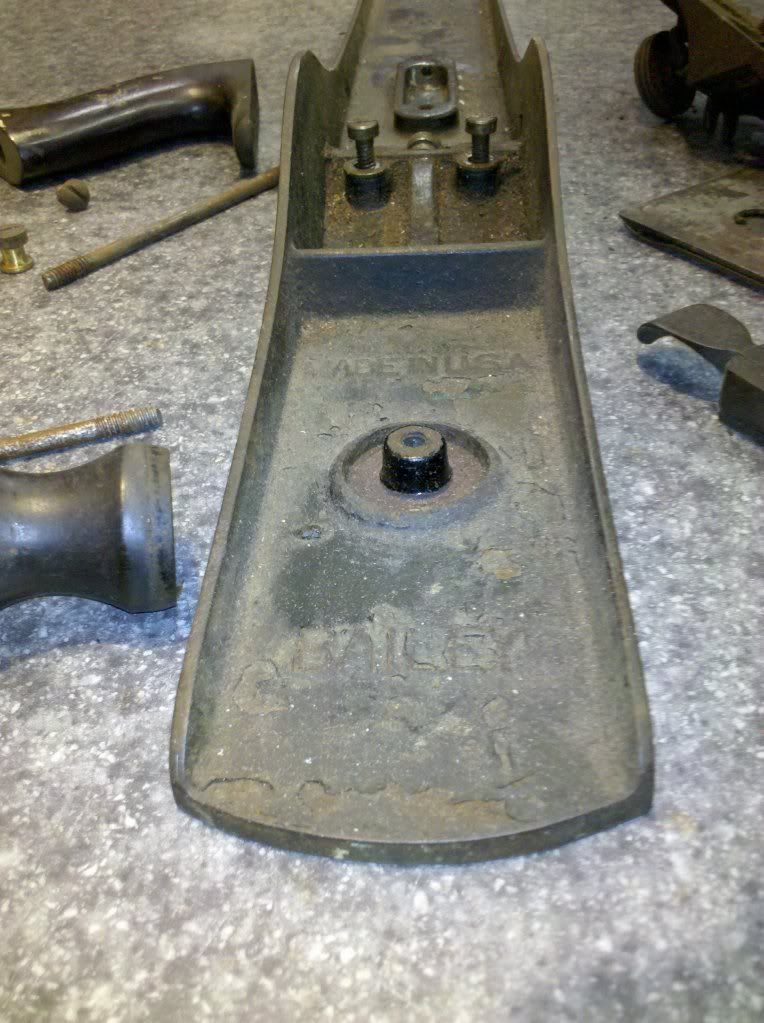 As you can see from this picture, the Japanning is pretty much shot, so I am not even going to try and save any of it.
Fortunately, the sole looks like it is in pretty good shape (there are a couple of spots of minor pitting and a few scratches, but nothing that will impact performance), but it too is covered with the scaley crud and some rust. It will definitely need some work to get into shape.
One interesting thing I noticed while getting the pieces ready for cleaning was that the previous user appeared to have the blade mounted bevel up in the plane! Not sure what that was about, but the edge of this blade is in TERRIBLE condition and will definitely be getting replaced once the plane is in decent shape.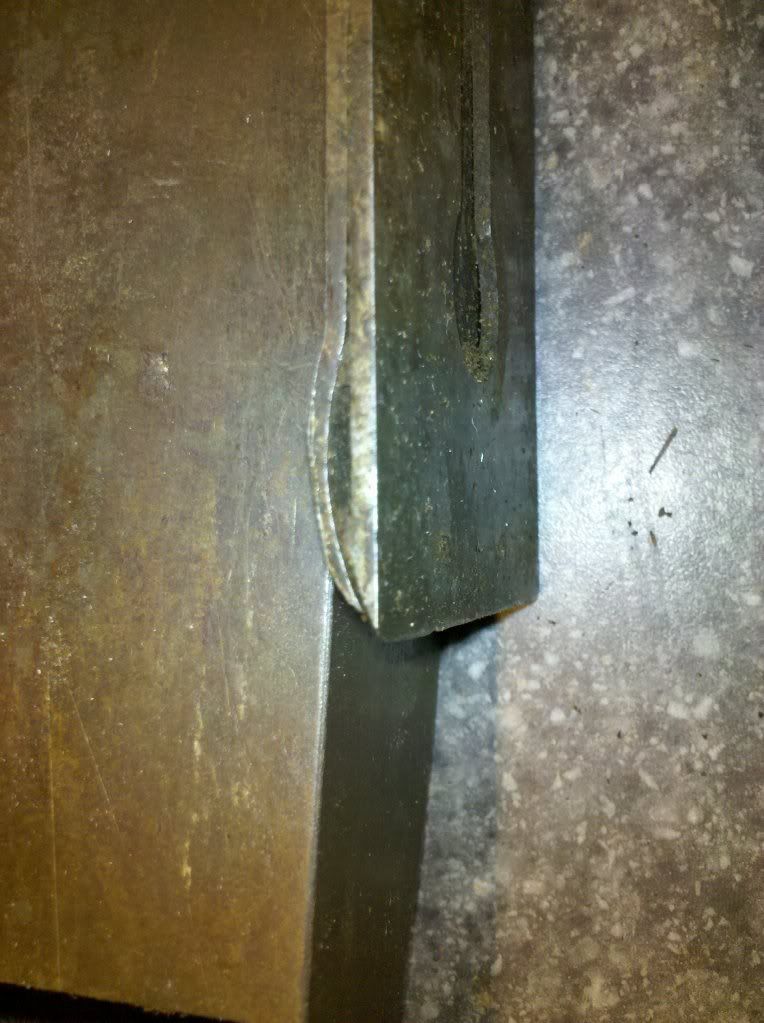 There are a few more "before" pictures in the photobucket folder, so feel free to look around a little more if you are interested (just click on any of the pictures and they are linked to the folder).
So, on to business! First things first, I degreased everything and tried to clean the surface dirt off of the plane. This was easier said that done, and I had to resort to dental picks for getting some of the junk out of the nicks and crannies of the frog. I tried using a scotchbrite pad for some of the thicker crud, and it wasn't really going anywhere. So, I slapped on some paint stripper since I knew I was going to hit the Japanning with it anyway. After a good soak under some gel stripper, things wen much better. Most of the loose Japanning came off (only a couple of really tough spots are still left) and most of the grease-based crud came off too. Unfortunately, I noticed the beginning of some flash rusting, so I sprayed the plane down with WD-40 to keep things from going backwards.
Here is how things looked after an initial cleaning (before stripper)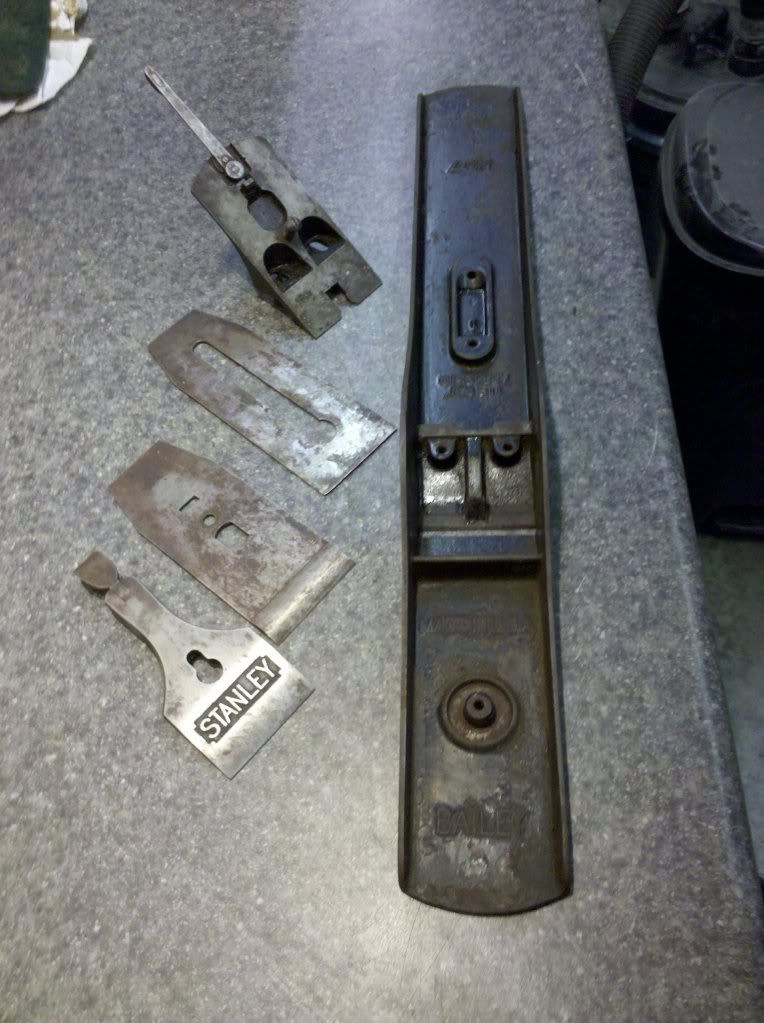 It was at this point that I turned to cleaning the lever cap. I was able to get most of the surface crud off with scotchbrite and 220 grit sand paper, and I was about to proceed to the evapo-rust when I noticed how nicely the residual black in the field of the "Stanley" logo looked. I didn't want to lose that look, but I figured if I wanted to get things shiny I would have to make a sacrifice. Then it finally hit me—this plane has EARNED it's patina. There is a difference between cleaning the crud and crap that will inhibit the proper functioning and future well being of the plane, and trying to make it into a brand new plane. It simply IS NOT NEW!!! To try and make it look new would be rather silly!
After a rush of realization, I decided to clean everything possible by hand and keep some of the patina to acknowledge that this is, indeed an OLD PLANE!!! It has some blemishes, and it has earned them through the years! OK, now I know how this is going to end up! I got the lever cap cleaned up to the point that it looked like it should—clean but definitely well worn, and started in on the body of the plane. I used a bunch of WD-40 and 220 grit sand paper to knock off the scaling and brown discoloration to reveal a dull grey surface with a black patina. Exactly what steel of this age should look like!
This is where I left it: one side of the body cleaned with the patina I think it should have, and the other side as it looked after degreasing and light scrubbing with scotchbrite.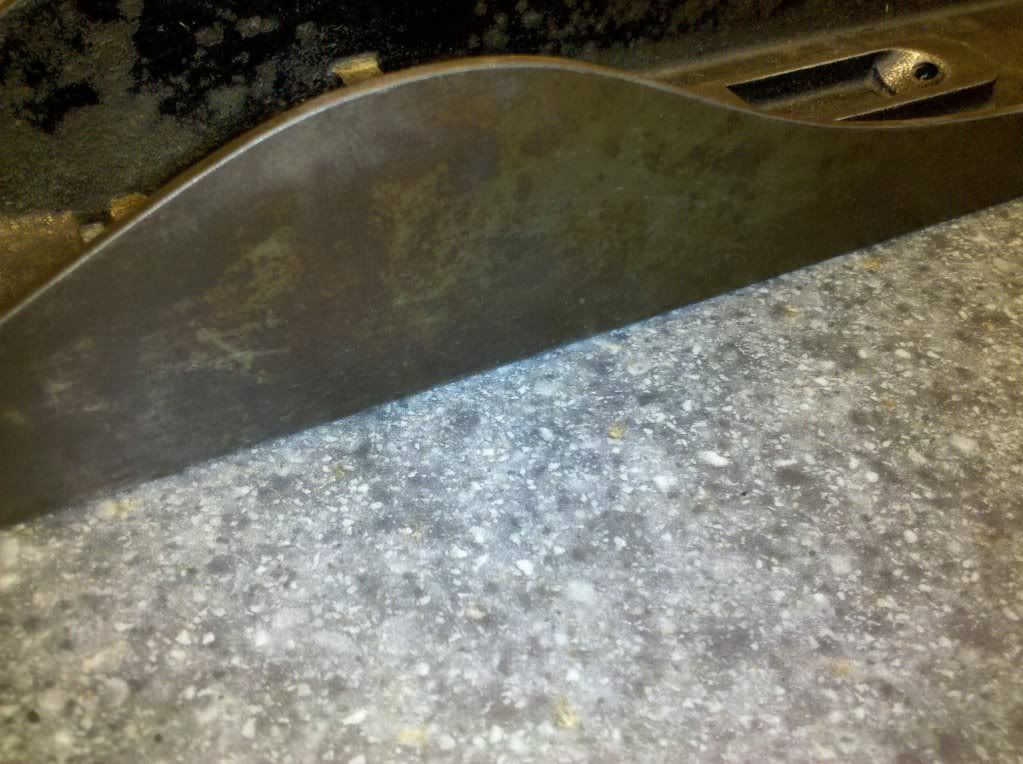 Once I get the sides of the plane cleaned up, I am going to finish getting the last few spots of the Japanning off, and repaint the body with rustoleum or an engine paint. I know it's not authentic, and that I went through the whole nostalgia thing a paragraph ago, but it is going to be a user plane, and I am making an acknowledgement that this is a restored object as well as simply being old. I'm going to regrind the base of the plane to make it work better, and I am going to replace the blade and chip breaker. My PRIMARY concern is functionality, so though it may be neat to go through the asphalt application process, that particular aspect isn't too appealing to me.
Well, considering I got this far in one session, I hope to have the plane operational in a few days if I can get back to it and have time to get into a machine shop to regrind the sole. I'll have to wait on that until I get the frog, handles and blade in since I want the body flat when it is closest to operational conditions. It probably doesn't matter, but call me paranoid.
Regardless, I can say at this point that I will definitely have put more time and energy into getting this plane working than my Footprint, but the build quality is indeed far superior, and despite its age, I think it will end up being a more effective "user" than the cheap Footprint. Obviously no data to back that up yet, but hopefully soon!
-- David from Indiana --
---