I had today off… kinda… schlepped around in the shed getting the new Ozzie Jig assembled…
and unpacking and sorting things out… posting a new …almost new that is … project… up loading all the pics for this post… and having a few coolaids… to relax after a really hectic three days…
For a start…....


We were part of the Gregories Machinery Stand.
Aaron and Henry playing with the Torque Work Centre..
. I got to display a few things on the back wall.. kinda fun decoractions… lots of interest and quite a few people taking photos of the boards… and a few cards handed out..


This is Des and he is the inventor of the OZZIE JIG…. more on that later… As you have read I got one and will be posting all the details shortly..


Timbercon… they came over from the West Coast for the show with a lot of very cool things… and 15% off… I certainly took advantage of that…


For all the Galloots… here is Colen and his hand made tools…. marking guages, hand planes, mallets … all hand make from fantastic Australian Timbers… He has a shed in his backyard… runs it all from home… under the sunny skies.
Want to make a wooden boat… join the club and you too can be enjoying a sail or paddle down the river…
Stu …. Carba-tec had a real big site with lots of space..

Addictive Pens were there with lots of different pen turning blanks…


A small selection of turning supplies and some burls for sale.

Lie Neilsen had quite a crowd around their site. Very nice selection of hand planes and tools..DROOL
Start them young hey… Carba-Tec from the other end.. lots of space..

Crowds looking at the various demonstrations.


Even the defence force recruiting bus was there…


To the timber


Cutting boards made from Camphor for AU$49 to AU$70 ..


Camphor coffee table under AU$ 300


Tables for AU$600 to AU$800 in Camphor… Silky Oak for AU$2,500… amazing…!!

Carve bowls AU$40 to AU$90.. Cheap as Chips…

Slabmaster stand… with Keith's wife Anna with the Racing Kangaroos…I just love these little guys..

A close up!!
My Mate Trevor's stand.. and some of his fantastic timber..and well priced!

The Carin Brothers came all the way up from Tasmania with a wonderful selection of HUON PINE!!!!!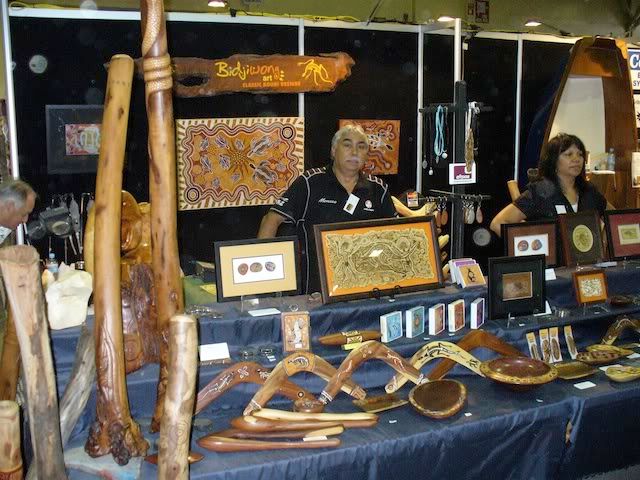 This is my good mate Kevin and the wonderful art of the Koori Tribe.

A demonstration by a cooper on how to make a keg…

And some of the barrels…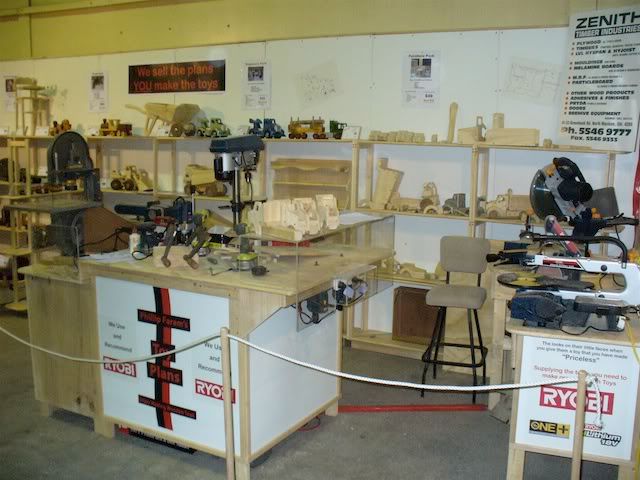 Toy makers plans and supplies…

Me and a few helpers… got to love wood shows… hey


Another Aussie invention… compression clamps…I will be doing a review on these too,


Some really great boxes… even a few kits for the diy-er who doesn't have a band saw… cool…

Art!


Last but certainly not least the organisers… NO names NO pack drill lol…
They certainly made life easy for all the exhibitors and bent over backwards to ensure a GREAT show,....
Thanks Guys..
-- Don't drink and use power tools @ lasercreationsbylarry.com.au
---