Once again, this blog series is a queen size platform bed made of hard maple.
The platform or actually the bed is done. Yet to make is the bed head. I decided to finish the bed, sand and poly it then flip it onto it's side so that I can gain some moving around room in the shop. A bed that is 60"x80" takes up a lot of room. I've been cramped.
I decided to put the bed on roller stands. It made it much better to work on and is sturdy. As you can see the end of the bed has a door on the left corner and the side (that won't be against a wall) has a drawer, and cubby near the head.


.
.
Here is a closer shot of the end door closed and the next picture of it open. Behind the door is a 10"x19" opening that is 80" deep.


.
.
The drawer and cubby from a head angle. And then the drawer open but from a foot angle. The drawer is 10"x50" wide x 36" deep. I purchased two heavy duty 36" drawer slides from Rockler. They're pretty good. The drawer is heavy, made from 3/4" plywood joined together in 3/4" routed slots made with the router. The sliders move in and out easily with one hand. The drawer opens much wider than this. It comes out to within 1" of he back end.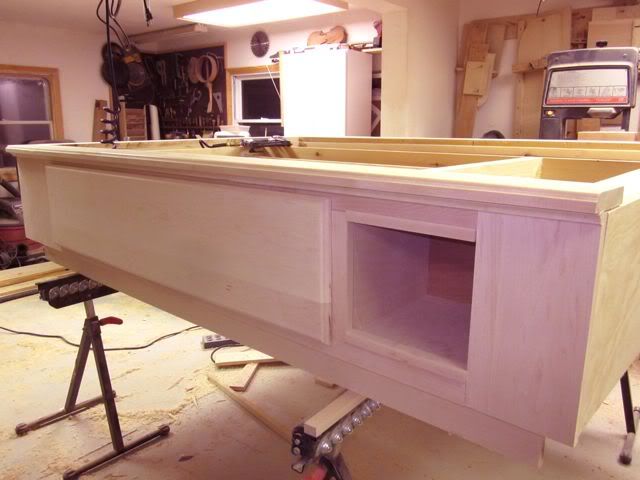 I will be installing a 1/4" sheet of plywood just slightly above the drawer so that pillows and puffs won't get caught by the top style board when opening the drawer.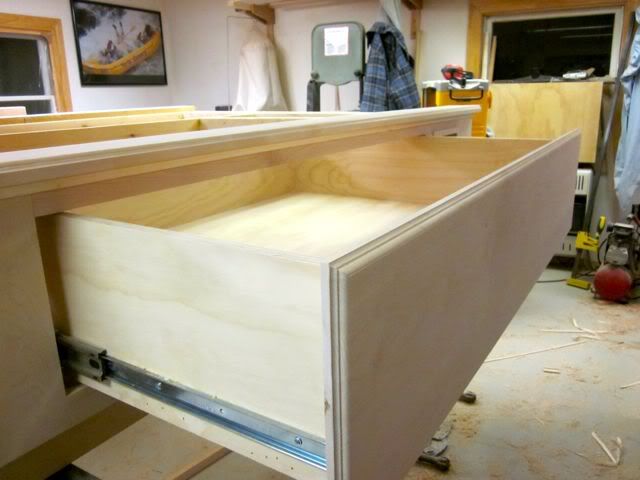 .
.
The frame around the platform with ogee edge. You can't see it but there is a 3/4" cove molding under the entire edge of the frame. The frame will stick out about 2-3" all around from the mattress. I have yet to cut the plywood that will cover the top. It won't be installed until we've moved it into the house for weight reasons.

Next, Poly and then on to the headboard.
-- The smell of wood, coffee in the cup, the wife let's me do my thing, the lake is peaceful.
---