Has anyone noticed the latest sale flier from Rockler? It's the one with the sale that goes from 7/9 to 7/29.
Unlike all their other fliers or even the online one. It has a 50% off coupon on the back page on the 2nd item. But nowhere does it say that the item has to be of equal or lower price. It does have fine print that excludes some items but it's the first time I've ever seen this without the lower priced item as the second one. I wonder if it would work. Buy a $2 hinge and get a $120 set of chisels for $60?
As it's usually written it would be equal to 25% off each item which is something they often do anyway.
It's a 35 mile ride for me. If anyone tries it and it works send me an email!
UPDATE!!!
I called Rockler in Portland Me, talked with Derek about it being the only Rockler coupon ever without specifying equal or greater value. I asked if I purchased a $4 item and a $100 item if the $100 item would be 50% off. He said yes. I said, It's going to be a long drive so I won't be doing it for nothing? He verified that they'd honor it.
Anyway, I don't know if a scan of the coupon will be good enough but here it is. Good luck.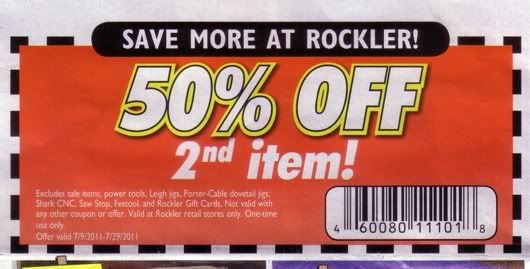 -- The smell of wood, coffee in the cup, the wife let's me do my thing, the lake is peaceful.
---