Ah well, I seem to have skipped a few steps. The table started to come together so fast I probably should have had an interim post in here.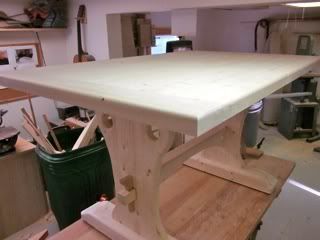 It's all assembled now. Since the last post I glued up the legs and top/bottom braces and made the cross brace and pegs that hold it to the legs. I must say that when a table like this is assembled it certainly is hefty and rigid. The pegs really hold the cross brace in tightly.
.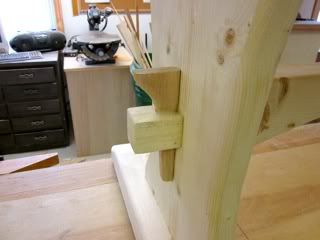 I attached the top to the top braces with four insert nuts and connecting bolds. I also added four adjustable feet to the bottom of the table legs to allow for leveling. So, i've increased my cost by about $7 going over my $40 amount. I designed and assembled the table on the fly as I went along, hence the sweep in the bottom of the brace and the two round over holes in it like in the table legs.
.

The tenons glued into the mortises nicely on the legs but I put in some countersunk screws anyway. So, if you remove the four connecting bolds with an allen wrench and knock out the pegs on the crosspiece you end up with a top, two legs and a cross member. Good for transporting. This table will go to my niece as she moves into a new place as a kitchen table.
I'll try to get a project finished picture up after it's sanded and with a poly on it.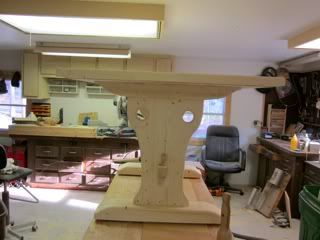 -- The smell of wood, coffee in the cup, the wife let's me do my thing, the lake is peaceful.
---