Recap: I've made the top and now it's the legs. This is a Trestle kitchen table being designed on the fly as I go using $40 worth of framing lumber (spruce) from Lowes.
The past couple of days I managed to get the legs made. I have no plan, just winging it as I go along. The only thing I did was measure my own kitchen table in the house to make sure I get the height right for standard kitchen chairs to use with it.
.
Each of two legs is made of three sections of 2×6 spruce jointed and planed and glued on edge.
On my computer I used a drawing program to make a template for the table legs. I printed it out and taped it together. Crude and simple but it worked out okay.

.
The legs were cut out on the bandsaw and the edges scraped and sanded smooth.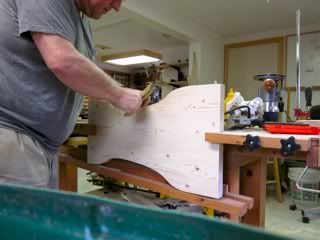 .
I decided to drill two decorative holes near the top edge. Then I used a round-over bit to trim up the edges and the holes.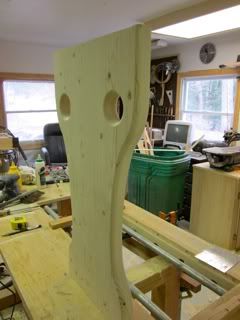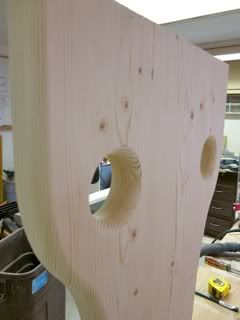 .
I decided to cut the tenons on the table saw and trim the ends of them with a handsaw and clean it up with a chisel.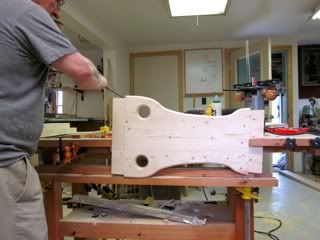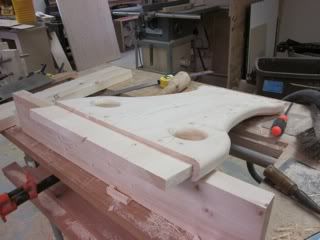 .
The top brace and bottom brace are made of two 2×6's glued together and shaped. I split the top one in half so it's narrower than the bottom one. The same pattern was used for these parts as was used on the legs. I used the top and bottom curve on the paper template to make the curve on the braces. These parts also had the roundover bit treatment.
The mortises were plunged with a 3/4" straight router bit and the corners trimmed out.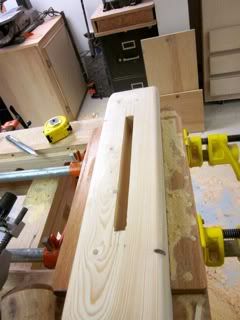 .
One of the legs with mortise and tenons pressed together. In the end they'll be glued and possibly some sunken screws or maybe dowels to lock them in. Next will be the cross piece to join and lock the two legs together.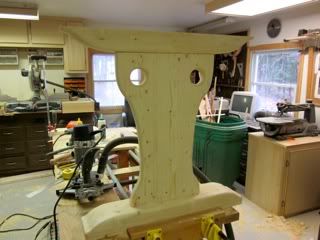 and edge view. Notice the narrower top brace.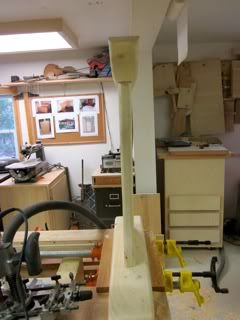 -- The smell of wood, coffee in the cup, the wife let's me do my thing, the lake is peaceful.
---