If you ever want to get a group of women to take notice then roll their eyes and leave. As they are talking about cooking interrupt and say "Well, according to Rachael Ray….". Or don't try it. They usually don't like it.
So, what does this have to do with a trestle table? Rachael does her "eat on $40 dollars a day" program. Or at least she used to. My niece is moving into a new apartment and mentioned that she would like a new kitchen table. She'd been looking at one in a magazine. It was made almost like a picnic table with the scissor legs. I said that's nice then decided that she'd like a trestle table instead. She's really into the old knotty pine thing which is the way with some people. Here in Maine we have pine tree's everywhere. You can't turn around without bumping into a 75 foot one. But many people find it good for exterior house finishing and we'd burn it if it didn't go up like paper. Very little heat value. Some people like it in furniture though. My niece is one of them.
To get the pine look without the expense, hence the $40 which is what this project costs, Rachael would be proud (Pine is common here but not cheap and not readily available in anything beyond 3/4 thickness.) I perused the big box stores for some decent spruce framing lumber that I could upgrade. Spruce is our other common wood, especially in the northern half of Maine where the ever diminishing forestry trade is. We frame houses with it. It's pine-ish looking and mills pretty good, not great. I obtained ten 2×6x8's and started out.
Some of the framing lumber, Spruce.

Even framing lumber looks much better after it's milled smooth!

I'll dispense with the glue up of seven strips of 2×6's for the table top. I had to trim the ends square after and decided that a straight bearing router bit would do the best job.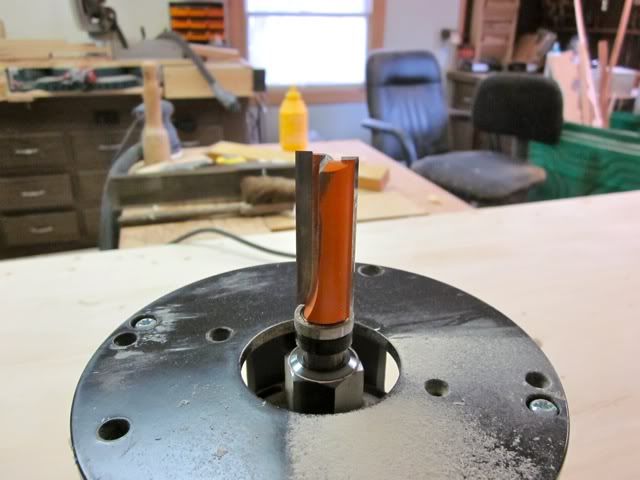 To get the top reasonably flat I was very careful in the glue-up to make sure the top edges of the 2×6's were even and I checked it with a straight edge all along the top. After though I still had to cross plane, scrape, and sand to get everything right. In the end.. it's pretty close to flat. Good enough for a rustic trestle table.
.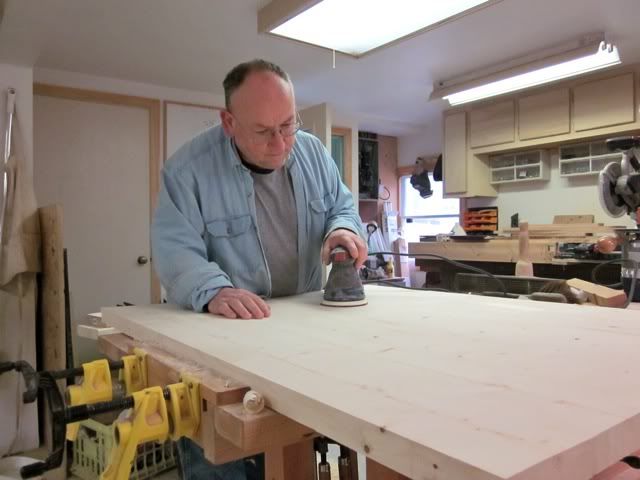 .
After some thought I decided to mortise end pieces to the top. I decided to use the same straight bit to rout a mortise in the ends. I cut the tenon of the end piece on the table saw. It's times like this that my 'new fangled' Fine woodworking style bench is a real treat to use. It will hold anything in any position for you. I even used the top vise for the top glue-up. Here the side vice holds an entire table top.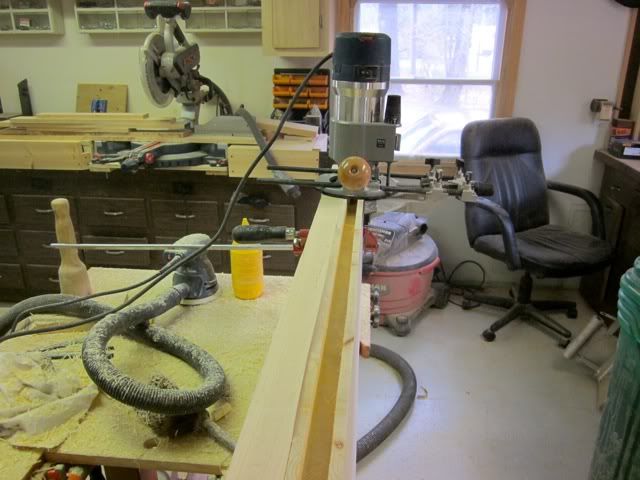 .
The tenon inserted and glued in place on one end of the table

.
Using a round over bit to put a preliminary edge on the table. Now just some finish sanding and we're in business. Next, on to the trestle legs.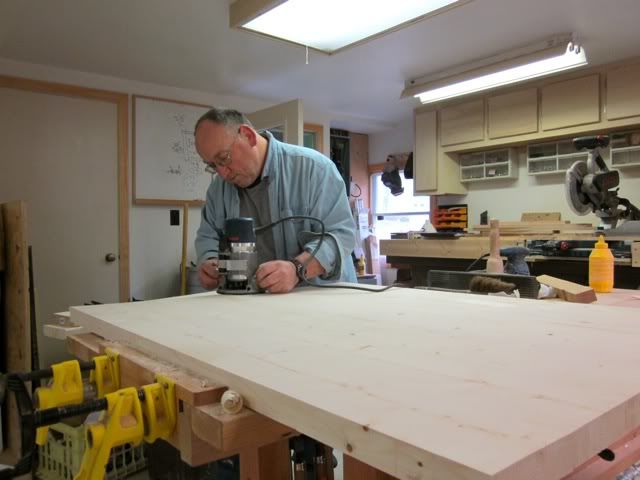 -- The smell of wood, coffee in the cup, the wife let's me do my thing, the lake is peaceful.
---