This could be a review but it's not officially a tool, and it's a little thing, so I thought I'd just put it in a blog entry so someone might see it and find it useful.
I just came in from the shop. I've been working on making some oak stair treads with returns for a staircase and banister I'm currently working on. I'll post it later when it's done. I have found what I think is a great glue bottle. Not only that but I get new free ones every couple of months. If you or anyone you know uses contacts, and many people do, you have to purchase these bottles of cleaning solution periodically. The ones I've seen are pretty much made the same whether you use the official stuff or the generic walmart kind. BTW, I purchase my titebond by the gallon. It's much less expensive that way.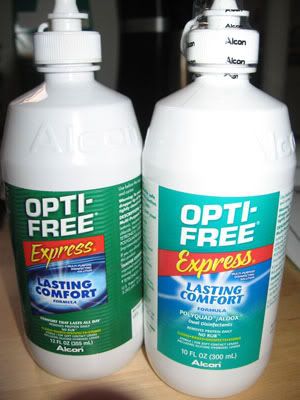 The bottle is clean once empty/ It just contained some saline water. The cap snaps off and with a small funnel or just pouring it you can fill it. It has a closing cap that snaps on and is held on by a plastic strap so you can't lose it. I find that using a small screw to enlarge the opening is sufficient to allow the glue to pour out in a narrow bead that is just right. The contact user will be making a new one for you in about a month or two and they keep coming as long as the contacts are worn.
I've been using these for a year now and really like them. The material they are made out of is more rubbery than 'plasticy' so it squeezes smoothly and returns to it's shape when done.
Again, just a little heads up on a minor observation of a new 'tool' I've become fond of because it fulfills a need.
-- The smell of wood, coffee in the cup, the wife let's me do my thing, the lake is peaceful.
---