One last post on the camper subject. We did the trip, 2 months, round the country loop visiting some of the major national parks. There is an extensive blog here
I know a lot of this is getting away from woodworking. I started the blog so I'll try and finish it in a few big chunks as some people are still following it. This is the last post for this project
Here is a picture of the inside cabinetry. It's oak with oak trim. It was mostly made from scrap lumber from old kitchen cabinet doors.
The Center console has a master switch, switches for the fans and a voltmeter to get a read on the life of the battery mounted on the tongue of the trailer. The empty space on the left of the panel is where the indoor/outdoor wireless thermometer goes. My Mac laptop is mounted on a pull-out sliding tray. Two speakers are mounted on the sides of that for better sound when viewing things like movies on the laptop. The power for these devices is supplied by a 175 watt inverter so most things run off 110 volts.
On the ceiling where the air vent cap is I have 4 computer fans mounted in wood. The switches on the console allow one/two/or four fans to be turned on. You can also see the marine light next to it. The light contains 24 led's and can be switched to either white light or red light for nighttime.
This photo of the power source was clouded by sunlight leaking into the photo. I have a 12 volt deep cycle marine battery. It's charged by a connection to the hot wire of my vehicle or a marine battery charger (green) Everything is protected by automotive circuit breakers or fuses. Two master battery switches are located on the box. One for cutting in automotive charging while in transit and the other to connect main power from the battery to the trailer while it's parked. What looks like a jumble of wires will come under control with a few nylon ties. It's all done correctly.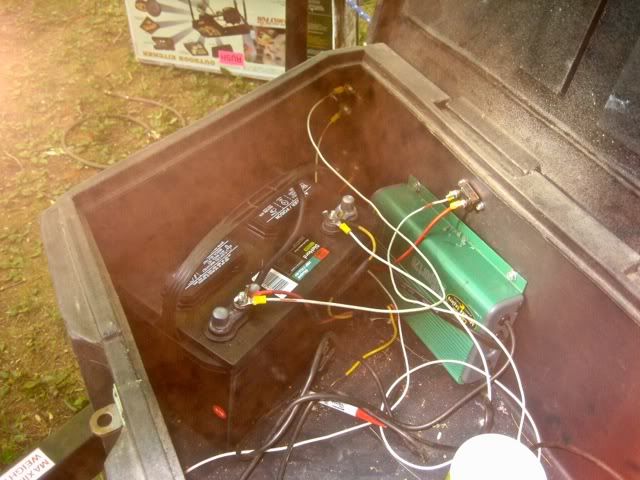 The galley has a counter top, shelf, and light like the one inside; white led's for light and red ones to not attract insects.
Here you can see the hook-on shelf I made so that the stove can extend outside of the galley. This stove also comes with legs that are easy to put on that I will definitely us for extended stays. The Camp Chef has a great easy to screw on valve.
So, that's the end of this build. I hope you enjoyed following it and again, sorry for the deviation from woodworking in parts of it. It wouldn't have made much sense without the other stuff.
You can seem more of the rebuild at my personal blog. Follow the directions on the page to see it all.
here
-- The smell of wood, coffee in the cup, the wife let's me do my thing, the lake is peaceful.
---