How do you frame an 8 sided mirror? Beats me. This is my solution. The construction is a whole new way of thinking for me. Fingers crossed for success.
My sister wanted a framed mirror for her kitchen wall. she had a large free hanging one but it fell and the mirror and frame shattered. Of course I can make one right? Hmm…. She wants it 8 sided. I want to bolt it to the wall, not hang it like a picture. Here's my solution so far.
After she had the mirror cut at the glass company I took it and cut a 1/2" piece of plywood the same size on the bandsaw.
I then thought about the weight of the glass. The small frame she wanted would not hold it up. I bent two metal clips and mortised them into the back of the plywood. The clips protrude on the front the exact thickness of the glass. The glass will rest on these two clips. The tape is so that the recessed nut won't scratch the back of the mirror.
I then wrapped all 8 corners in waxed paper so that when gluing the corners of the frame they wouldn't glue to the plywood. The plastic trash bag on the bench is there for the same reason

I laid the mirror down on the plywood and will use both as a mold for the frame.

I then made a set of frame pieces on the router table and cut a rabbit on the back side that would fit over the mirror and plywood and be flush with the wall once mounted. Interestingly enough the setting for this angle is already a snap in point on my Bosch 12" sliding miter saw. I think it's the same angle used in some crown moldings so I didn't have to set the saw. The setting was already on it.

A close up of the clamping mechanism I used. I pounded a small nail (actually a rivet, all I had at the time) to the bench. Two at each joint. I cut some small hardwood wedges on the bandsaw and used the wedges to press the joints together. I wasn't sure how the joints would glue together on the ends like this but I took it apart tonight and they have stayed together. My next job will be to mount it on the wall. I plan on screwing the plywood flush onto the wall. Then resting the mirror on the clips. And finally using two small screws on the top and on the bottom molding to screw into the edge of the plywood. The frame will hold the mirror against the plywood and the metal clips will hold the mirror up. That's the plan anyway. My second and last post on this project will either be success or disaster.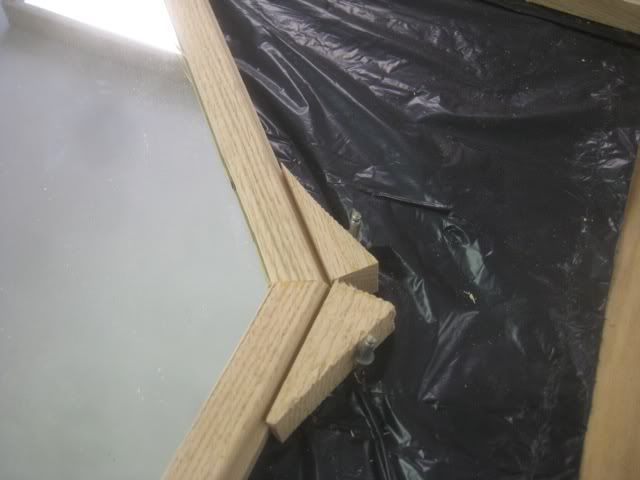 -- The smell of wood, coffee in the cup, the wife let's me do my thing, the lake is peaceful. http://gagnerwebsite.com/Deceiver/Craftsman_on_the_lake/Craftsman_on_the_lake.html
---
---
---