A little progress today, I went to Home Depot to buy some formica and particleboard to put it on for a countertop. I found that I could get a premade countertop for about half the price and exactly the right length, six ft. I chose the least expensive color which turns out to be the one I would have chosen from the options anyway. The couter hooks on the back much like a french cleat so that I can slip it out to insert the queen size mattress we're acquiring.
I also made some shelf brackets out of some oak scraps and mounted them. I'll make a shelf later when I decide how wide I want it to be. It will have a large lip and I want to purchase some bins from the dollar store. The shelf width will be determined by those bin sizes. I figure things will petty much stay put in bins with a lipped shelf.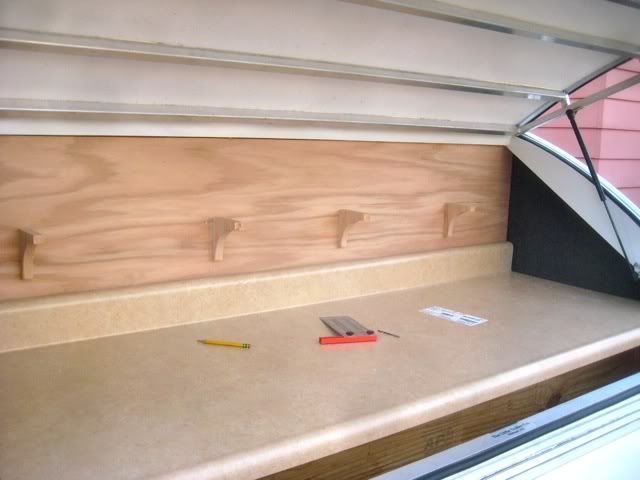 .
I also managed to put in an inner wall of ply and trimmed it out with oak scraps I had. the double wall with about 1 1/2" of space in between will become the place to feed my power and tv wires. The center of the cubbies will have a shelf for my laptop which will serve as computer, TV, and movie player.
That's all for now.. till next time.
-- The smell of wood, coffee in the cup, the wife let's me do my thing, the lake is peaceful.
---