Recap
My niece will graduate as a nurse in the near future. She has moved into a new house and asked me for a small desk for her new flat panel iMac. I decided to make an oak desk that would be loosely based on the mission style but with side panels that would reflect her future as an RN. My goal is a small desk 48" x 29" with keyboard drawer and a small drawer. I'll be trying my first hand made dovetails on scrap and then on to my first dovetailed drawer
I put this out here, baring all for two reasons. I'm still relatively new to woodcraft. Don't let the 'Craftsman on the Lake' fool ya. I just like cool names. I was one of those people who liked CB handles during the heyday of their popularity years ago; remember that time? Anyway the two reason are:
1. I'm still flying by the seat of my pants here. Trying to learn from the net, books and you guys. So, I know how to appreciate it when I get some good information that reveals how some of this stuff is done. For the next time I use these skills in another construction, I invite your take on things. Maybe how you'd do it. It may be a better way or just another way or preference. No problem. All good ideas and comments are welcome and will be read and filed in that void between my ears for future reference.
2. Because I have to work to search to discover the best way to accomplish my goals I document them here so that when another newbie puts saw to wood they might feel better about cutting it with the possibility of success. These steps may seem rudimentary to some but believe me, some were a mystery to me at one point and many more still are. End recap
All framed up
Here is the desk on the floor framed up. I managed to get most of the front made today with the keyboard tray and drawer made.
Keyboard Tray
The keyboard tray is installed. I thinned the tray to about 1/2". The slides are flat bottom slides meant for drawers that are limited in room. Home Depot's bin for keyboard tray slides was empty so I chose these. I think I might like them better. The idea is to have a solid front without visible drawer or tray. I'll be filling the front of the tray area with an oak strip the same width as the rest of the front. I'm going to try and find some small self closing hinges that can be hidden. HD didn't have any but my local hardware store is like the attic of hardware stores. I'll bet they have a little bin someplace with a set. I'll check tomorrow.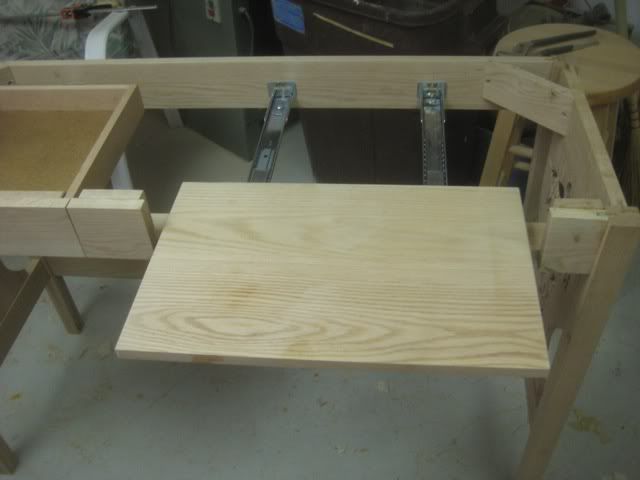 Small Drawer
This is the small drawer, made and inserted but not mounted on the track yet. It's designed to flush close like the flip down that will be on front of the keyboard tray.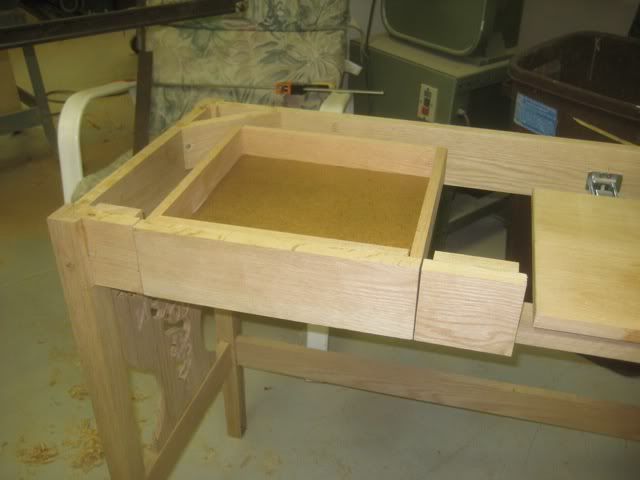 Sigh…
I have to confess I was going to do my first handmade dovetails but this drawer has sides directly mounted to the front and the sides sit slightly below the top edge of the front with the front bottom edge hanging down. After looking at this I got cold feet. I did some lap joints. My dovetails which I have practiced on scrap will have to wait for a box or more traditional drawer sometime in the future.

Top Glue-up
Yesterday I glued up the top. Today I managed at the end of my shop time to make the mitered sides and get the longest ones glued on. Thank the maker for my Bosch sliding compound miter saw. When properly aligned it cuts perfect fitting angles like this.
Question for anyone reading this far: Should I glue the top on or is it better to use some types of clips to allow for expansion? I'd sure like to glue it but don't want to do it wrong.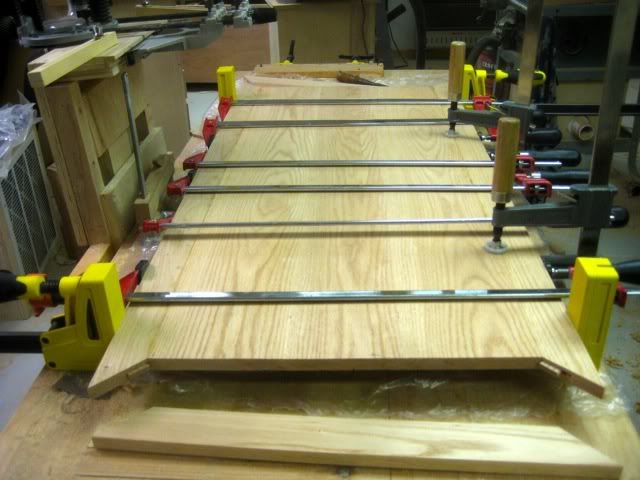 -- The smell of wood, coffee in the cup, the wife let's me do my thing, the lake is peaceful.
---