My primary bench (I have a second that has been buried under stuff for years) has been frustrating me for quite a while. The top is composed of 2X6s which means it's not as flat and level as I'd like. I'd decided a while ago that replacing the top with a double layer of 3/4" plywood would solve the problem. Eventually I'll replace this with a real woodworking bench, so this is a temporary solution.
I'd acquired the plywood several months ago and a couple of weekends ago I'd cut it to size. Last night I decided that this was the weekend to make the change. First step was clearing off the bench which was, per usual, covered in clutter.
Here's the starting point.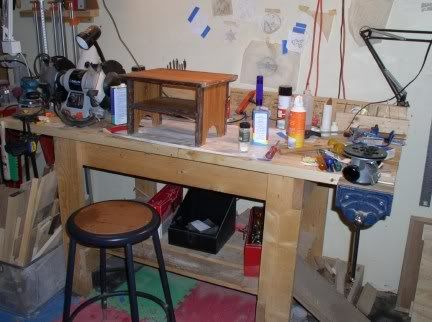 And here's how it looked 1 1/2 hours later after much clean up. What you can't see is all the stuff stacked on the router table and floor.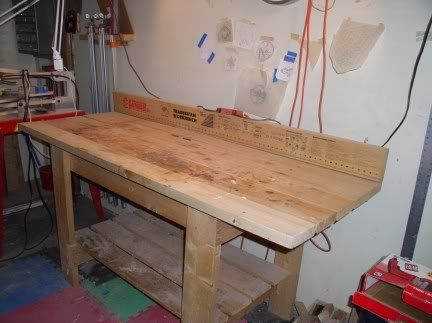 A close-up of the old top.

I've had two different kinds of interlocking padding on the floor for several months and because they don't lock into each other they are posing a serious trip hazard. So as long as I had the bench cleared, and therefore more easily moved, I took the time to replace the padding so that it's all the same type. And I did a fair amount of cleaning as well.
Here's the frame, without the top.

With a little help from my spouse the first layer of plywood was put into place. The plan was to screw this down to the frame then screw the two layers together from the bottom.
First layer ready for attachment to the base.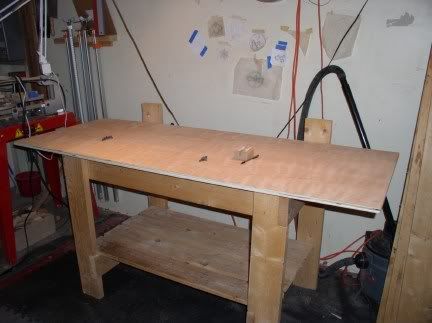 Top layer in place, glued and screwed with the back brace of the frame reattached.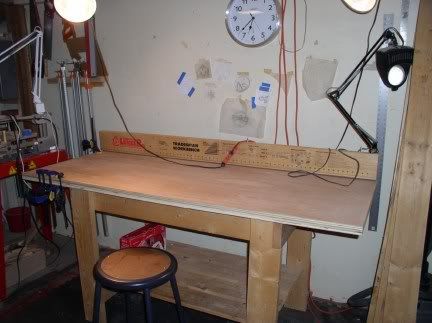 The top is now nice and flat and I'm thrilled. I'll be adding hardwood edging. and will post additional pictures then. I also need to reattach the vise, and will be adding bench dog holes to make the vise even more useful.
-- Chelle http://artsgranddaughter.blogspot.com
---