The baby is nearly a month old – little boy cute as a button – so it's time to deliver the nightlight. All that's left to do is add another coat of wipe on poly and add the electrical parts.
The design for this is from Woodsmith, published a bunch of years ago (at least 6 probably more). I've made two of these before, both in cherry. For this one I decided to do it in Walnut. I also customized 3 of the light panels (there are 4) on this rather than use the designs that came with the plan.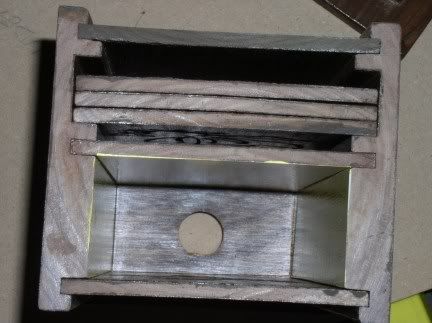 The sides started as 1 piece of stock and the dadoes for the storage compartment, back, middle and front were routed before the sides were cut in two. The bottom is attached with screws and glue. The top (should have taken a picture of it) has a block which sits in the opening for the light. The three pieces resting close together are the light panels not in use at the moment. The area where the light will be is painted yellow to help reflect the light. (The plans call for white, but I didn't have any white paint.)
The light for this is a large size Christmas tree bulb.
Here are the three custom panels.
The giraffes were copied from the bedding in the nursery.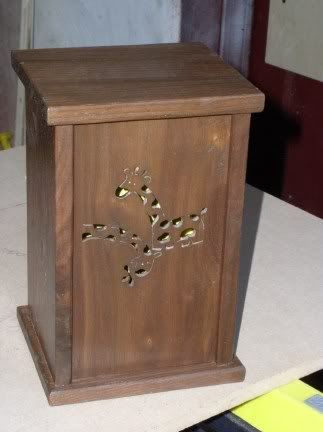 Mom is an avid sailer.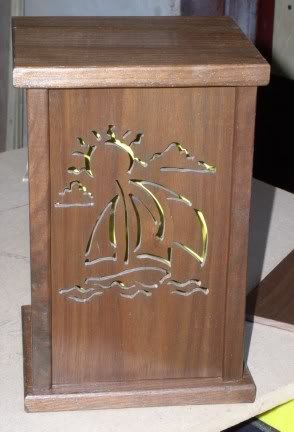 Dad is an avid skier.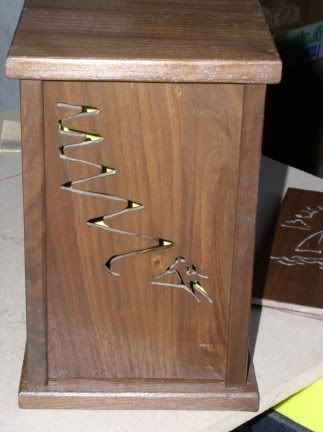 The fourth panel, whose design is from the original plans, is a moon and stars.
-- Chelle http://artsgranddaughter.blogspot.com
---