The weather has gotten better for working in the garage so I have been spending a few evenings toiling away with my epoxy and wood. Progress from the last blog entry includes laminating floor timbers to the frames and laminating up the stringers.
The plans call for the stringers to be 1.875 inch wide and 6 inches tall tapering down to 3 inches over the 12 ft length. Finding lumber for these was a problem. The local lumber yard had and very nice straight material but it was hemlock. According to boat builders Hemlock is no good. The big box store carries very nice select grade "pine" but after further research the species they carry is Radiata Pine from New Zealand which again is not recommended for boat building. The Local specialty lumber supplier has 8/4 white oak on hand but not in 12 ft lengths, just 11ft 6 inches. I could have special ordered the material but again the cheap gene got me so I opted to scarf and laminate my stringers out the left over sheet of 3/4 marine ply.
Scarf Joints
I built a scarfing jig to use with my recently acquired hand-me-down plunge router. I used a 12:1 ratio at the recommendation of the Gougeon Brothers boat building book and set to making chips fly.

Scarf joint glue up was fun and a bit messy. I used the weights I had available to clamp the pieces together. I also learned that epoxy does not stick to polyethylene or wax so waxed my work bench.

Laminating
After scarfing came laminating, the first attempt was a disaster. The laminating schedule is this: coat both pieces with unthickened epoxy and spread with a notched spatula, apply a layer of thickened epoxy for gap filling, clamp together, wait. It was a very warm afternoon when I started and I had planned on using panhead screws to pull the layers together. I spread the epoxy, placed the two layer together and started screwing them together with the impact driver. I realized that the screws were not doing as intended and the layers had a gap between them. I pulled out the screws and began again this time clamping then screwing, moving the clamps and repeating the process. Did I mention it was warm? I should have said HOT and the epoxy was curing quickly. I was working too fast and had an accident. The driver bit cammed out of the screw and went through my thumb. I was only about 2 feet in into the 12 foot process so i had to continue with two holes in my thumb. Luckily the bit bounced off the knuckle and it was only a flesh wound and my DNA will always be part of the boat.
The cheap gene bit me again this time in a painful manner. For the final stringer lamination I bought 18 3 inch clamps. Much safer and faster than screws. In this picture you can see one of the scarf joints
Also have most of the frames laminated to their corresponding floor timbers. these are much easier to with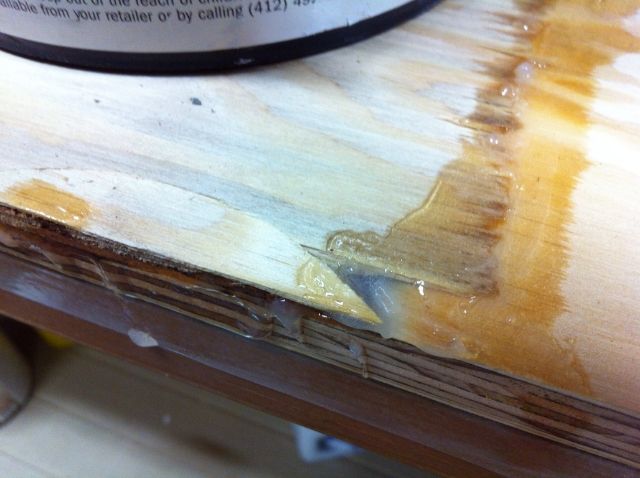 Until later,
-CC
---