I never want to hear anyone complain about their shop… anything has to be better than a tiny living room in a 400sqft apartment.
This is my first project with hand tools. I worked as a cabinetmaker for 6 years, and then moved to NYC 3 years ago and changed careers. I've been wanting to get back into building furniture, and after a few months of reading everything Chris Schwartz has written and pretty much every other hand tool blog on the internet, I feel like I know everything about handplaning without ever even using one. :-)
I bought a LV LA jack plane, a LV LA block plane, a whole pile of sharpening supplies, I love the LV MKII sharpening jig. I watched ebay for a few weeks, and got some pretty good deals on a few planes and and saws.
I have a 7' space in between the kitchen and the living room that I can put a bench, and after getting approval from the wife, I decided to build a 6' roubo with a leg vise. I plan on putting a 7" quick release vise on the end later.
There's no southern yellow pine in NYC, but I picked some up when we were in Georgia for Christmas. The top is made from 4 2×12 x12' ripped in half and cut to 6'. The legs are pressure treated 6×6's and the lower rails are treated 4×6's. All the wood was under $120.
So far, I think the single hardest part about building a bench is building it without a bench. I decided to build it without using any power tools, just so I would get some experience. I have nothing against power tools, I just want to see how they used to do it…
this step took the most time, I cleaned up every glued face to get rid of the cupping and milling marks. I really missed the thickness planer for this, its easy to get each face flat, it's a little trickier to get them parallel.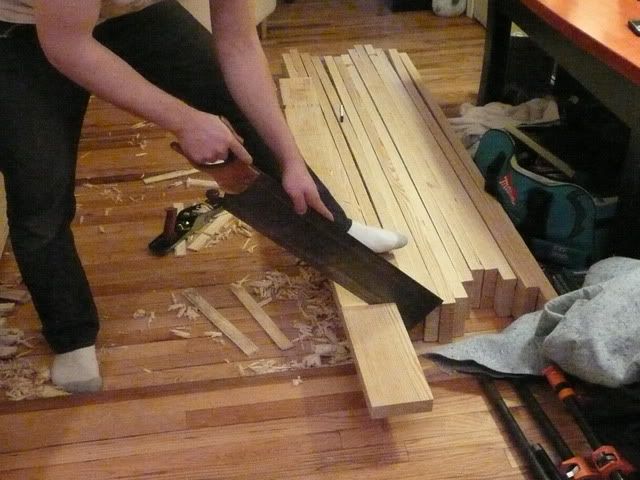 this is an old saw I got for $5 on ebay, I think it's from an old miter saw… it seems like the length makes it cut really fast.
pre-drilling the holes for the nails that keep everything lined up for the glue up. Got the drill for $5 on ebay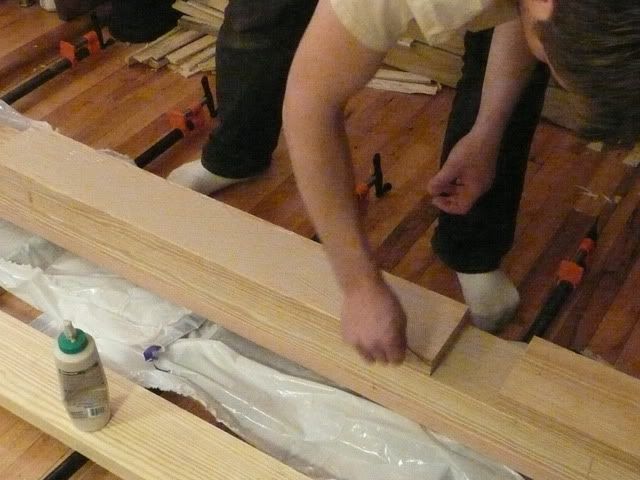 Gluing up, I left gaps now to make mortises, I think this will save a lot of time later.
I wish I could have had at least 4 more clamps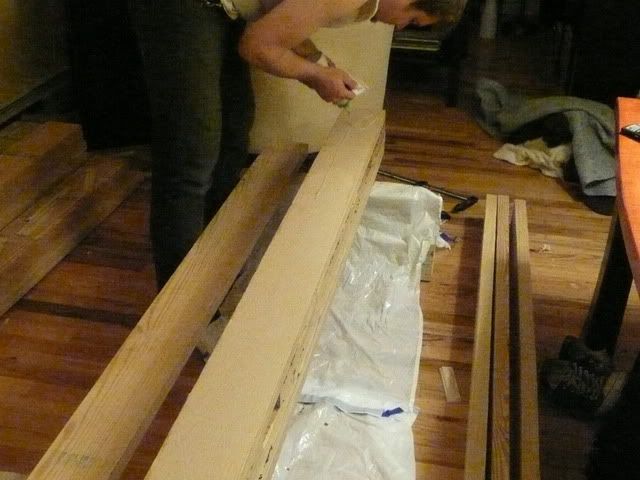 Glue up #2, 4 boards at a time, any more and the glue on the first board would be dry before the clamps get put on.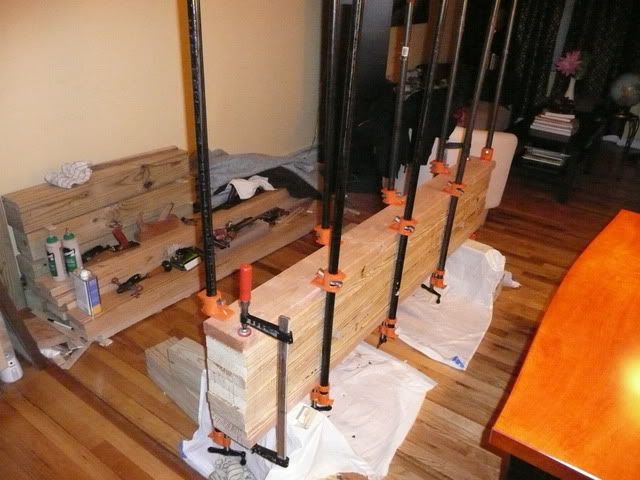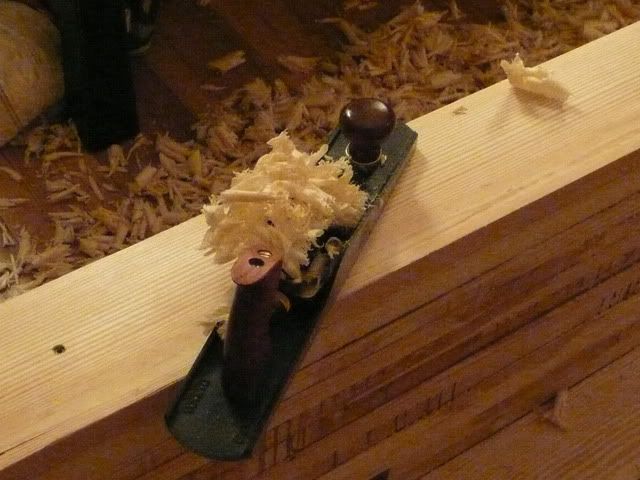 The Veritas low angle jack plane with the A2 blade. I can't say enough about this guy, the only trouble I had was edge retention with the stock 25deg blade. I went up to 30 and it helped a lot, but it still kept chipping. I finally sharpened the micro bevel to 35 and I could plane all day without having to sharpen and without any chipping.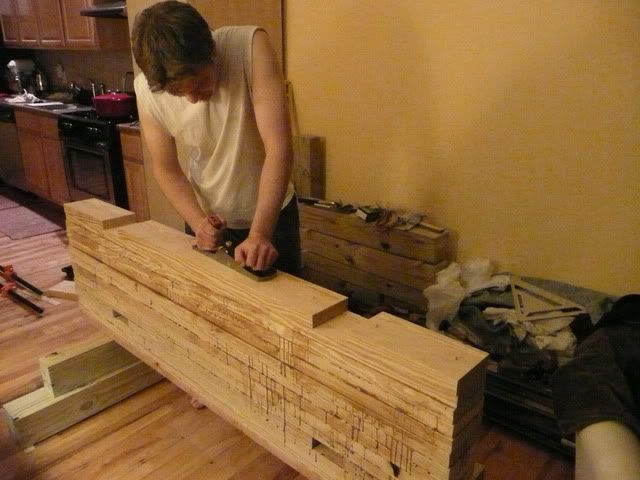 Final glue up, if I would have kept everything lined up better, it would have saved a lot of time later when I had to flatten it.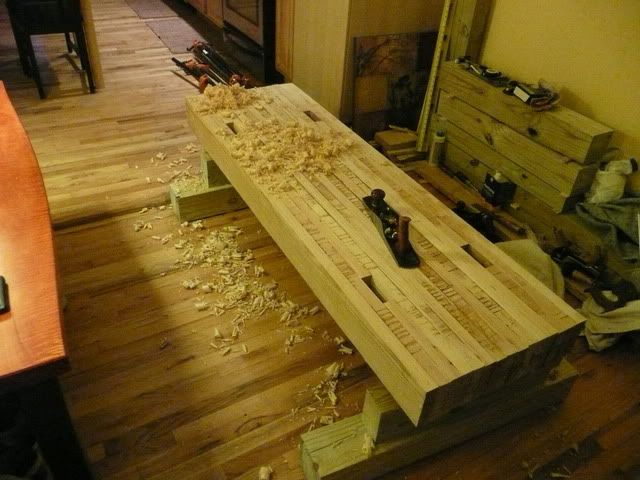 Flattening the top… The LA jack can take paper thin shavings as well as thick, almost 1/16" shavings.
this is where I wish I had a bench or some saw horses, it's hard on your back to plane a top thats only 20" off the ground.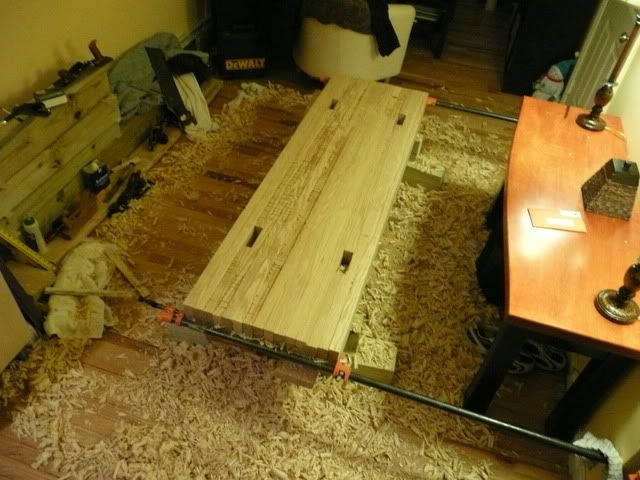 I don't know how I ever got my wife to let me do this in the living room, but I don't think she expected this… lol.
you can see the low spot I accidentally made in the top during the glue up.
The finished top surface, once I get the leg tenons through the top, I'll hit the whole thing with a smoother.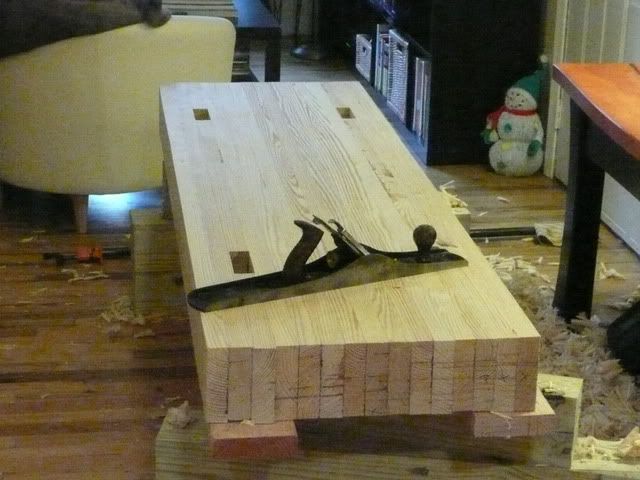 I got this #7 on ebay with 5 other planes for $40… It took a little work to fix it up, and about 2 hours to flatten the back on my diamond stone, but now it's a keeper. I've never used a bedrock or a LN, but I don't know how they could do any better of a job…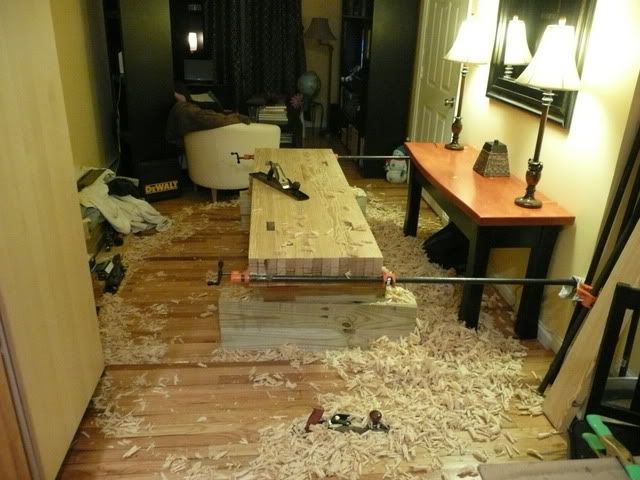 notice the clamps that brace the top against the wall, I had to use these for pretty much every step, I can't wait till I have a bench to work on. The hardest part about using hand planes without a bench is keeping the piece from moving.
the finished bottom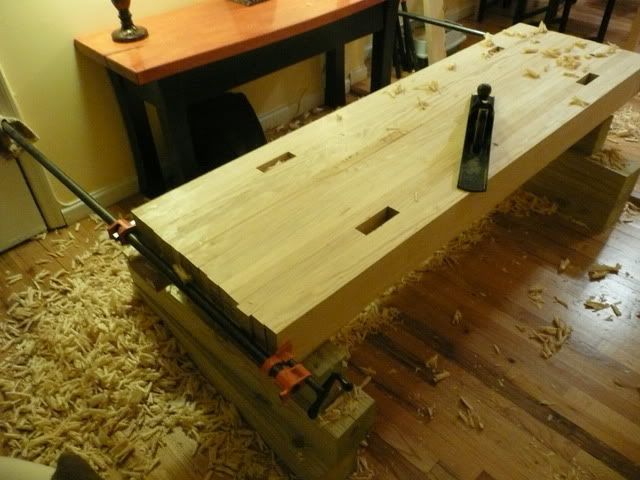 This weighed over 190lbs before I started flattening the top… 15lbs of shavings!!!
the almost finished top, I think I 'm going to wait to trim the ends till after its on the base. The final thickness ended up right at 5", I had to take off almost 1/2" because of the bad alignment during the glue up.
the cat is fascinated with the shavings, when I'm planing she'll sit next to me and watch the whole time.
It's hard to believe that all of these shaving were made by me pushing a 8lb plane back and forth, this is all so new to me…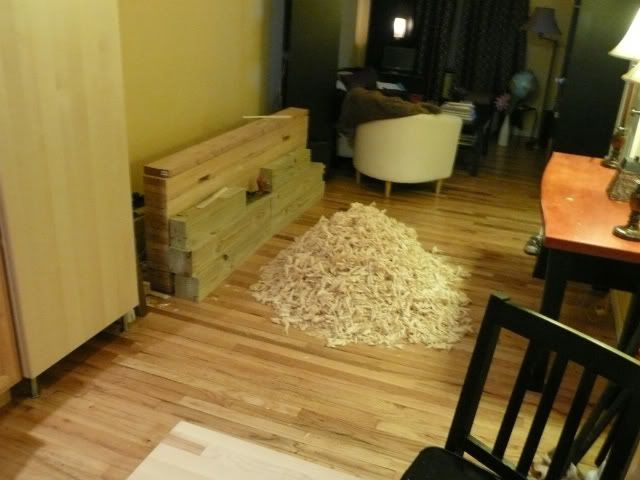 next step: open up the mortises in the top to the finished size and get started on the base…
thanks for looking, any comments or tips would be appreciated!
---