I only have a meager collection of planes, but this is mostly because I haven't used them too much until now. My problem was that I could not keep a sharp edge on the iron for more than a few passes. I have done a lot of reading on the subject (both online and in magazines) and recently bought a simple tri-stone (it works for me), so I think I have that problem solved. I recently surfaced a piece of white oak without any problems. Most are older than I am and still function as good as the day they were first bought.
As of now I only have a few different models, but I think I have the key planes to do what I need to:
Stanley #130 Double ended plane – This plane is fast becoming my fall back for smoothing most surfaces that are not too large. I bought this one at my favorite auction house and all I paid was $12.00 for this one and a;
Craftsman 37039 duplex rabbet plane – This is equivalent to the Stanley #78 that provides 2 different beds for the iron to attach at. This plane makes killer rabbets both with and against the grain. There is a three pointed spur that actually scores the wood as you work the plane against the grain. I was once of the opinion that the only way to make a rabbet was with a router or table saw, but since buying this jewel, I have changed my mind. I love to see the wood curl out of the planes body and it doesn't take long to see some results.
Stanley #220 block plane and Sears look-alike – The Stanley came from my dad (a retired carpenter/pattern maker). I have this plane mostly for sentimental reasons, but I reach for it occasionally just to use it. I bought the Sears look-alike for $5.00 and also got a;
Stanley #4 smoothing plane – This is the one I like the most for smoothing large surfaces. The feel of pushing the plane over the wood and see the slivers curling out of the body is, well priceless. To hear the iron shaving the wood better, I usually turn off the shop stereo, and listen to the music coming out of the wood.
Stanley #5 jack plane – For surfacing the rough stock I reach for this one before going to the #4. I was able to get this one from my father-in-law and it was once his father's.
In addition to my planes I also have a few draw knives and spoke shaves.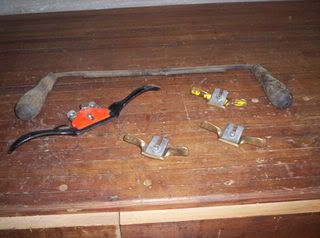 The big draw knife may not look nice, but it will shave the bark off of a slab of wood in not time. I used it when making a few benches for my mother.
The spoke shaves are miniature brass models: I have both flat and curved shaves and these came from my dad. They have seen a lot of use over the years.
As of yet, I do not own a power planer, so these are the tools I go to in order to surface the lumber that I am using for my projects. Someday I will get the planer I am looking for but until I do, these planes will do the job. I really enjoy listening to the tools/wood when I am working with these. As with my power tools, I always have a special smile on my face knowing that I am using tools that are either as old as, or older, than I am.
Thanks for reading my ramblings. If anyone can recommend a plane that I really should have, let me know.
-- Brian, Lebanon PA, If you aren't having fun doing it, find something else to do.
---