Through the years I have amassed a collection of vintage woodworking power tools.
The most expensive tool that I have bought is a Rockwell/Delta 11-100 bench top drill press: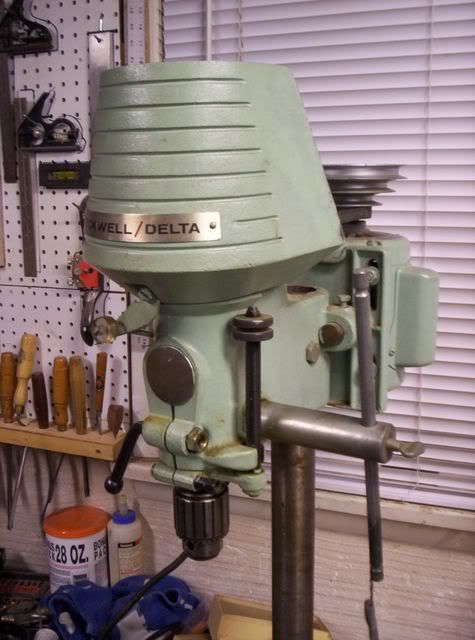 It cost me $25.00. I didn't need it as I already had one; a newer Craftsman 9 inch. After starting up the Rockwell the first time, I decided to never use the Craftsman again. In fact, I took the chuck off of the Craftsman and use it as a light weight press for small projects.
My table saw is my work horse! A 1960's Craftsman 10" table saw model # 113-29991: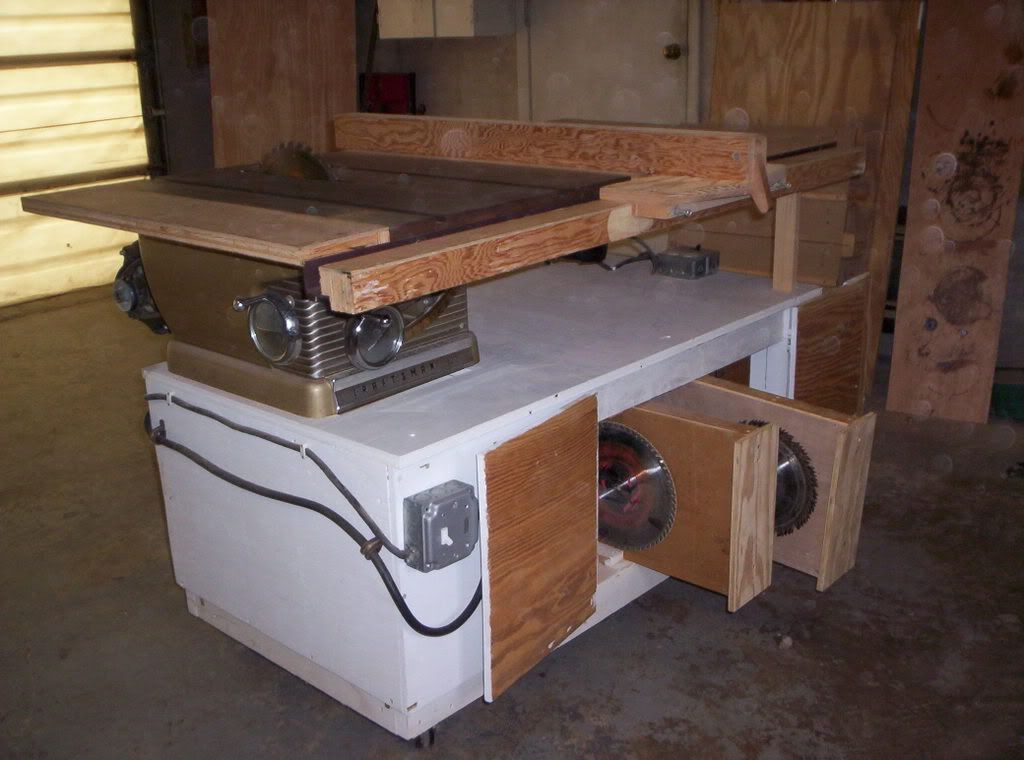 This is a contractor type saw with a big motor – 1hp. I can cut wood that is 4" think and the motor doesn't even think about slowing down. The cost for this saw, so far, has been 22 years – I got it from my father-in-law. I have used Powermatic's and Unisaw's, but for me, this one is more than enough.
My radial arm saw is a 1960 DeWalt Powershop 925: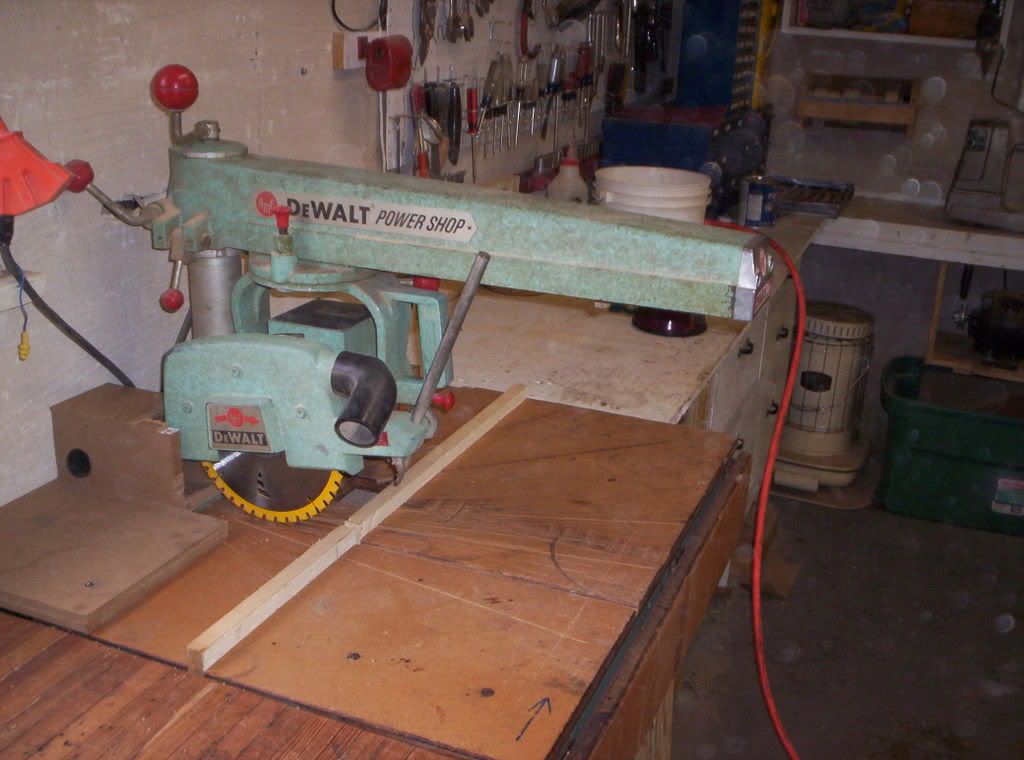 I got this as a hand-me down from my dad. I am a radial arm saw type of woodworker: I don't like miter saws! I grew up using radial arm saws at home, in school and every shop I have worked in and I treat them with the utmost of respect. I like the versatility that I have with this saw: dados, ripping, crosscutting, miters, molding, etc…
I have a 1962 Powr-Kraft TPF-2020A 36" lathe: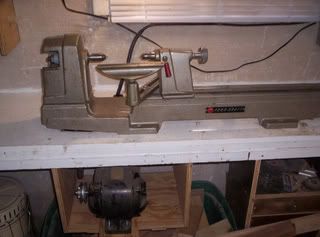 I had to pay $1.00 for at a local auction. The next week I bought a set of 8 lathe chisels for $25.00. Does that say anything about the woodworker when lathe chisels costs more than the lathe? One of the reasons the lathe went so cheap is because there wasn't a motor: I had a vintage 2-speed ½ hp motor sitting in the shop waiting for it. I am a relative novice when it comes to turning, so this lathe is more than enough for me at this time.
My jointer is a 1950's Craftsman 4":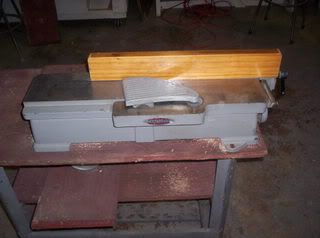 I paid $10.00 for at the same auction house that I have bought all of my tools at: for me the place is a Gold Mine! This one came with a motor ¾ hp and I guess a big motor on a small jointer is better than a small motor on a big jointer. I can surface plane 4" white oak with ease.
My band saw is a 10" Rockwell:


I paid $15.00 at: yeah – the auction house. This is the only tool that I have refinished, and this was out of necessity. It was a God awful yellow color that was really hard on the eyes in the sunlight. I want to move up to a Delta 14", but the right deal hasn't come along yet, but when it does, it will have to be a 1950's model.
In addition to wanting the bigger band saw, the final power tool I am trying to acquire is a vintage Craftsman planer. These are commonly referred to as a "Gnome Planer" because they look like a yard gnome or the alien in the Alien movies. That will complete my shop's power tools.
I like using the older power tools: they are stronger and more reliable than tools made today. They were made in a time when steel was steel and not aluminum. These tools I have will be working long after I am finished using them because they were made to last a lifetime. In the case of these tools, they will last several lifetimes.
In addition to the superior construction of vintage power tools, I also like the cost of them: I have outfitted my shop for less than $100.00. Most people pass older tools up thinking they are less than desirable and this is where a woodworker can capitalize. My advise for beginning woodworkers, don't drop thousands of $$$ for new tools right away: spend a few bucks on vintage tools and learn how to use them, then if you want to drop the big bucks when you know your capabilities.
I am only a hobbyist woodworker so I don't need more than what I have. I enjoy woodworking because for me it is relaxing and it is a way to take my mind off of the everyday worries. In addition, I gain a great deal of satisfaction when I finish a project on tools that are older than I am. It isn't just the woodworking, but also the HOW behind the woodworking. Since my power tools collection/assortment is almost complete, my new focus is on hand tools and what type do you think I am looking for? Vintage!
-- Brian, Lebanon PA, If you aren't having fun doing it, find something else to do.
---