I left off with the top being glued to some MDF risers. This morning I finish sanded it and put on two coats of lacquer. I will oil the walnut but I didn't want to Maple any darker so I figured I'd lacquer it so when it's all built up, the oil wont get into the maple top.
Step 5: Finishing the Shelf
I ripped the walnut border to length and laid it out to get an idea where to cut the biscuits. The center piece was a very clear piece of face grained walnut, so when I went to the lumber store to buy the edge boards (It was originally going to be maple) I found a really nice clear piece of quarter sawn walnut in the pile. I couldn't find any more so for the remaining pieces I took a left over piece of face grained board, and ripped two boards out of it so that they were mostly edge grain.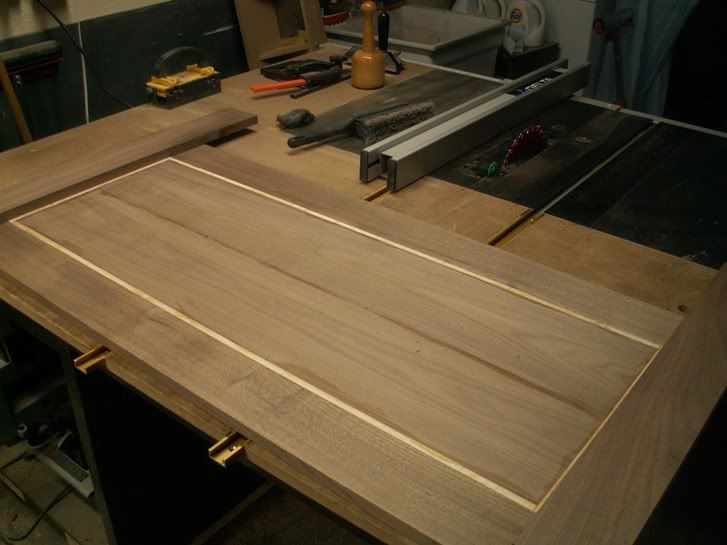 There is still some face grain showing on the ends but I think it still looks good.
My workbench is nothing more than a table saw extension (no space remember) which usually gets so cluttered while working, I have to take an hour or two to un-bury the saw when I need it!
To aid in biscuit joining, I use my wonderfully simplistic hold down clamp as a stop block. It is nothing more than a hold down clamp, piece of plywood, and a expanding miter slot bar from Rockler.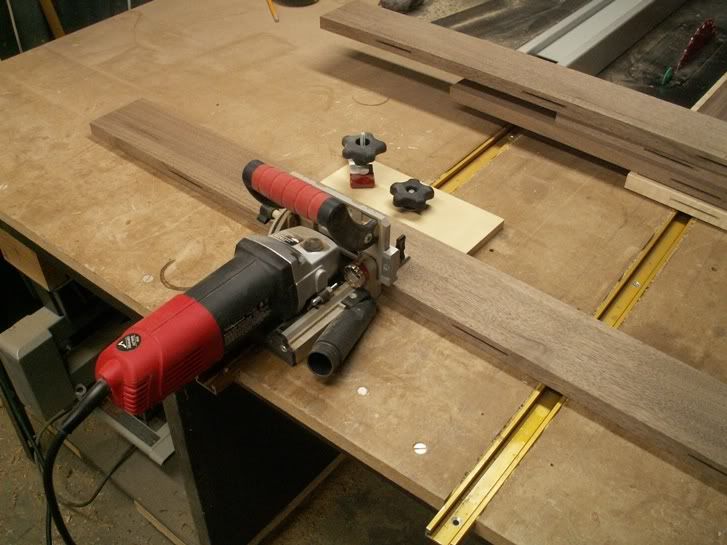 Next it's time to cut the grooves for the splines. The boards are slightly over 3/4" thick as they will need a lot of sanding later. To cut the grooves, I use a slot cutter on the router table. Instead of trying to locate the exact center of the board, I first measure 1/4" from the bottom and cut all the boards. Since I can only feed the stiles from one direction, some of the grooves will be above center, the others below. To correct this, I flip around the board and raise the bit so that the top edge is now inline with the groove. I then cut all the boards again, effectively widening the groove a bit so that there is 1/4" material on top and on bottom of the groove.
Next I cut the splines. No secret here, just a lot of trial and error making sure they aren't too thin, too narrow, or just the opposite. I then test fit the whole assembly (minus biscuits) and mark which splines go where.
And finally, I clamp the whole mess together, and by mess I mean glue everywhere :-)
And since I'm out of long pipe clamps for the moment, I'll call it quits until next weekend!
-- You're not a real wood worker until you've been to the Emergency Room...Twice...in one year...wait a minute, this isn't right.
---