I figured I'd start a blog about a project from start to finish so other readers can follow my progress and hopefully learn from my inevitable mistakes in the process ;-)
I also wanted to show readers how to make complex furniture with limited tools and space.
So a little about the project: I sold my crappy yet still somewhat pricey plywood and veneer coffee table/end tables a little while ago on Craigslist and have been desperately needing to fill the void. My eventual goal is to not have any store bought furniture (sans couch, chair, and Very nice dinning room suite).
I saw a recent project on LJ for a set of tables I really liked. I liked the raised table top design and wanted to do something similar for my coffee table top.
The local(ish) lumber store had a huge sale this weekend and I found a giant board of birdseye maple that I just couldn't pass up. I was deliberating on whether to use cherry or walnut for the rest of the table. However, the lumber store had some gorgeous air-dried figured walnut with lots of sap wood on sale too. So that pretty much made up my mind.
So here's a couple of teaser shots of the birdseye maple top. It is still rough on the edges and the faces need sanded.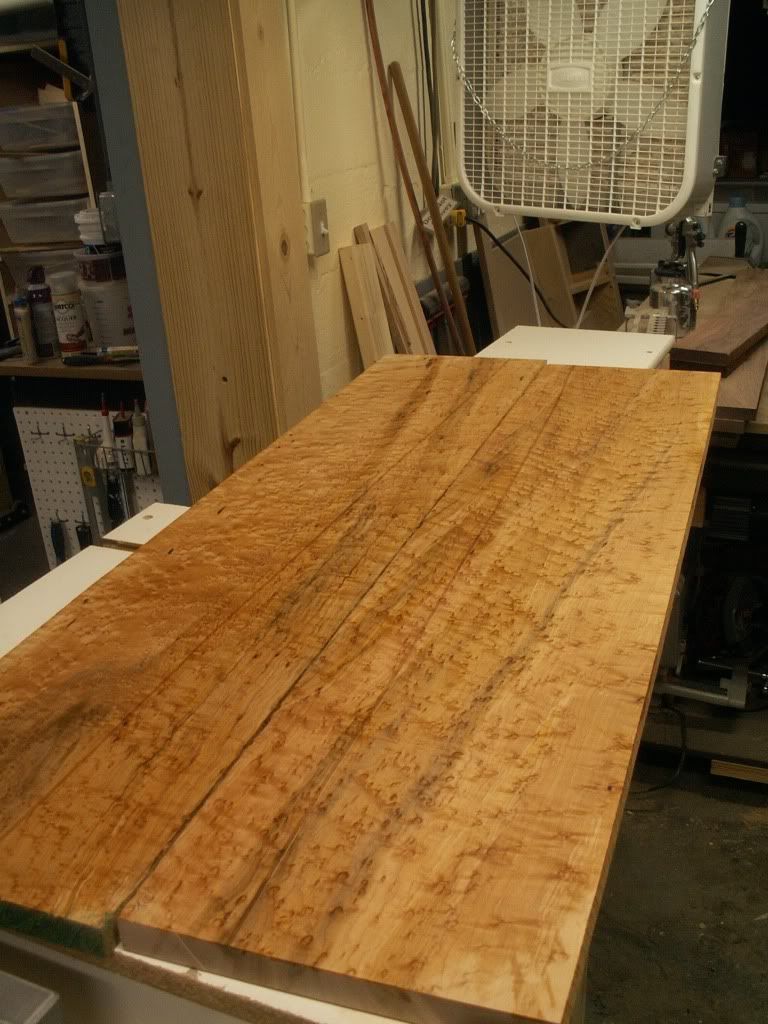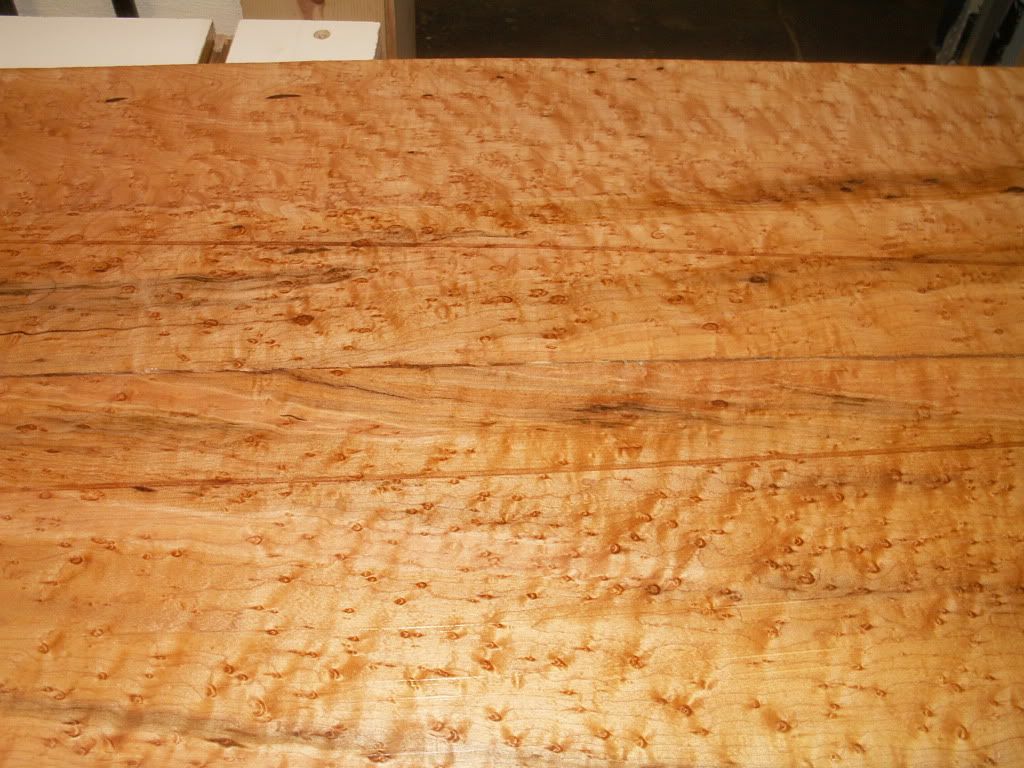 and a close up of the figure.
So Step One: Rough Cut to length
I use AutoCad to create plans when needed. I then figure out how big all the pieces will be and then start chopping boards into more manageable sizes, usually no more than 4 or 5 feet long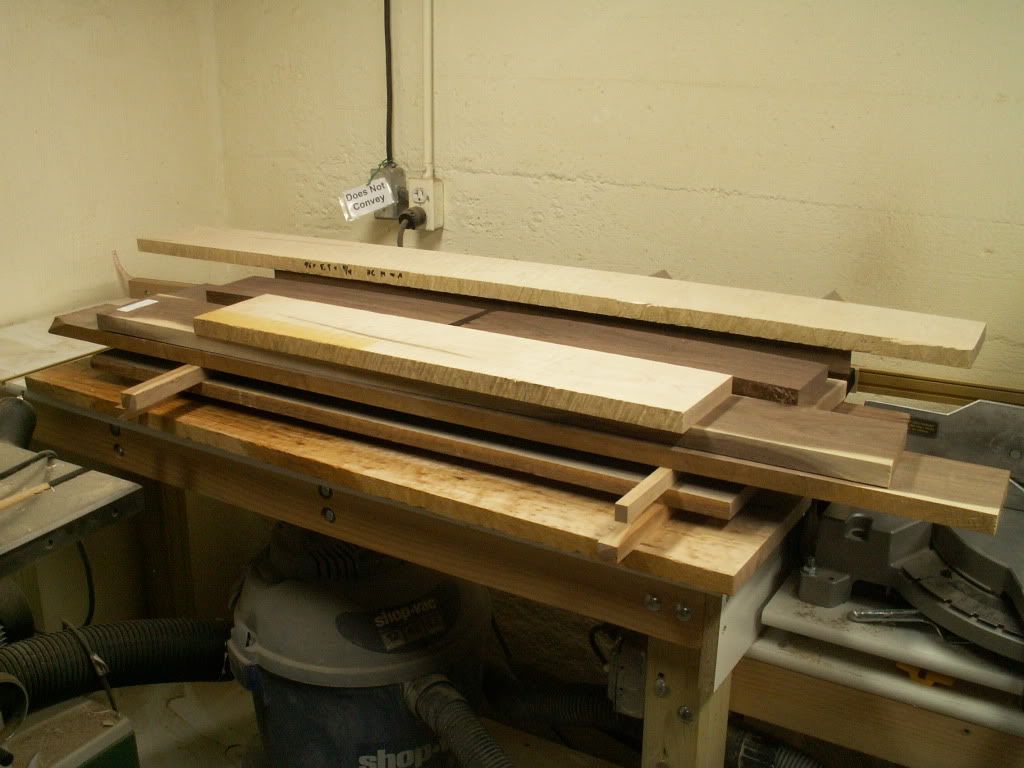 I just use my old Dewalt Miter Saw. It isn't anything fancy but I do use a really nice 1/8 kerf Freud Crosscut blade and a zero clearance insert I made. 1/8" is HUGE for a cross cut saw but I've had tremendous luck with it!
I always cut about 1/2 to and inch more than needed as most of the board edges are still rough which impacts the square of the cut.
Normally for the next step I would plane the stock down to thickness using a planer but fortunately these boards are at least S2S and already fairly smooth on the faces.
Also, the maple is EXTREMELY figured and the walnut also exhibits some figure in it as well. For anyone that hasn't worked in figured wood, it does not plane well and you can get a lot of tear out. This will be my first experiment in birdseye maple and just from the look of it, I'm more than scared to try and surface plane it. Instead I will just sand out any rough spots and finish off with a scraper.
Step Two: Lets get some straight edges!
I do not own a jointer. I know, I know, but I have no room for one (nor cash as I keep spending it on wood!)
So to get straight edges I use a massive template bit in a router for longer boards and a sled for the table saw for shorter pieces. Since most of my boards are less than 4 foot long, I will opt for the table saw sled.
For edge glued pieces, I use the Freud Glue Line Rip. This is an excellent blade for getting supper fine edges with the table saw.
For starters, I just need a relatively flat face to put against the fence.
More pics to come!
-- You're not a real wood worker until you've been to the Emergency Room...Twice...in one year...wait a minute, this isn't right.
---