Well, I finally got back to the keyboard. With 14 acres, spring, and rain a little time must be devoted to the farm. I have fence rows to clear from this winters ice storms we experienced this year. No big trees fell, but lots of limbs are in the way of the haying machinery so it must be cleared.
I cut patterns for a lot of the parts since I am making two (2) rockers. There are four arms, eight legs, eight rails, eight stretchers, four rockers, and twenty seat slats. I felt patterns were in order.
I made the patterns from scrap ½ inch plywood and ¼ inch hard board. I am drawing the outline on stock and cutting close to the line at the band saw. Then I will attach the pattern to the piece and using a pattern bit cut it to final shape at the router table.
Below is the picture of the finished pattern. From top to bottom: rocker, rail, back slat, seat slat, arm and mdf square is for assemble od side to keep everything square.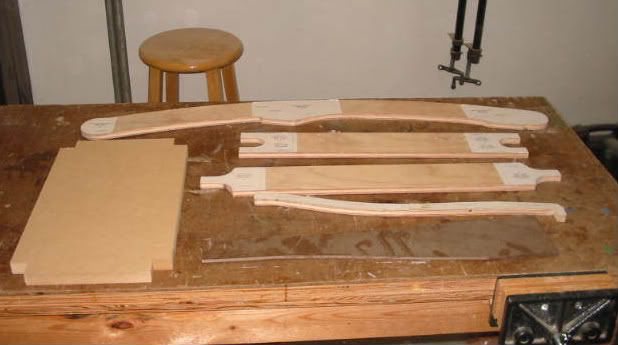 Ok, enough typing. I am calling it quits and more will follow, I hope.
Good night all.
-- Bill - If I knew GRANDKIDS were so much fun I would have had them first.
---