Well much progress since I last posted about my tool cabinet. It is just about complete, well as I explained to my wife "it will never be complete until I can't fit anymore tools in it" All that is left to do is make the drawers, add the bottom shelf, and the inner swinging tool doors like the Fine Woodworking model and then of course the various tool holders for current tools and future ones too!
After I last posted I sanded, then sanded, then sanded some more! I progressed through 100, to 120, and finally reached 220 which was good enough for me! I then cleaned all the dust up and got to work on the staining process. The toy box I built for the dogs and some "patchy" spots so I decided I would try out a wood conditioner on this one, I used one coat of Minwax Wood Conditioner on it and it darkened it up quite a bit. I had wanted to keep it fairly light but it's still good, not wanting to go any darker I decided on Minwax Woodfinish Natural stain of which I put three coats on the case. One thing I noticed was that the wood conditioner doesn't last very long, that is I used one whole quart for the inside and outside of the case and the can was then empty, then was able to get 3 coats on the same surface area with just one quart of the stain, plus I was able to stain the shelves and trim and have some left over to do the base frame. This is interesting to me, I'm sure the answer of why the different coverages is simple maybe some day I'll take the time to look up why, or maybe someone will tell me here! Here is a couple of pics fromthe staining process: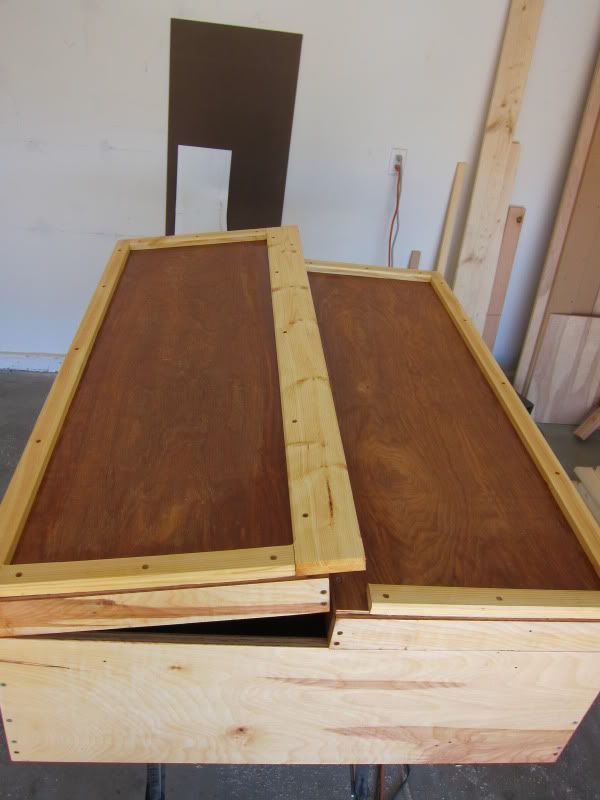 The second picture is kind of bright even without a flash but maybe you can see the "scratches" or light spots that showed up when staining. Again I'm sure this is simple but it's the first time it's happened to me. When I initially stained the piece there was dark spots in the stain that showed up and by the time I wiped down and through the drying process the dark spots turned light. Is this just a spot that is sucking up more stain and it deposits deeper making the outside look lighter? My wife came up with that and I have to say that seems the most logical reason I could come up with.
So after the case was stained up I added the piano hinge and then the trim pieces to hide my mistakes…errr…design flaws…I mean I designed it that way, no flaws or mistakes here! After screwing on the trim pieces I went back with some 5/16" hardwood dowel and glued in plugs then went back and cut them flush with my Gent's saw. Not to leave the old purists in the cold I then smoothed the trim out a bit with the block plane.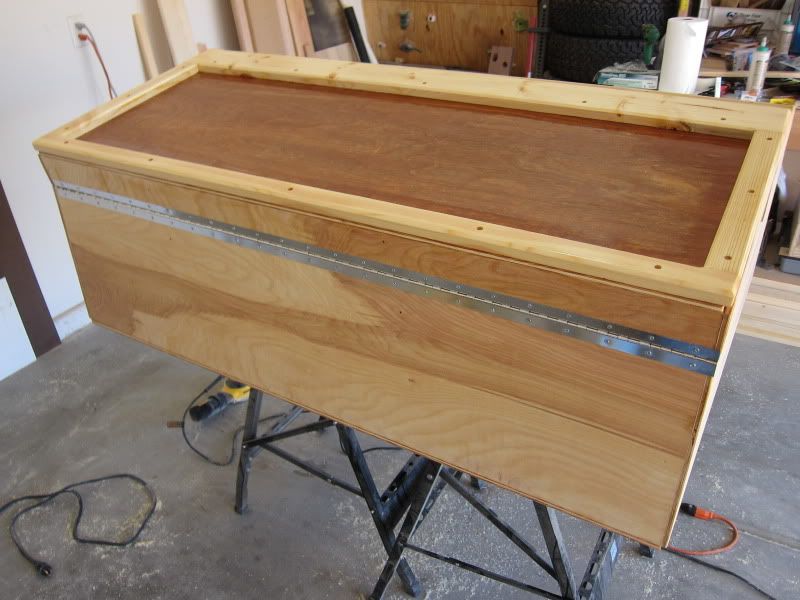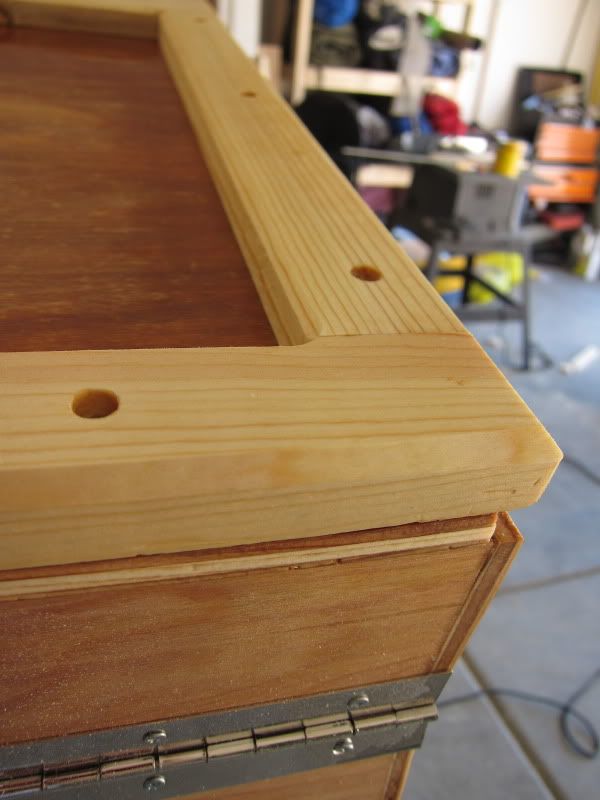 To dress up the trim a bit and protect the edges from splintering out etc I decided to run the router around it with the Chamfer bit and it turned out really nice! Pictured is the stopped chamfer where the center trim piece meets with the cross pieces, looks good eh?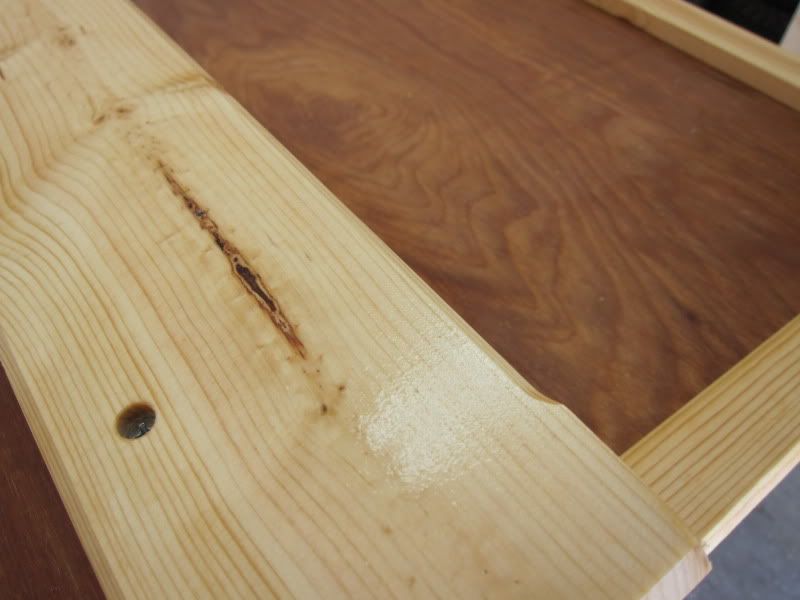 Next I installed the top shelf as this will be a little tougher once the cabinet is up on the base. I took some extra adirondack seat slat material that was left over and installed it as a support along the sides and back as I forgot to cut dados for the shelff in part two of this series. no big deal I think this will be plenty sturdy for the router and circular saw and maybe a jigsaw or something. I made sure the supports were level then countersunk a hole at an angle through the shelf and into the support and the front on each end of the shelf. I think this will be sufficient to hold it in place.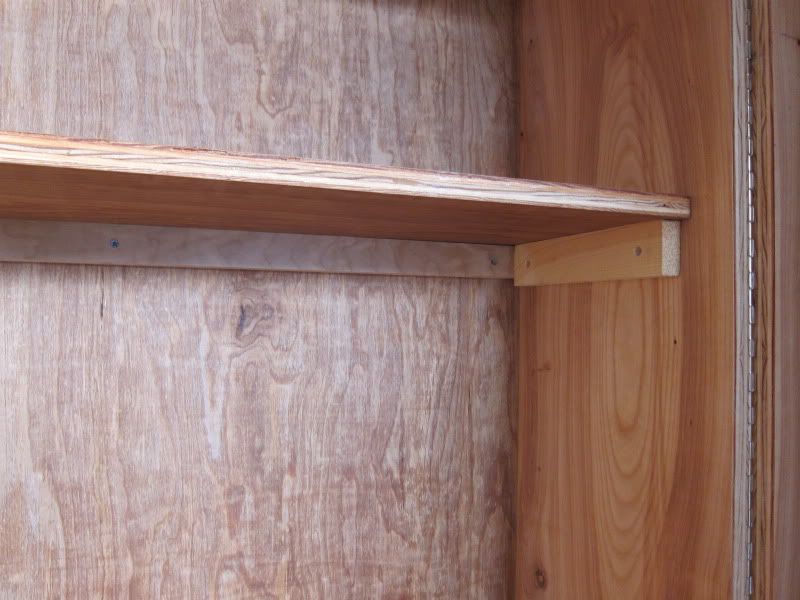 Next I built a simple base to support the case, I plan to add a couple of drawers in this base down the line but for now a couple of crates will reside there. I would have liked to make the base stick out a bit further at the front to set things on but its probably better the way it is, if said shelf is there it would probably just collect various little items which would not get put away thus making the cabinet a failure! I built the base out of 2×4's and a 1×6 and a 1×4. Again I would have preferred a solid piece for the top but I didn't have it and it wasn't in the budget to go buy another sheet of Birch so it gets a kind of adirondack treatment itself, minus the radiused cut on the ends of course. I was careful to mack sure it was as level as possible and only needed one small shim when the unit was finally put in its spot. I screwed the case to the base through the bottom to keep it secure.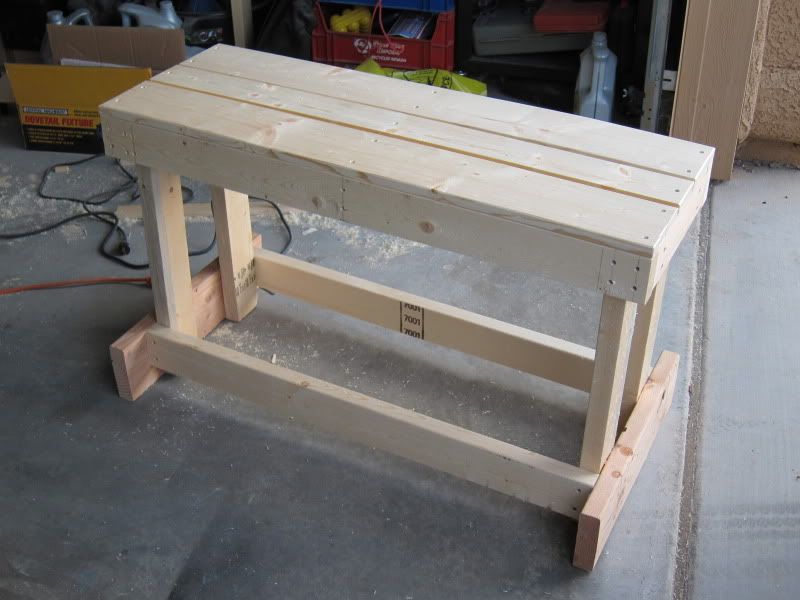 The joined pieces:
So then I couldn't help myself I had to put some tools in it and see how they looked in their new home! They look good there, it seems very cozy and they are nothing but smiles. I also decided I couldn't put tools in without adding at least ONE customized tool holder somewhere so I quickly built a base for the circular saw to sit on so it sits flat instead of just tossing it up on the shelf. So I cut a small piece of plywood a little bigger than the base of the saw traced out the opening on it and cut out the opening to allow the blade assembly to fit nicely. I cut some little feet and screwed it all together and put it away on the shelf!
I'm still not done, technically the base could use some stain so it matches, many many many more tool holders, and like I said the bottom shelf and drawers need to be made still. I also have some sweet twiggy handles that were on sale at Lowes one of which will get added to the door and the others to the drawers when they are finally built. I think i will also add a magnet catch or something to keep the doors closed, I was worried about the doors not being able to open due to clearance and it seems I should have been worried about them opening on their own!
So here is the SEMI final product, I will continue to blog about the tool holder construction process as I get a few done here and there. Unfortunatey(lol) I start a new job on monday and my woodworking time will be cut drastically! I will survive, and finally have money for tools and wood and other supplies! Time to start filling this thing up! Sorry to my wife who will no doubt be saddened by this news! The future tool purchases that is not the new job!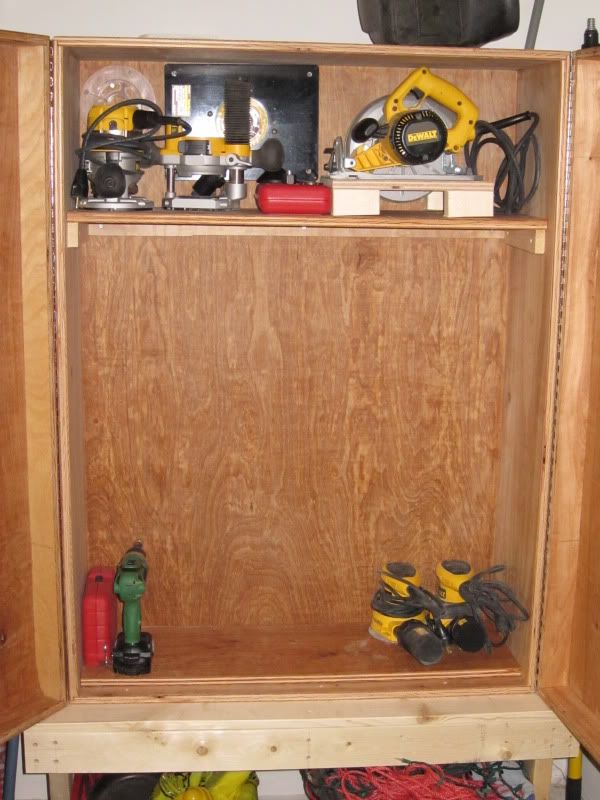 -- Brian
---