So Thursday morning I finished up with a last coat of paint on the chairs and headed off to get my supplies. I had planned on Birch or Pine but was leaning towards pine as it's $7 a sheet cheaper and on a budget project like mine every dollar counts! When I got to the store I had changed position and figured I'd use the Birch as I had some left over from another project that I could use for drawers etc. Well there was sadly only one piece of it on the shelf so I resigned myself to the Pine. While looking through the sheets for a couple decent pieces and talking with one of the employees I found out that not only was there another bundle of birch but it was 10% off! Well that sold me, so off I drove homebound with 2 sheets of birch strapped to the roof!
I grabbed my plan and circular saw and headed into the garage to let the sawdust fly. I cut the back, front, sides, top, and bottom, then glued up and screwed the sides to the top and bottom after routing my rabbets in the ends and sides to accept the front and back. After that was complete I test fit the back and realized my first mistake. I didn't accomodate for the 3/8" on each end that left over since I only have a 3/8" rabbet bit, I should have cut my sides 3/4" shorter to compensate, but the back fit on the sides tightly so I pulled it up and glued and screwed that in place.
About an hour after gluing on the back panel I realized my second mistake, after realizing my side panels were too long I panicked and glued on the back…before I routed the dados for the shelves. Oh well I'll just screw little braces under the shelves and screw them to those. Not a huge deal but I wanted to practice for the kitchen hutch that's in line to be built. So I glued and screwed the front on and let it sit for the night.
Today I got up and set about cutting the lid off, all of the magazines recommend doing this with a tablesaw and after I finished I agreed! Although there were no problems for the first 95% of these cuts the very end of the last cut brought my problem. No doubt some of you already know what happened but I'll go through the whole process for those who want to know how I did this. I have a milescraft edge guide that works for my jigsaw and circular saw, it also works as a circle cutter thats how I do the adirondack tops. So I set the edge guide up for a 3" cut set the giant box up on end and cut the top. I set my blade to be as deep as it goes so that I would cut lines on the sides too. I then screwed a piece of MDF to the top to keep the top in place when I cut the sides.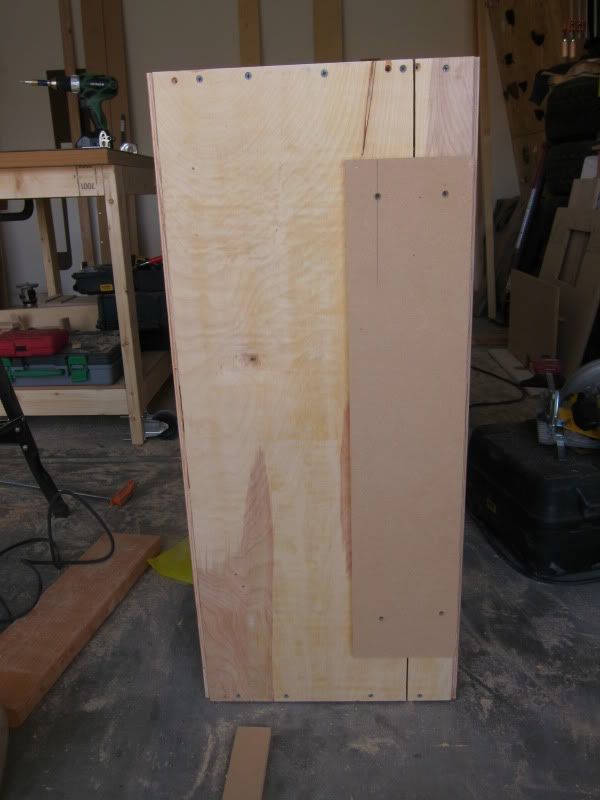 I then turned the box over till the bottom was up and again cut a 3" wide strip and again applied the MDF. Next I turned it on it's side and did yet another 3" cut to line up the cuts on the ends and again applied MDF. Finally I turned the cabinet over one las time and cut the final side, then I unscrewed the MDF pieces and had a perfect lid (or door as it were).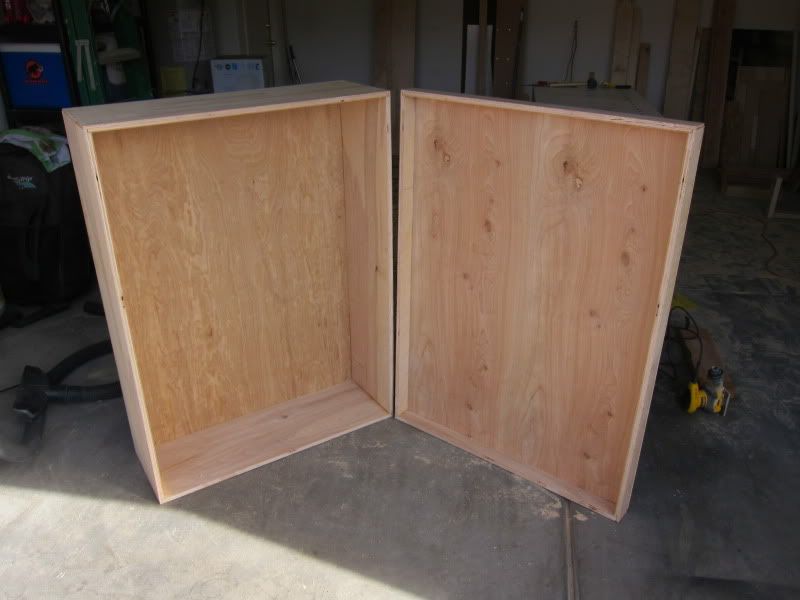 I then needed to cut the door portion in half, here is where things went wrong for me. Not having a large enough table to support the whole lid, although I bet it would still have the same result if I had a big table, when I was finishing my cut down the middle of the door the material pinched and the saw kickbacked on me ultimately adding a nice little gash to the surface of the door. Not a huge deal, I had already considered some moulding around the doors to dress it up a little but now I HAVE to do it! I also found at this stage that the top not being glued due to the long sides made the top very weak and floppy, no problem as I was adding in stiles to the doors anyways. After the stiles were screwed in I called it a day, moral of todays story? Buy a tablesaw! Here's what it looks like right now.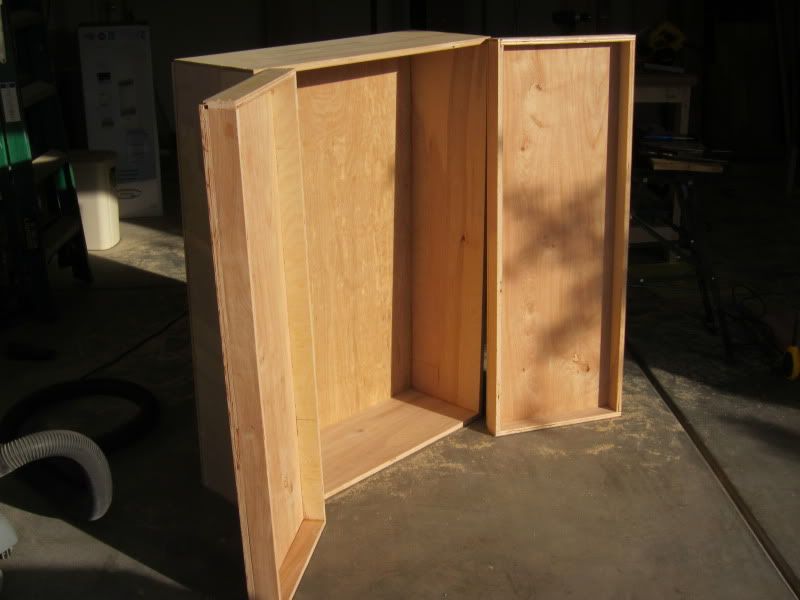 So tomorrow I will go buy the hinges and get the doors to swing for me. Instead of piano hinges I may get some bigger hinges and wrap them around myself, I can't help but think that this will be stronger than the piano hinge found locally. Does anyone know if the doors should be clear to swing with just the saw kerf between them? I kind of held the lid in place with my hand and foot and swung it and it seemed to clear but I am a bit worried about this. If someone has comments on that or the hinges I'd love to hear them! Then I can start to make my shelf supports and shelves and drawers, sand, and finally stain it!
So far the budget is intact, I will need more screws for shelves and tool holders in general, I plan to do the standard tool holders found in most of the cabinets I've seen on here and in magazines, and I will build them as I need them. Right now I don't need too many but hope to someday outgrow this cabinet. Also down the line I will need to build a base to hold this piece up but for now it will sit on top of my metal tool box base. Overall expendature at this point is $87.50 with just hinges and some different stain and some more woodscrews to go, well besides the base.
-- Brian
---