Adjusting the Saw Blade Alignment, Again—This Time With A Jig
As posted in the blog I aligned the table saw blade to the miter slot by clamping my dial indicator to my miter gauge. I knew this wouldn't be perfect, but thought it would be good enough. However, after finishing the saw, doubts lingered. I had paid for In-Line Industries PALS after all—why not have it aligned perfectly? Last night after work I shamelessly copied ajosephg's shop-made jig on this post.
ajosephg's jig looks like this:
I've seen other posts where he has since bought a TS Aligner Jr. and rated it as "one of the best things he's bought for his shop". I didn't see why. Better to make one myself, right? Here is my clone of his jig: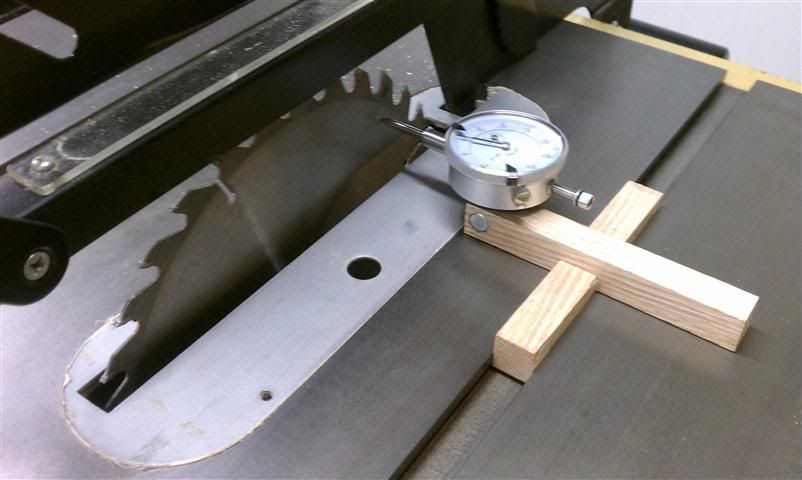 I discovered that on this jig it was off by nine, yes, nine thousandths! The horror! Shocked, I made several rounds of adjustments but kept getting inconsistent measurements. With the frustration beginning, I finally I wiggled the jig back and forth and found it would move four or five thousandths without much effort, just sliding it back and forth during use. The miter slider is snug and doesn't move at all; the indicator support-arm does move back and forth in the dado. I believe I could have fixed this by gluing the two cross pieces in addition to the screw holding the two together, but that would prevent me from disassembling it later for sanding if the wood slider swells in the summer. I made it very snug to eliminate play. Rather than glue it, I just practiced a method of pushing down on the same part of the jig each time after moving it to eliminate the play. It took another half-dozen tries at alignment, but I finally got it to approximately a third of one thousandth. You can see this in the following two photos.
Rip Fence Adjustment
I then adjusted my rip fence alignment. Before adjustment is was off by 43 thousandths from front to back. With only two adjustments, I got it to less than one thousandth front to back. However, I then ran the dial indicator jig along the length of the fence to see the variation in the plywood side board. It moves toward and away from the blade for a total swing of 12 thousandths, or 3/250". This is perfectly acceptable for any woodworking I'll ever do.
I didn't bother with photos as this looks just like the above photos, just with a fence instead of the blade.
Shop-Made Jig Review
ajosephg may be right about the TS Aligner Jr. But I'm still too cheap to spend that kind of money on a jig. Were I to build the jig again I would probably use the parts from this jig to make one more like Brandon W's TS Alignment Jig. His design should eliminate the play in the arm holding the dial indicator that mine has. (It could also be that I'm a beginning wood-worker and my dado-joint is not precise enough for this application).
I hope you enjoyed my blog. I certainly feel as though I now know my "new" saw inside-and-out. It was a great experience, and I'm left with a well-tuned machine.
—bch
-- --bch
---