Charles Neil lowboy build-along, #9
Back in episode #6, when Nell was about to be run over by the train…I kid!
When I left you last time, I had just cut the tenons and was in the process of fitting them to the mortises on the legs. I continue with a little more cleaning up of the tenons with the pattern makers file and check the leg mortises for proper depth.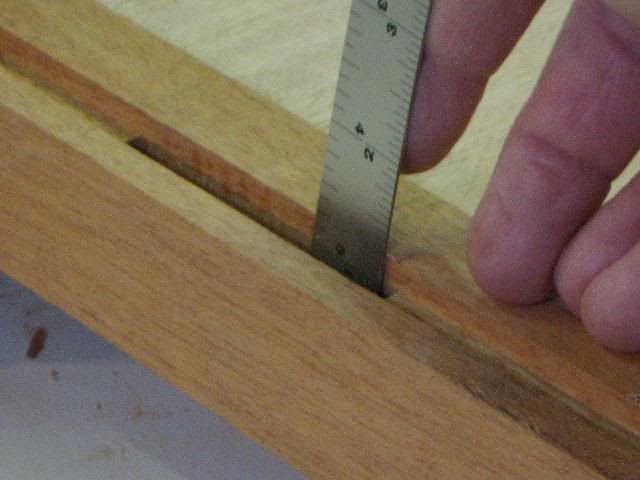 I continue with the fitting of the mortise and tenon, being careful not to force the tenons, and make sure there is room for wood movement at the top and bottom tenons on the sides and back. The middle tenons will be glued in place.
Fitting process is as follows: fit tenons; check to see why they don't fit (if indeed they don't) then check to see if the tenon lines up with the mortise. If not, it's necessary to trim the mortise by using a chisel, rasp, or by sanding the tenon. Next, after seeing if the tenon lines up, then check to see if the tenon is the correct thickness to fit the mortise. If corrections are needed, you can trim the tenon with a shoulder plane or the same tools already used. If after taking these steps and you're still having problems, check the shoulders and make sure they are not obstructing the fit. Finally, if the tenons still don't fit, look for obstructions in your mortise and make sure there aren't any bumps or chips that have not been removed. Along with the fitting of the mortise and tenons, you must also check the fit of the sides and back to the legs and make sure the gap is as tight as possible.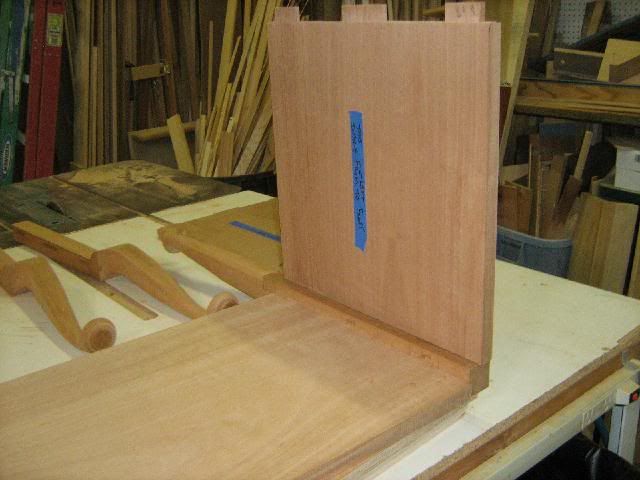 I do preliminary clamping of the sides and back to see that the joint of the two is tight, when gluing them together.
All of this may seem elementary to many, but I thought I'd include mortise and tenon fitting, for those who have never done this operation.
Now that I have all of the sides and back fitted, I have lift off! The lowboy now stands for the first time, with three sides fitted and ready for the next step.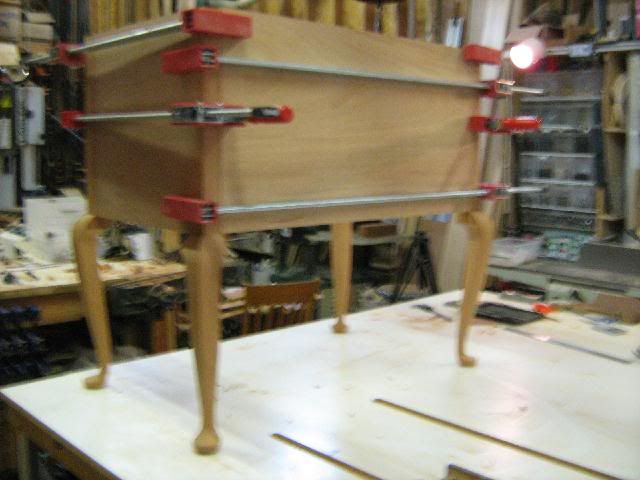 The next step includes, making our pattern for the scroll board and cutting and fitting it into place. I should have that posted later in the day.
Remember, the techniques I've gathered are from Charles Neil's subscription online webisode, "Mastering Woodworking".
Signing up for Charles', "Mastering Woodworking," webisodes has been a great experience for me and his step-by-step instructions, make it possible to make projects you've never thought you were capable of creating.
http://mw.charlesneilwoodworking.com/
-- https://www.artisticwoodstudio.com/videos wood crafting & woodworking classes
---